Many students and families around town seek fresh, exciting ways to enjoy their free time and create lasting memories through team building activities. Thanks to local businessman Scott Sawyer, Flagstaff is now home to a brand new entertainment center called Flag Tag AZ, which features a number of unique games, activities and competitions for patrons to participate in.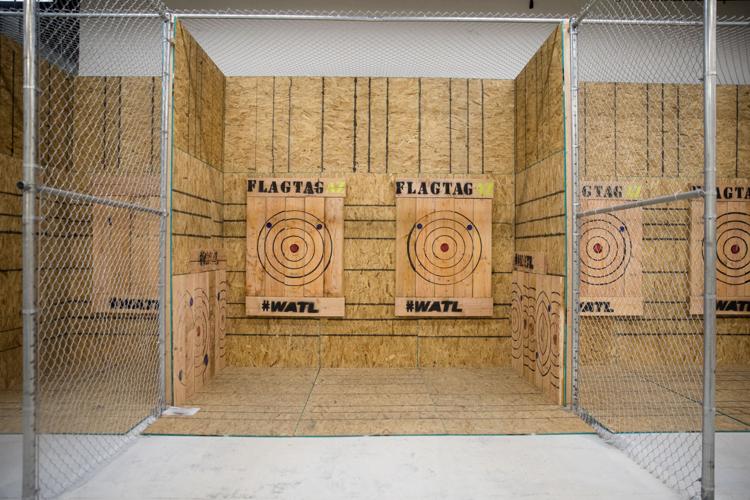 Sawyer purchased the previous establishment Cabin Fever late last year as a means of settling down after 25 years of regular travel as an information technology consultant. To appeal more to young adults, Sawyer lowered prices and took out some of Cabin Fever's more juvenile attractions — such as inflatables — and added axe throwing, Nerf tag and an archery tag arena to its list of attractions.
"The idea behind all the activities was to be crazy and interesting enough to draw in crowds," Sawyer said.
For all those looking to become a real-life lumberjack, Flag Tag now has its very own axe throwing league that competes in the national World Axe Throwing League. League meetings commenced on Jan. 16, and participants were required to be 16 years of age or older in order to compete. To set up a team, one must have five or more willing people, and the cost to start a team is $150 per season.
Flag Tag also offers beginner lessons for $15 per session and offers free lessons with select purchases.
Nervous participants only need to worry about a splinter or two at worst, because the staff at Flag Tag are helpful; they make sure that each player knows how to properly hold and throw an axe in designated practice lanes. Flag Tag employee Roxie Baxter said training new players is an essential part of her job.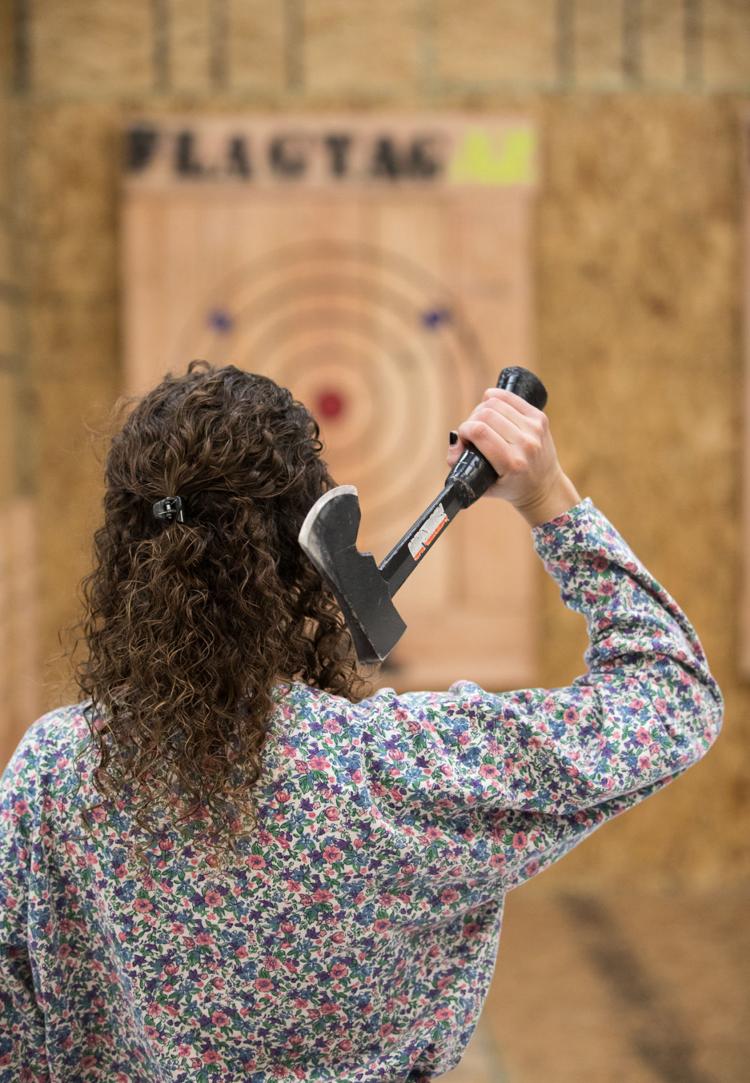 "Every employee has to learn how to be a coach to new beginners playing axe throwing or archery tag," Baxter said.
Sawyer said axe throwing is an easy sport to get into, and that it's comparable to dart throwing. In the practice lane, the axe thrower is given multiple axes to choose from. Some are heavier, bigger or longer than others. Throwers are awarded points based upon their ability to strike the surface of a wooden target. In the game of axe throwing, accuracy is key.
Senior Joscelynn Bunton participated in axe throwing and laser tag. Bunton said her first experience with axe throwing was absolutely thrilling.
"It made me feel powerful," Bunton said. "I didn't even know I had the strength to do something like that. I was a bit nervous at first, but afterwords I had so much fun."
Flag Tag not only offers axe throwing, but features many more fun activities like archery tag, which is, according to Sawyer, one of the business' most popular attractions.
As an introduction to archery tag, customers are shown the proper way to shoot a bow by one of the coaches at the indoor archery range. They begin by learning how to draw the bow, and shoot them at suspended balls for target practice.
After practice comes the enjoyment of a full-sized arena with plenty of places to hide and objects to duck behind as archers try to shoot their opponents in games of extreme tag. Arrows are fitted with foam tips, so as not to induce severe pain or injury upon players.
"The bows are equivalent to how it feels like when you get hit by a paintball gun," Sawyer said.
There is a two-story laser tag arena that offers fun to patrons ages five and up. The laser tag arena has an apocalyptic war zone theme and features glow-in-the-dark decor. Inside the arena, there is a tank that shoots lasers at players and another that appears to be flipped over to replicate a real life war scene.
Each opponent is given a laser tag gun that has two normal settings, one for close range and one for long. Guns are fully equipped with sound effects and lights.
What is special about the laser tag arena at Flag Tag is that there are stations which offer different types of shooting capabilities when unlocked. This mechanic has a similar effect to unlocking special power-ups in a video game.
The laser tag arena also offers many vantage points for players to shoot opponents; players can gain height and shoot others down below. There are many crevices in which to hide in and sneak attack other players. Players can even protect themselves from attacks by shooting stations that offer temporary immunity to tags.
Bunton said she felt that Flag Tag offered a pleasurable and distinctive way to spend the evening.
"I thought it was really creative," Bunton said. "There were so many different components to the game."
There is something for everyone at Flag Tag AZ. For the younger crowd, there are plenty of arcade games, including Pac-Man, air hockey, a giant Connect Four board, a climbing wall and Nerf tag. Players can also swing by the in-house cafe between games for pizza, smoothies and alcoholic beverages.
The establishment is spacious and can host up to 150 people at a time. According to Sawyer, sorority, fraternity, birthday and bachelor parties have all been hosted at the facility. Sawyer feels having a party at Flag Tag is a great way to encourage peer bonding and induce fun times.
As this new business blossoms, Sawyer hopes to one day open more facilities like Flag Tag, all offering fun activities and entertainment for customers of all ages.