On a typical Wednesday, NAU's new Human Performance Lab is filled with a quiet buzz of activity. Students and professors work at desks and computers, and there is a sound of metallic clunking coming from a nearby room.
This is a slow moment in what is normally a busy week. Patients and test subjects can be found interacting with robotic braces and motion-recording equipment built in the lab.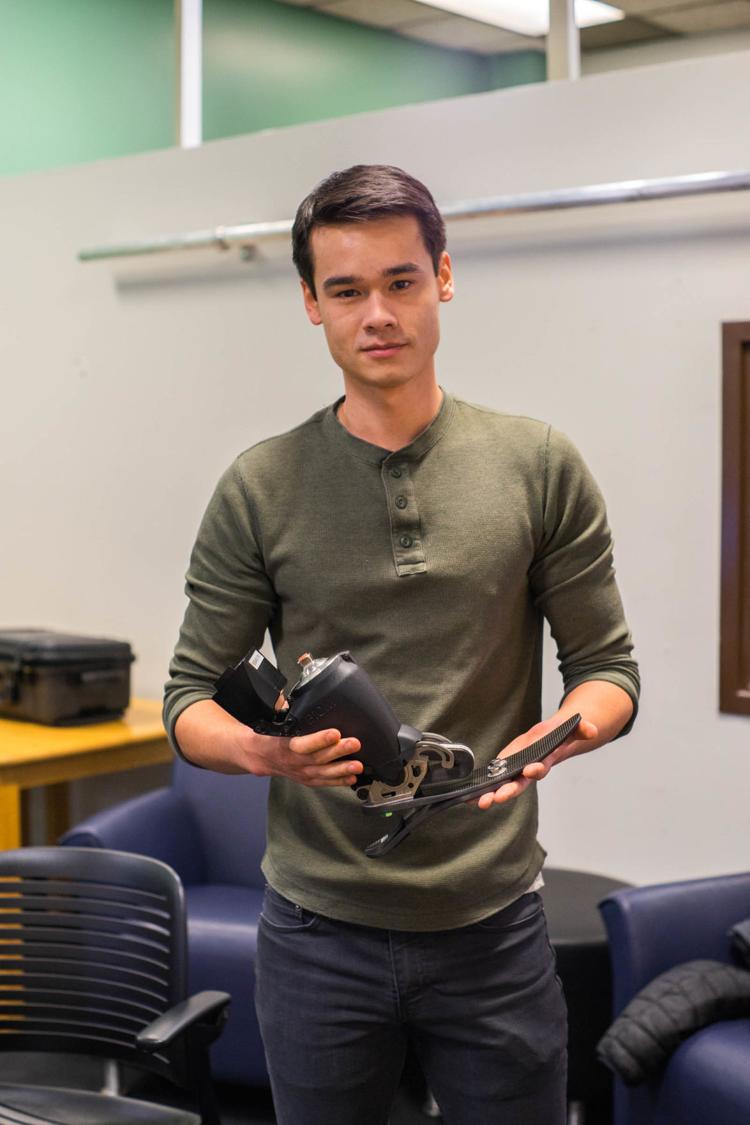 The lab's official opening, which was open to the public, took place Jan. 25. It has been an ongoing project on a less-public level for nearly a year.
If asked what the lab is used for, every person in the room answers differently. The diverse mindset is one of the most standout aspects of the space. A plethora of technologies, disciplines and individuals of varying expertise meet there to study and improve human movement through the application of biomechanical tools.
Biomechanics relate to everything from external braces to prosthetics, which are any man-made gears that mimic or assist human movement. Kiisa Nishikawa, regents' professor in the Biological Sciences Department, initiated plans for the lab as a space to conveniently approach integrative work on a variety of biomechanical projects.
The Human Performance Lab has both undergraduates and graduate students working in it. This is unique because many other similar programs only use graduate students.
The lab works with patients across every level of the fitness spectrum. Though the lab emphasizes improving mobility for people with disabilities, it is also a space to test and analyze the movement of healthy individuals.
"We want to do it all ... [from] optimizing performance in sports, to disability," said Nishikawa. "My lab is really interested in applying new ideas about how muscles work."
Nishikawa is happy to be joining the ranks of many universities with similar research facilities. She said NAU's Phoenix biomedical campus already had something like this, but that it was difficult to access for scholars in Flagstaff. Though this type of lab itself is not unique to NAU, Nishikawa noted that several of the ongoing research projects are.
Nishikawa leads operations at the lab along with Tarang Jain, assistant professor of physical therapy, and Zachary Lerner, assistant professor of mechanical engineering. Jain, who focuses on living patients, explained that together they work to innovate the way muscles are understood and functionally improved through the use of robotic exoskeletons.
"Dr. Nishikawa came up with a muscle model, so she's changing the basic physiology on how we understand muscles [to] work," said Jain. "Now [we're] trying to apply that model in a live human."
Senior mechanical engineering major Daniel Rivera works in the lab developing this model digitally.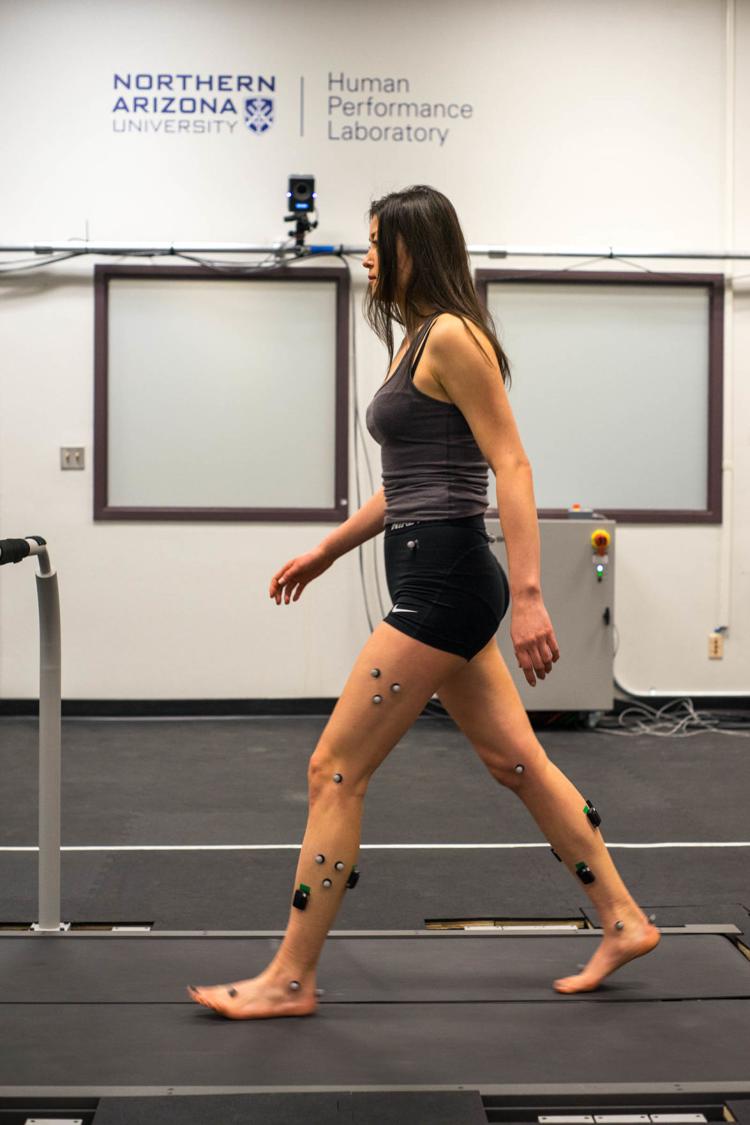 "[This is a] mathematical description of muscle tissue, which is relevant to us because robots only understand math, and the idea is that if you can make a description of muscle tissue in robot-speak, then you can make a robot that would move like us," said Rivera.
One of the projects taking place in the lab is a study of   patients who often have difficulty walking naturally. Lerner said the overall purpose of this experiment is simple: to help these people walk and move better by implementing mechanical aid.
"We do that by designing custom, wearable exoskeletons, basically powered leg braces, that we control to provide assistance to certain muscles and joints," said Lerner. "The purpose of the pilot projects we have going on is to evaluate and test our latest assistive device design."
Lerner added that the exoskeletons are being tested on the researchers as well as patients with cerebral palsy.
The process leading the construction of the exoskeletons is complex. The lab itself, a relatively open space within a small complex of rooms and offices, is framed by an arrangement of technical equipment. A sophisticated system of cameras and sensors equipped with infrared light capture the movements of patients, which are then translated into computer images. Jain and Lerner compared this approach to techniques that create action sequences in Hollywood movies.
"These cameras emit infrared light, which is reflected off the marker and captured in the camera sensor, and we have many cameras that we can triangulate the positioning of each marker — basically determine the 3-D position and import those markers into a computer to reconstruct how the entire body moves," Lerner said.
Jain said, without this complexity and interconnectedness of technology, a full picture of the situation would be impossible.
There is also a variety of equipment that interacts directly with patients' bodies. A treadmill with internal plates records the particular force of each limb and step as a patient walks. There are also breathing monitors which keep track of how much oxygen a person is taking in as they move. These tools help to assess how well the braces are working on a particular body.
"If somebody's actually using a lot more oxygen, that means they're working harder. I want to develop equipment that is not too heavy, that works for them," Jain said.
As many types of technology and machinery come together to facilitate research, numerous disciplines and types of scholars merge their skills to move it forward. Biology, mechanical engineering, electrical engineering, sports medicine, physical therapy and athletic training have a place within the lab.
"I cannot imagine a more interdisciplinary project," Lerner said.
Nishikawa, Jain and Lerner believe bringing scholars together in this way increases their potential exponentially. Nishikawa said many different departments at NAU helped to fund the lab's construction, seeing how beneficial it could be for their fields of study.
Jain said that engineering is a necessary middle-man for his work.
"When you have these equipments 'talking to each other,' or sharing data, engineering helps to process all that data," Jain said.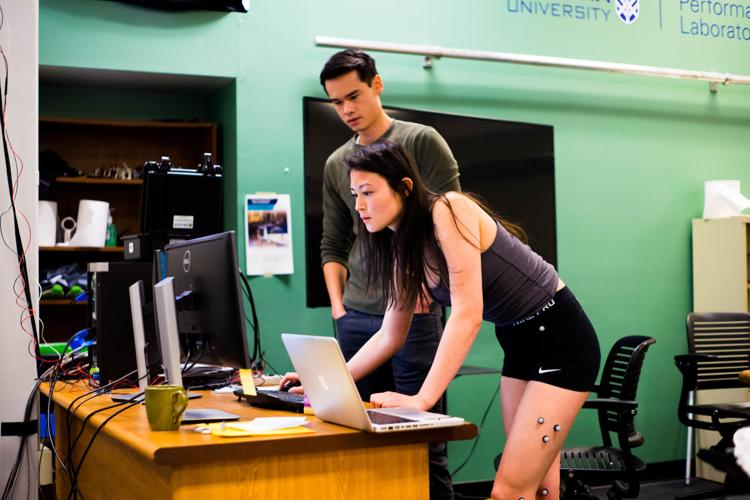 Jain noted that he plays a part in the beginning, working directly with a patient. He then comes in after data has been recorded and arranged to interpret what will work best for the patient's body.
Within this interdisciplinary setting, there is also room for all levels of academic experience. Research at many universities has been traditionally delegated to graduate and doctoral students.
Several of these students are pursuing double-majors and can perform work that combines their talents and interests. Rivera said he did not expect this opportunity to include such valuable work prior to his graduation.
"What I'm doing right now is pretty much what I want to do with my life, so I'm pretty grateful for that," Rivera said.
Nishikawa said this inclusion of students in the lab's collective work is absolutely intentional.
"It's a point of pride that we take seriously, the inclusion of undergraduate students in our work," Nishikawa said.
In accordance with this desire to promote student involvement, Nishikawa urged that any students who are interested can contact the lab's faculty.
Participation opportunities range from being a test subject, to providing basic hands-on assistance, to helping interpret and translate the research.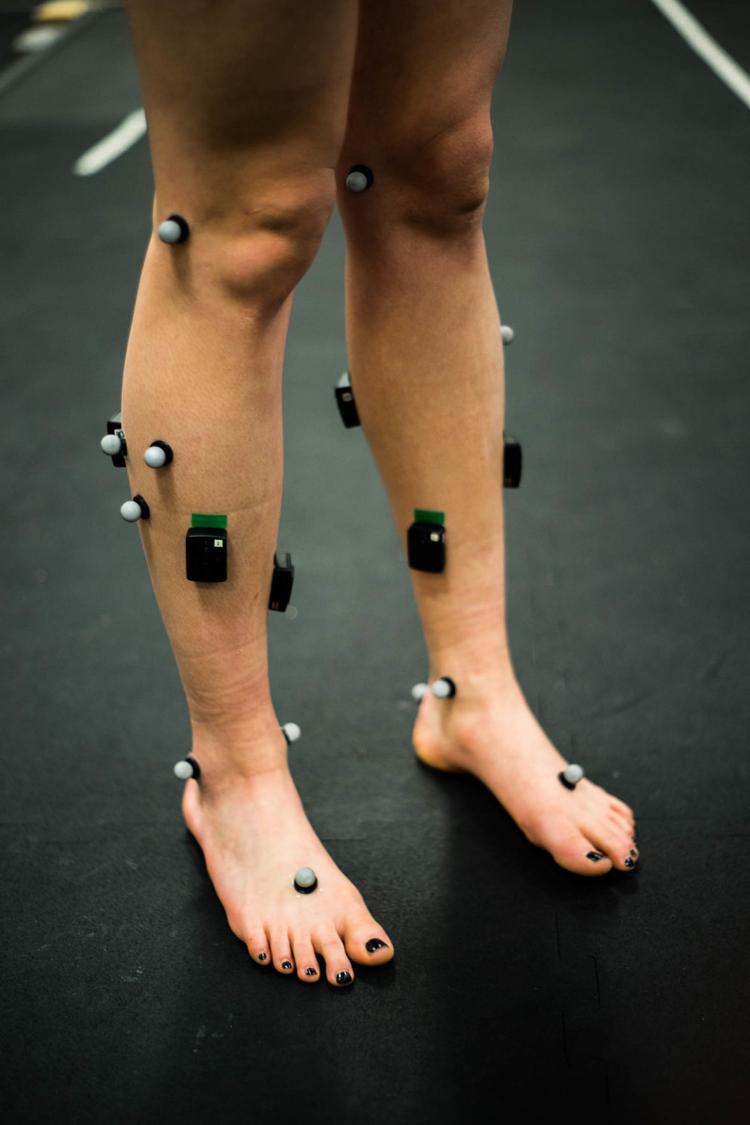 The public will likely see benefits that extend beyond NAU. Though the lab's primary objective is to serve NAU and provide research opportunities for scholars, each professor believes that its presence will positively influence the outside world.
While the testing of the cerebral palsy exoskeletons is still confined to the lab, their final assessment will take place in patients' everyday lives.
"Our ultimate goal is to be sending these things home," Lerner said.
Achieving their goal will take some time. Every proper scientific study involves a number of phases, from obtaining research grants, to accumulating a large number of patients.
However, this experiment seems to be moving steadily in the intended direction. The patients are using the robotic tools and are responding positively.
"Intuitively, we see that there will likely be a benefit from our work," Lerner said. "We can visually inspect how the patients are walking, and we see an improvement. We're really excited."
Jain also noted that the lab's multifaceted nature makes it very eligible for large-scale funding.
"The big push in healthcare right now is interdisciplinary education ... [the lab] appeals to grants, which fund interdisciplinary work," Jain said.
NAU's Human Performance Lab is creating innovative uses for technology in order to help the community. While the lab will continue to work to advance the use of the technology for multiple areas, the focus for exoskeletons to assist people diagnosed with cerebral palsy is a highlight to its dedication.