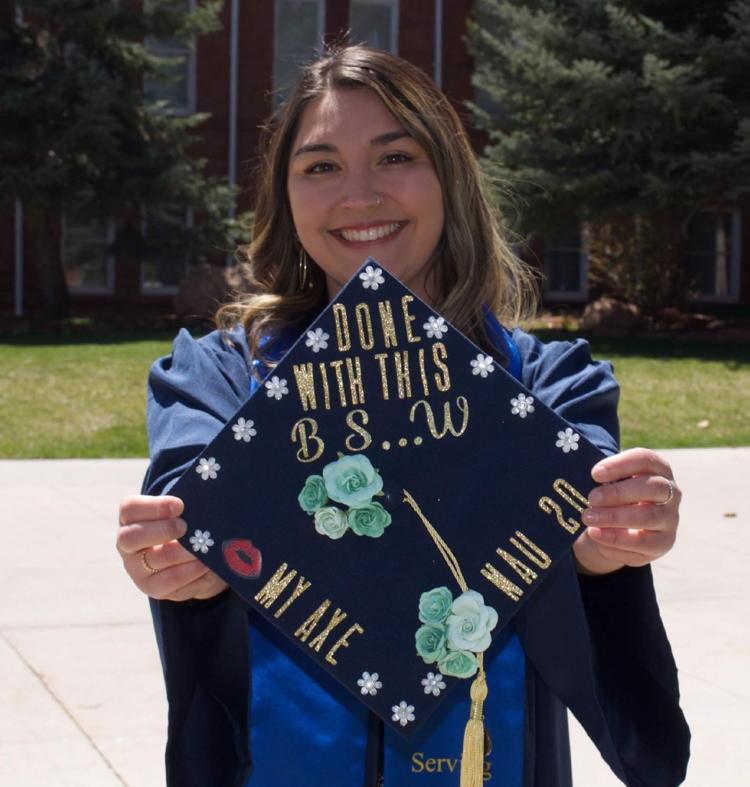 Grad: Katrina Sanderson
Parent: Christina Navarro
"'Let us make our future now and let us make our dreams tomorrow's reality,' -Malala Yousafzai
"You have worked so hard for this! We are proud of you and the young adult you have become. There is nothing you can't do! The sky's the limit, you just have to believe and work hard! The future is what you make of it, go out there and be the change you want to see in the world. You will definitely make a difference in many people's lives. Remember to treat every person with love and compassion.
"We love you and will always be here for you. Congratulations!"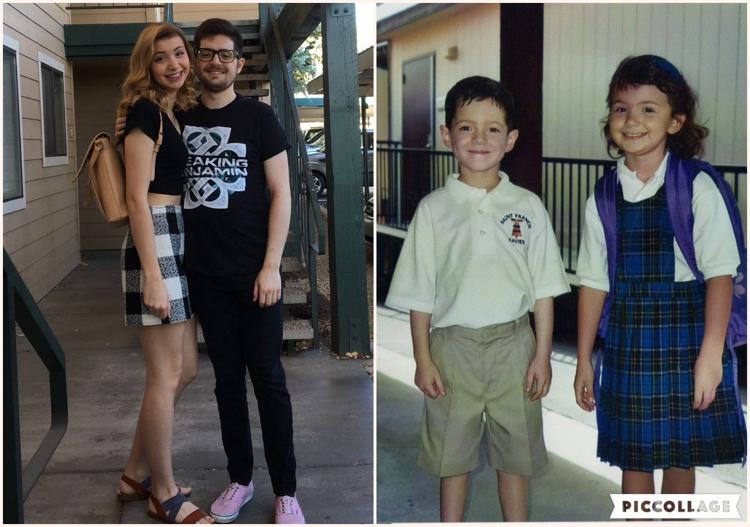 Grad: Ryan Porter
"'Ryan started his college journey not quite sure where he would fit in. He joined ROTC his freshman year, which was well outside his comfort zone. He chose to major in exercise science, also well outside his comfort zone. He was 2.5 hours from home, which may not be much for some, but was quite a distance for a guy who had the same friends since kindergarten and was a confirmed introvert.
"Unknown to us, and him, he caught something during freshman year. He was sick nearly every day but still hauled himself up to make it to ROTC on those freezing Flagstaff mornings. He felt it gave him purpose. Unfortunately, winter break came, and he was diagnosed with a chronic illness that kept him out of school in his spring semester.
"In spite of various physical and mental health challenges, he took summer school and made it back to NAU in fall of 2017. He found that ROTC wasn't for him, nor was exercise science. He changed his major to sociology and made the dean's list spring of 2019 and fall of 2019.
"He'll graduate, on time, because he never gave up, even though it would have been easy to do. He learned about perseverance, adaptability and how to live apart from his family. He made good friends. We couldn't be prouder of him."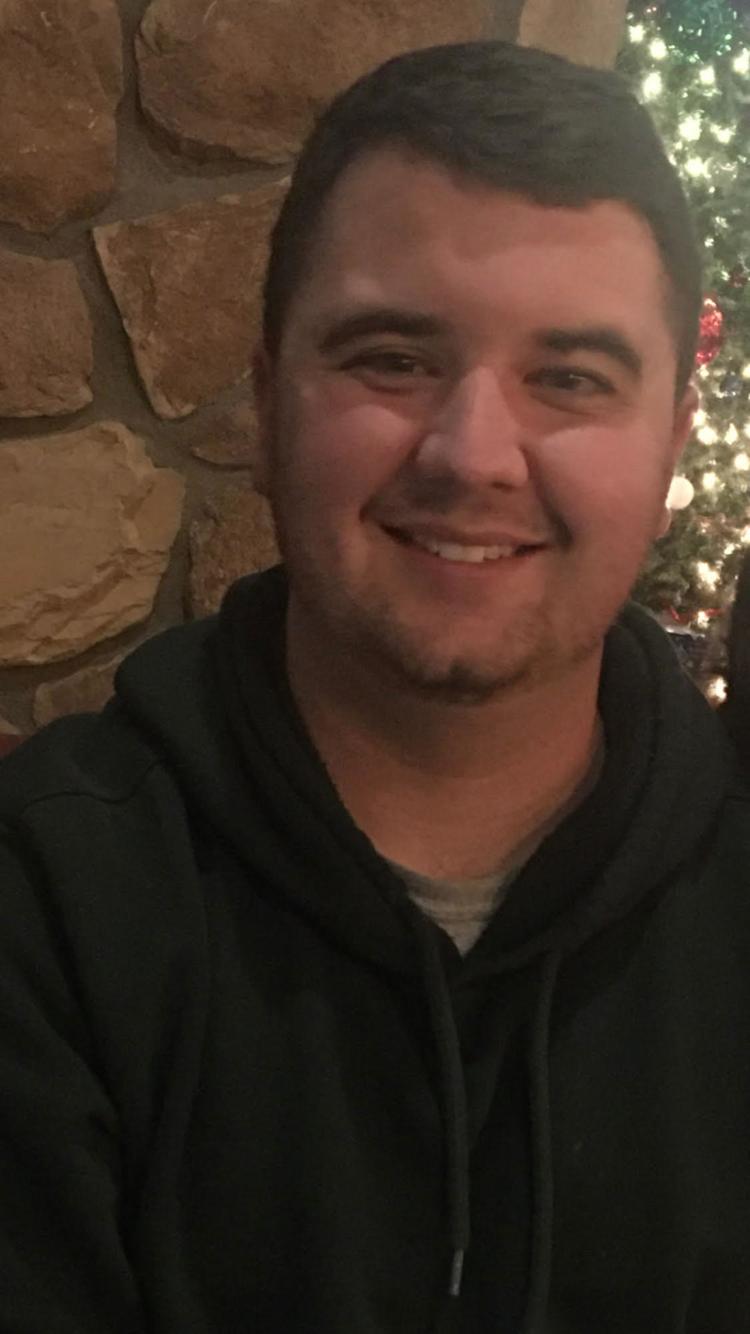 Grad: Sean Buckley
"Sean Buckley was destined to be a Lumberjack. Before Sean was born, he traveled safely in his mommy's tummy and attended college classes at NAU. Such knowledge he soaked up. After Sean was born, he was pushed and carried around campus until eventually, he was crawling the grasslands and then wobbly walking the sidewalks.
"Sean Buckley was destined to be a Lumberjack. Sean learned to play catch with Dad on the open grass fields of north campus and was taught to use his 'quiet voice' while mom and dad checked out books at Cline Library.
"After Sean grew up, he traveled, he jumped out of airplanes and then he came back to his home on a mountain.
"Sean Buckley was destined to be a Lumberjack. Sean studied and learned and studied and learned. Sean saved his parents' oodles of money. Such knowledge he soaked up. Sean fell in love and married another destined Lumberjack. Sean is graduating and his parents are proud and his wife is happy. We were all destined to be Lumberjacks!"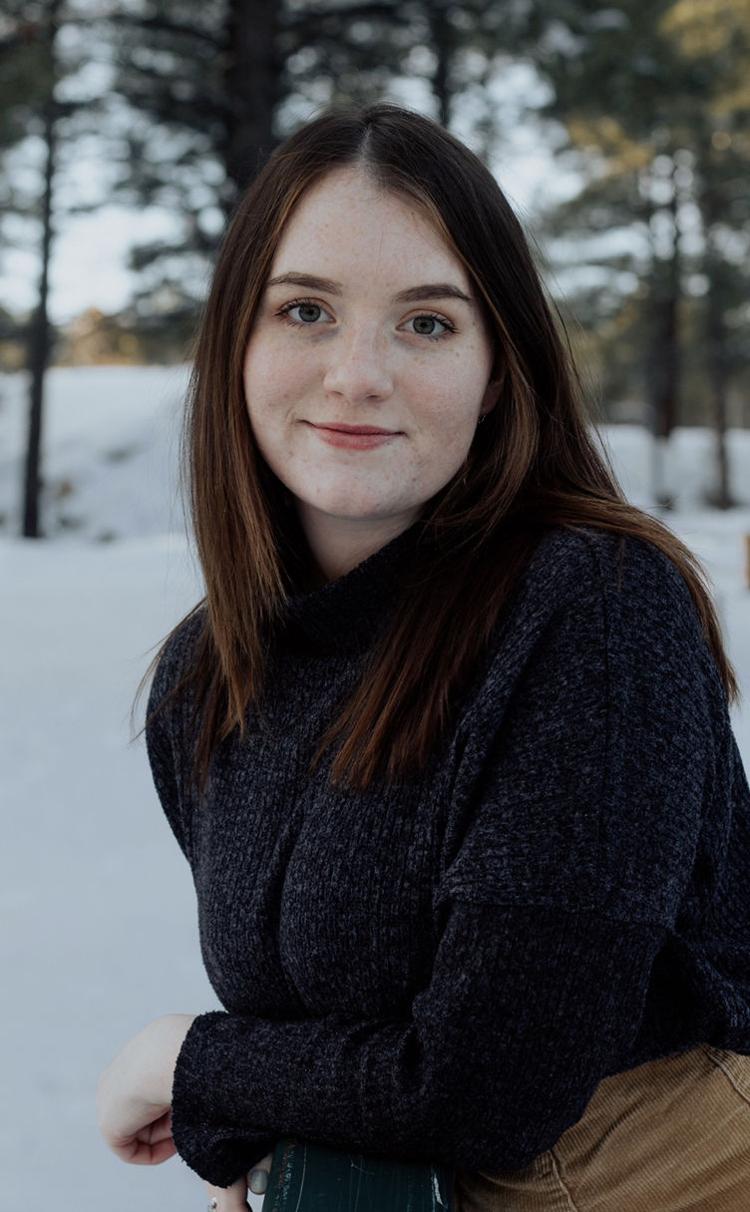 Grad: Kacie Debevc
"On the day of your graduation, we want to tell you how proud we are. Not everyone who begins their education completes by graduating. You have reached this point because of you. Graduation is the reward for all the efforts you have put in all these years. Congratulations Kacie Jo. Love, Mom and Dad. Thank you, NAU!"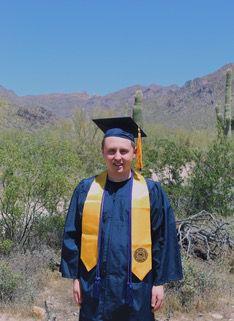 Grad: Bradford Hurley
"Brad, you have exceeded every expectation we had for you and we couldn't be prouder. The absence of a formal graduation does not take away that you worked hard and earned your degree in criminal justice and will live out your dream of becoming a police officer. The world will be in good hands because of you. Love, Mom, Dad, Kelsea, Daisy and Stella."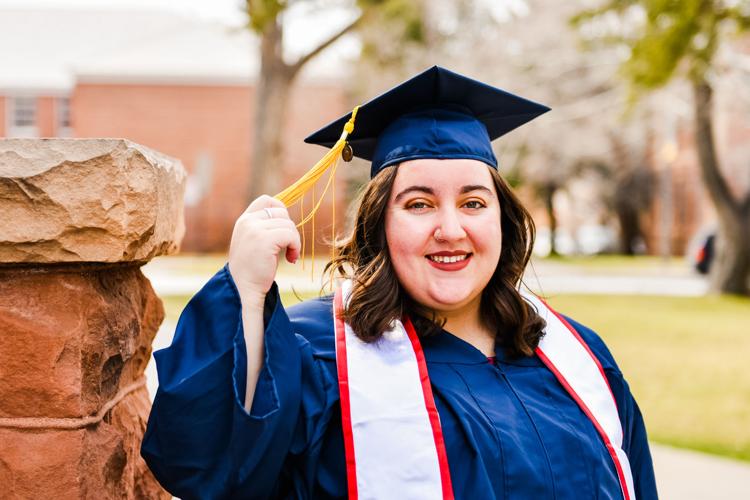 Grad: Brandyn Burke
"Talk about making the most of the college experience! We are so proud of our daughter, Brandyn Burke, and everything she has accomplished and explored as part of her NAU journey! It was certainly challenging at times, but she persevered and overcame.
"Right from the start, being on campus changed her. Our quiet girl decided to explore Greek life — something we never dreamed she would do — and accepted Alpha Omicron Pi's bid. What an incredibly smart decision that turned out to be.
"Then, just eight weeks into her first term, she decided to obtain a second degree while at NAU, to have a B.A. and a B.S. We were a little nervous, but she was confident she could do it. Looking back, we never should have worried. On May 8, 2020, Brandyn will officially graduate from NAU with two degrees: B.A. in anthropology [with an emphasis in] sociocultural [anthropology] and a B.S. in criminology and criminal justice with two additional certificates. Absolutely incredible!
"As an anthropology major, Brandyn dreamed of studying abroad. She quickly realized summer semester would be the only way to stay on track with two majors. In 2018, she traveled to San Sebastián, Spain, in Basque Country to study anthropology and sociology. It was her first time out of the U.S. and she really soaked it all in. Being on the Spanish border with France, she took weekends to explore the south of France and went to Paris with five other girls from her group. The travel bug bit hard. Just two months after returning, Brandyn was applying to a program for summer 2019. She studied at University College Cork in Ireland, for six weeks, then journeyed to Scotland, England and France, staying in hostels.
"Brandyn's Greek life experiences have shaped her every bit as much as her academic pursuits. She loves the camaraderie and ritual of her chapter, has taken on leadership roles as VP of education and VP of standards, and even went to Nashville, Tennessee to represent her chapter at a leadership conference. Her "Big," "Twin" and "Littles" have been such important people in her life at NAU, not just for fun times but truly her family at college and for life.
"We are in awe that in less than four years, Brandyn has gone from a shy freshman with big ideas to a leader and world traveler with two degrees in hand. It's been an amazing and joyful ride to watch. We are so proud of you, Brandyn! We love you to the moon and back!
"Love and hugs. Always, Mom and Dad"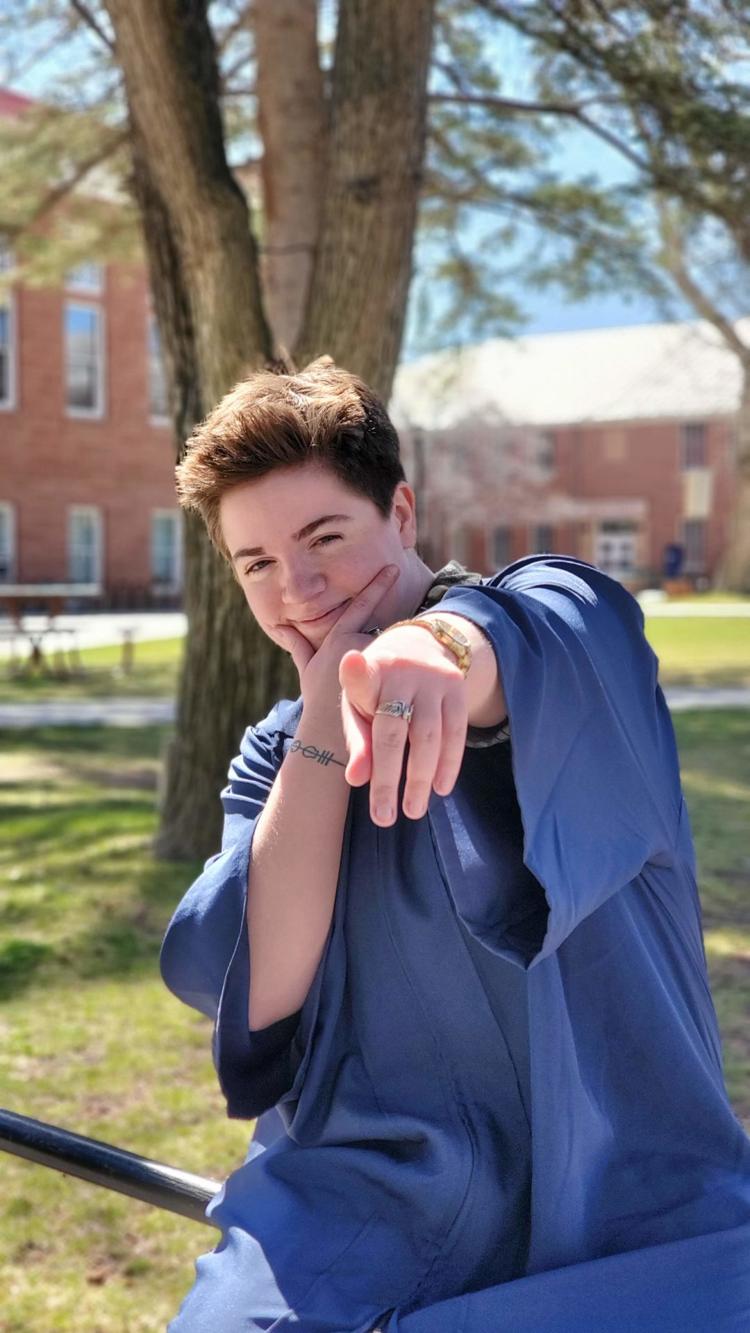 Grad: Emma Rish
"Graduating with a bachelor's in history. After 16 long years of education, the end has come! First college grad in the family. We are so very proud of what you have accomplished! Good luck on the job hunt. We love you so much. You are the best! Love, your family."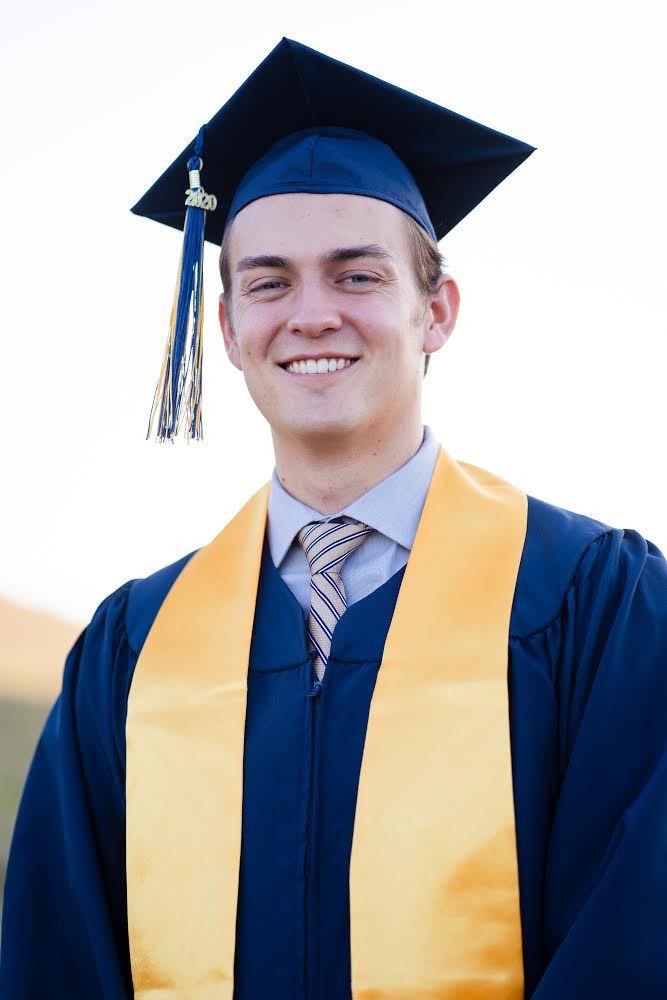 Grad: Samuel Prasse
"My son Samuel Prasse is graduating with his B.S. in computer science. He maintained his Lumberjack [scholarship] throughout his 4 years at NAU. He successfully completed three summer internships at Northrop Grumman as a software engineering intern and has accepted a full-time position with the company after graduation. I am extremely proud of the fine young man he has grown to become and excited for his bright future."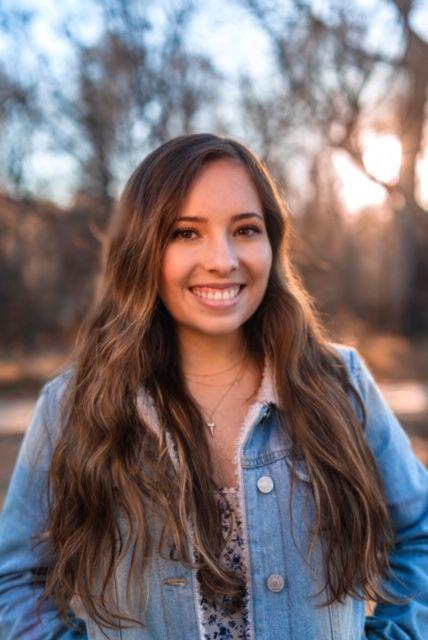 Grad: Nicole Donnelly
"Nicole Donnelly, originally from Peoria, AZ, is graduating with honors with a major in exercise science and minors in both psychology and Spanish. She will be taking a gap year to work as a [physical therapy] tech with hopes of furthering her education at graduate school in 2021 toward a doctorate in physical therapy.
"We wish you the strength to face challenges with confidence, along with the wisdom to choose your battles carefully. We wish you adventure on your journey and may you always stop to help someone along the way, listen to your heart and take risks carefully. Remember how much you are loved! We are so proud of you! Mom, Dad and Grandma."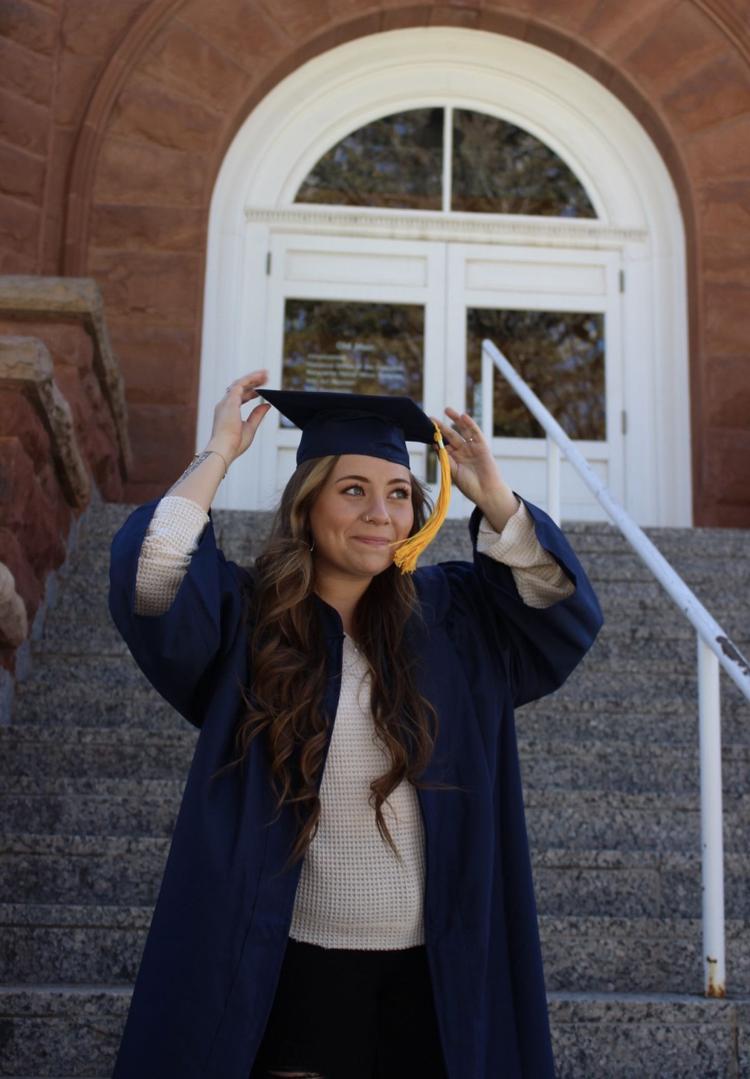 Grad: Sydney Roman
"Our incredible daughter, Sydney Roman, is graduating with a bachelor of science degree in psychology. Sydney is a member of the NAU women's tennis team and we are incredibly proud of her accomplishments on and off the court. Her collegiate experience at NAU has been outstanding, making life-long friends and creating memories along the way. Her education, commitment and tenacity will all help her as she strives to further her education by obtaining her master's degree next. Watch out world, Sydney is ready to make her mark!
"[From] Ann and Tom Bassett and Ricardo Roman."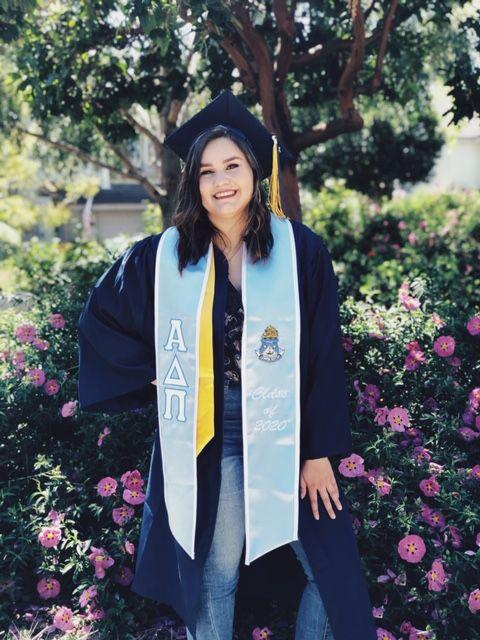 Grad: Shea Pike
"Shea Pike arrived on campus determined to succeed and she did. She faced challenges head-on, assumed leadership roles and found her career passion in biology and wildlife conservation. Her family, friends and heavenly angels are so proud of her accomplishments and who she has become. What a privilege to be a part of her journey. The present is temporary, but your future is what you make of it. Be bold, be courageous and follow your heart and dreams farther than you ever thought you could. Joshua 1:8-9."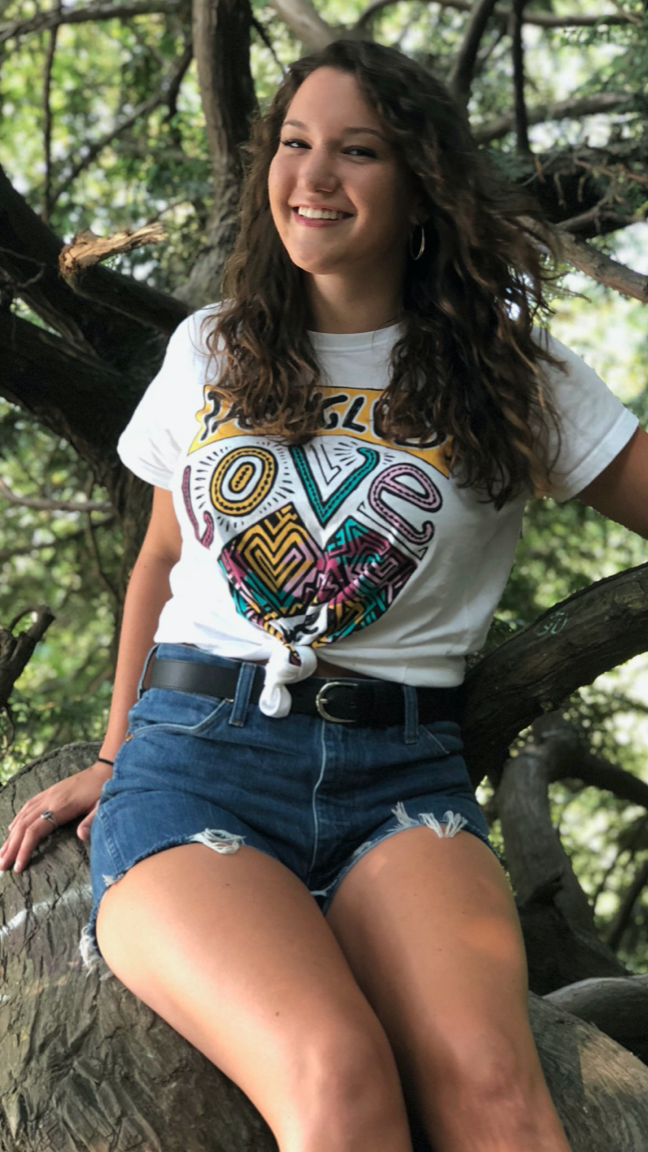 Grad: Brittany Frisk
"I can't believe the time has come and you will be graduating from college. From the time you were born, you were a very strong and independent young girl. I knew that you would always be challenging yourself in life such as sports, moving out of state to attend college and traveling aboard. You amaze those around you with your strength, abilities and wisdom. Know that your dad, Richard, is looking down from heaven with a big smile on his face and love in his soul, saying, 'That's my baby girl!' With the joy in your heart, you can light up a room with your smile and laughter. You work hard and use the challenges of your life to grow and help others."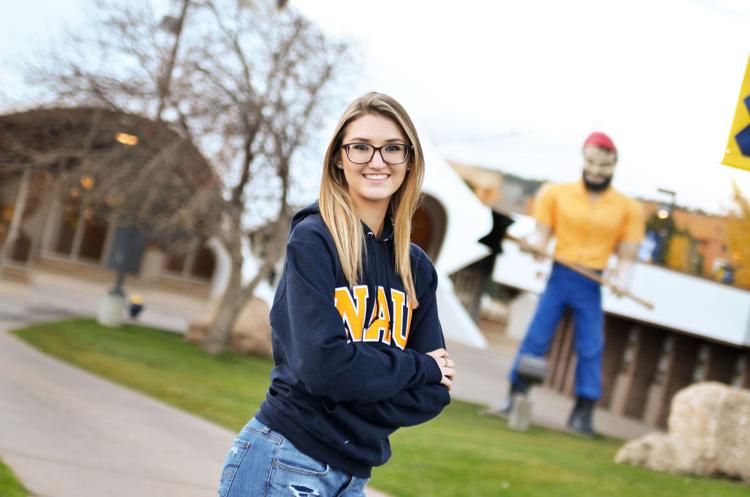 Grad: Amanda Stefan
"From the time you were little, I imagined you doing great things. I can't tell you how very proud we are of you! You took the initiative in the 8th grade to move from the life you knew to Arizona and start a life you have made. You knew early on NAU would be your college and a place to start your adult life. You have accomplished so much in your 21 years and I know you will do so much more. Congratulations on all your hard work and graduating in 3 years! We Love you very much! Sincerely, your whole family!"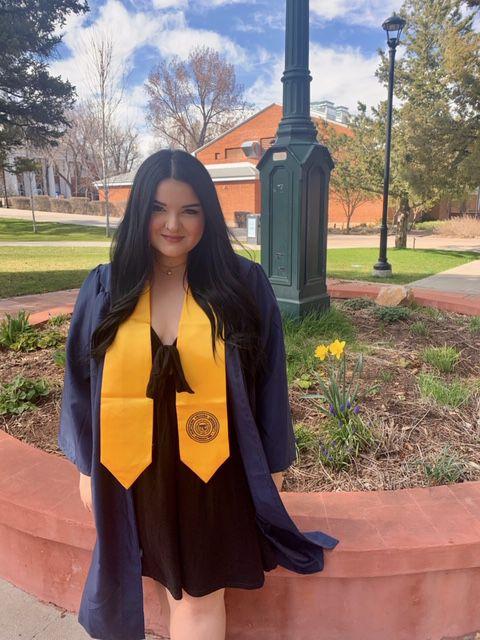 Grad: Courtney Issar
"Courtney is the youngest of my 5 daughters and the only one to choose to attend a college away from home. It was a big step and I'm so grateful that she got this opportunity to attend NAU and live in Flagstaff the past 4 years. I'm so impressed with how she handled living on her own and the maturity and responsibility she has shown. It wasn't always easy – emergency surgery [she] needed in her sophomore year, holding down two campus jobs, a late change in major and a heavily-loaded class schedule her senior year so that she could graduate on time — Courtney never complained or asked for help. She just did what she had to do to reach her goals. One of the most fun things we, her family, enjoyed was listening to her DJ her show, "Defend Pop Punk" on KJACK radio each week. We could have never imagined the turn of events that would occur her final semester and we are certainly disappointed that the class of 2020's graduation ceremony was adversely affected. Nothing, however, can diminish her accomplishments and how proud we are of her. We wish her the brightest future ever!"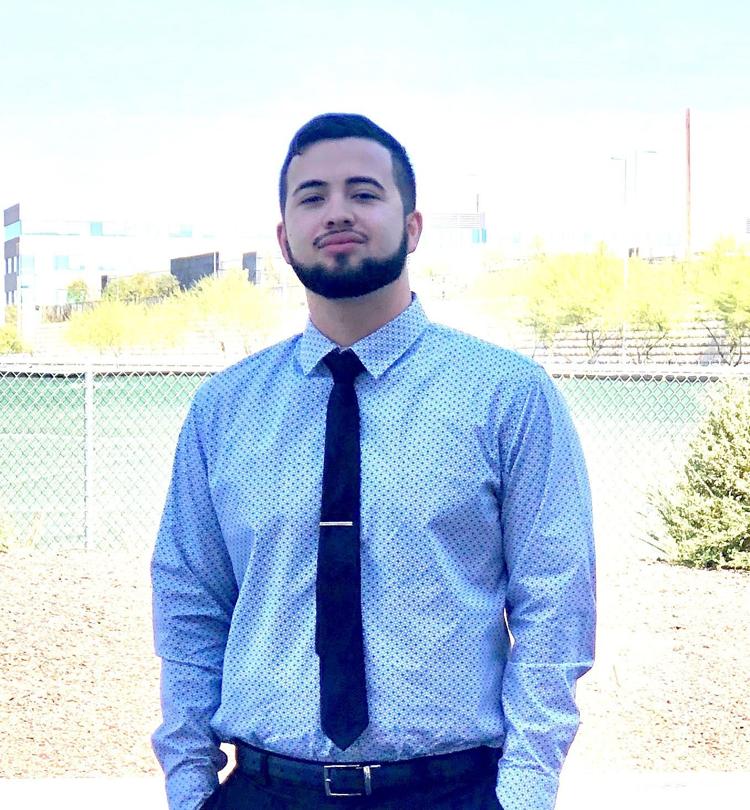 Grad: David Elias
"Son, life itself at times seems unfair and challenging, and you have experienced both. Though you could have stayed on the ground when life knocked you down, you chose to move forward, you fought like a warrior and nothing could hold you back. You're the real definition of a victor. Your graduation is evidence that every effort gets to be rewarded with time. Your best is yet to come. I know there is so much more ahead for you to win. Being able to witness the man you've become has made us extremely proud of you.
"Now that you're beginning your new chapter in life, you can always know and continue to count on us to be your biggest cheerleaders! Live the best of your life. Aim high and beat people's imaginations. Don't ever entertain doubts on your abilities. God is always by your side! We love you son, Mom and Dad"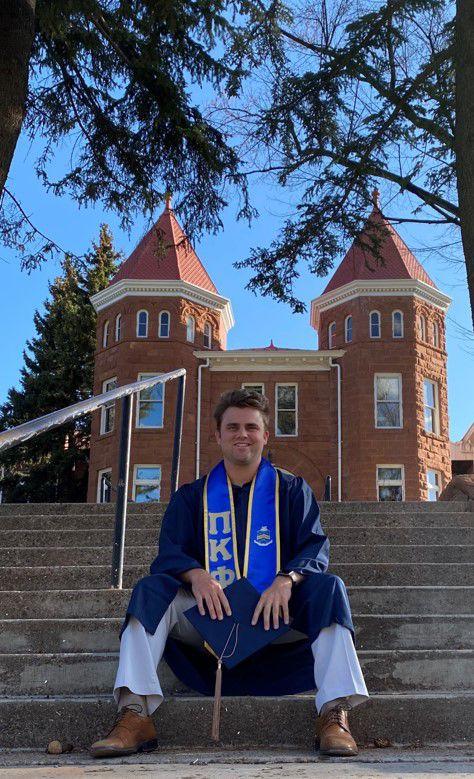 Grad: Austin Vreeland
"Congratulations Austin! We are so proud of your accomplishments and for making the best out of your four years at NAU. We can't wait to see what your future holds and know you will do well at whatever you put your mind to. Go out and make the best life and be your best self. We love you!"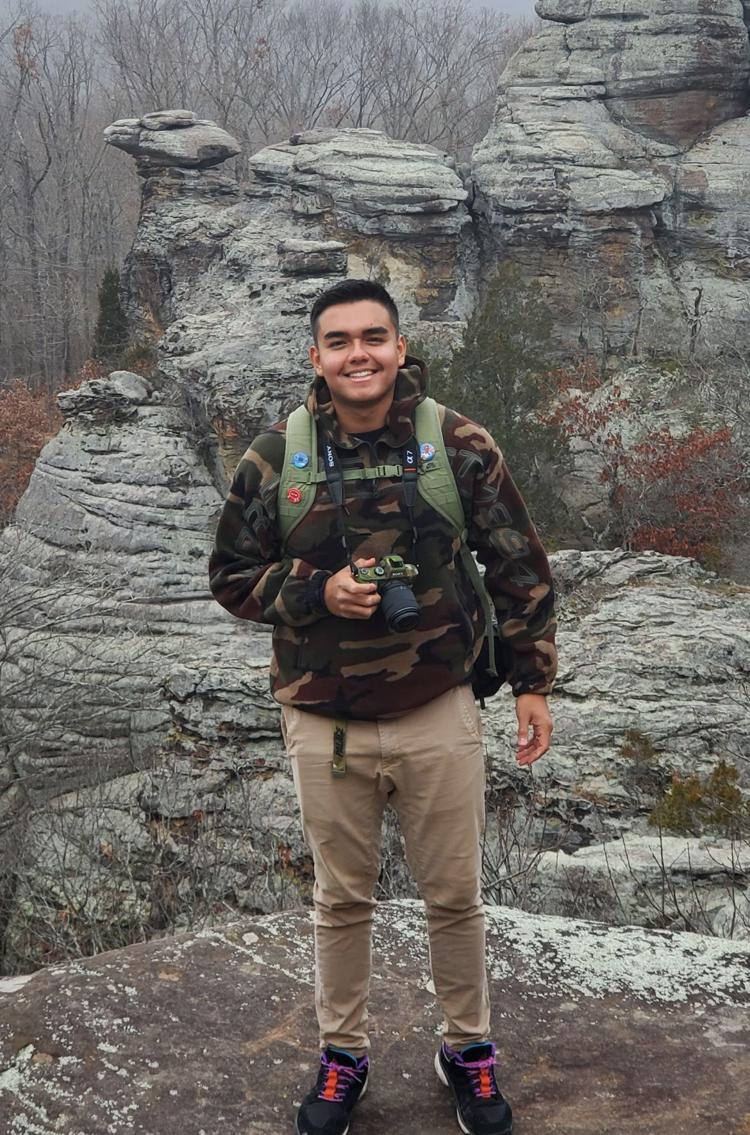 Grad: Ricardo Garfias Olvera
"Congratulations on all that you achieved! You can be proud not only of your degrees but the experiences, friends and memories you have made. Being honored as the outstanding senior in management from the [W.A.] Franke College of Business attests to your determination, attitude and pursuit of success. We will always be there to encourage you as you continue to chase your dreams and accomplish your goals! So proud, James and Stacy"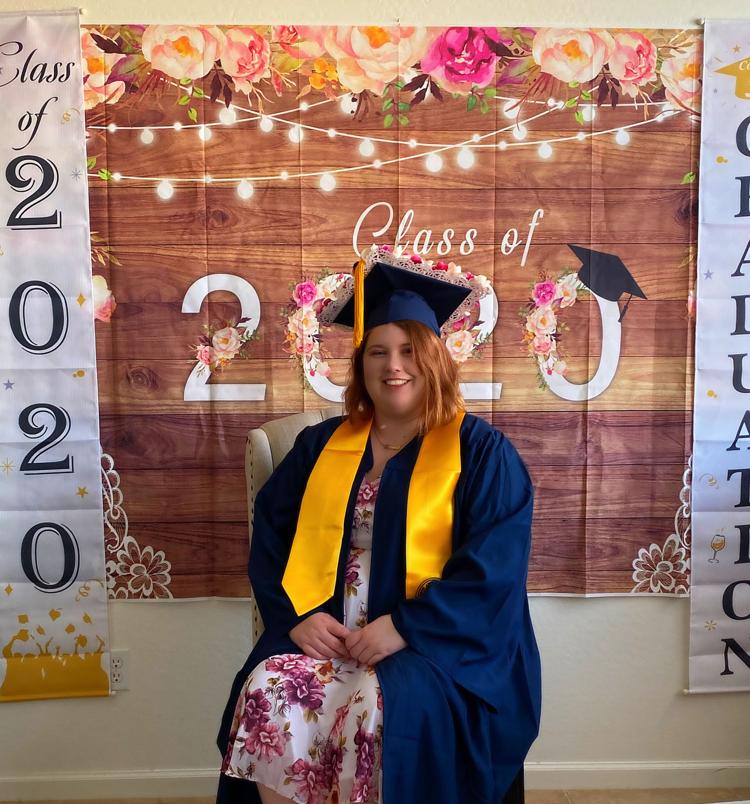 Grad: Dena Tingley
"To our amazing daughter, Dena Tingley. Congratulations on all your hard work. You have become an amazing, loving, caring and funny woman. We are so proud of you. Keep reaching for the stars, baby. We love you. Love, Mom and Dad."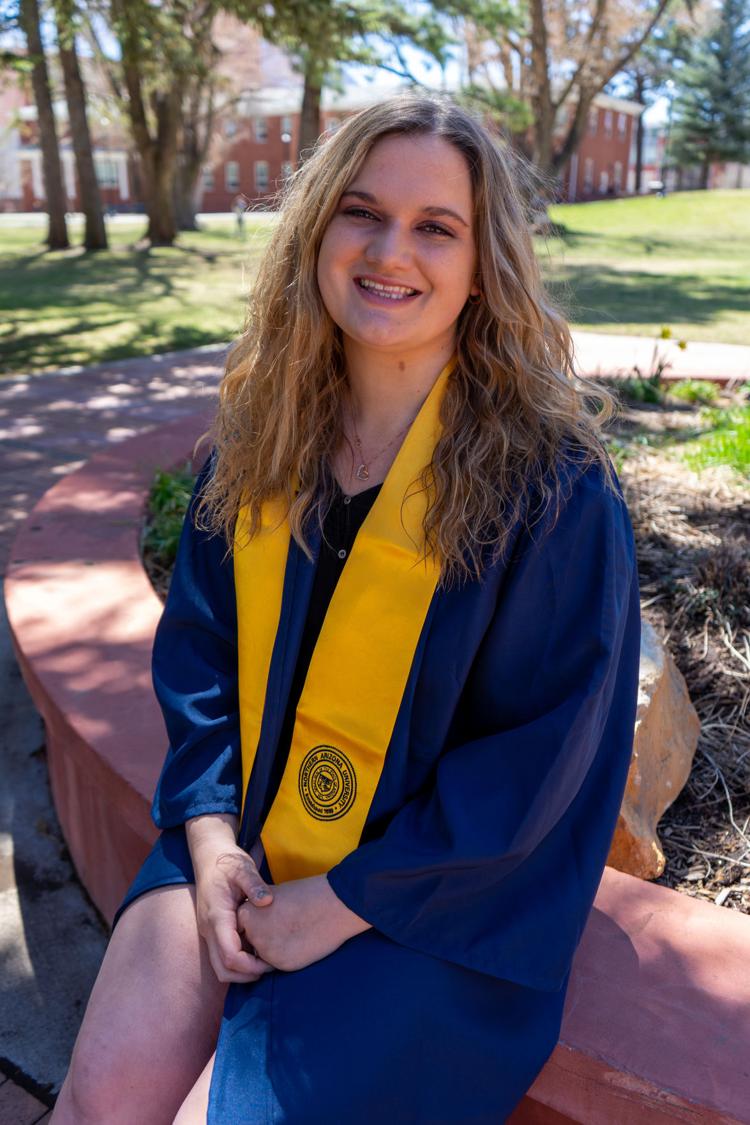 Grad: Amanda Garfias
"Mandy, congratulations on your achievement! It has been a crazy, but great four years. We admire your determination and focus, appreciate your caring attitude but love your gorgeous smile and hugs! You have made us so proud and know you will be a success as you continue on your path. Always our love, cheering you on from the sidelines, Mommy and Daddy."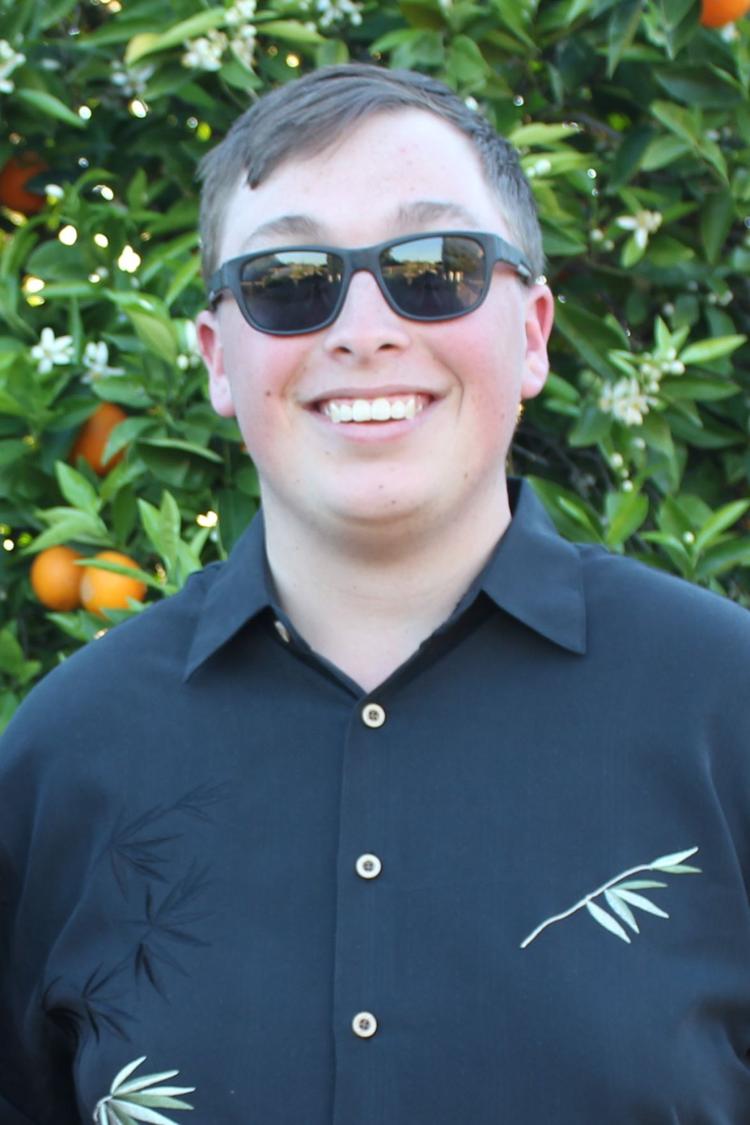 Grad: Liam Kissane
"A big Lumberjack shout out to Liam Kissane, hotel and restaurant management graduate, class of 2020. Super proud of how you've journeyed through NAU with conviction, maturity, resourcefulness, humor, flexibility and high academic standards. Although this transition at graduation is not what anyone would have predicted, your future is bright! Your learning, both inside and outside the classroom, has prepared you well for life's next chapter. Your friends will walk alongside and your family will always be in your corner. Continue to be true to yourself and know that you are loved beyond measure. Once again, it's time to kick some axe!"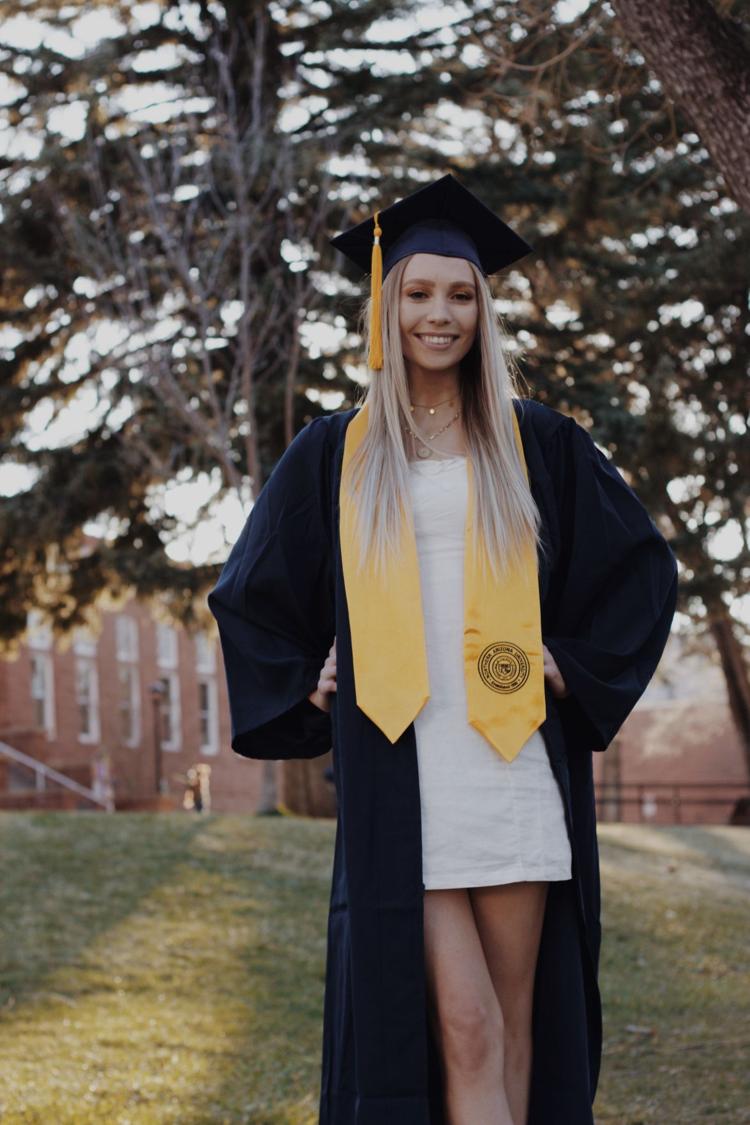 Grad: Saoirse Matthews
"Saoirse Matthews is a 2020 NAU grad receiving her B.S. in biology. This military brat spent half her life living overseas but chose NAU because of its similarity to Germany, which she considers home. This amazing kid has always worked hard to reach her goals — be it in sports, school or her career — and we couldn't be any more proud of her. We wish her the best of luck as she heads to the [University of Colorado] Denver in the fall for graduate school, studying biomedical science and biotechnology on CU's Anschutz Medical Campus. We love you Bee, you are amazing and will do wonderful things! Love, Mom, Dad, Isobel and Maren."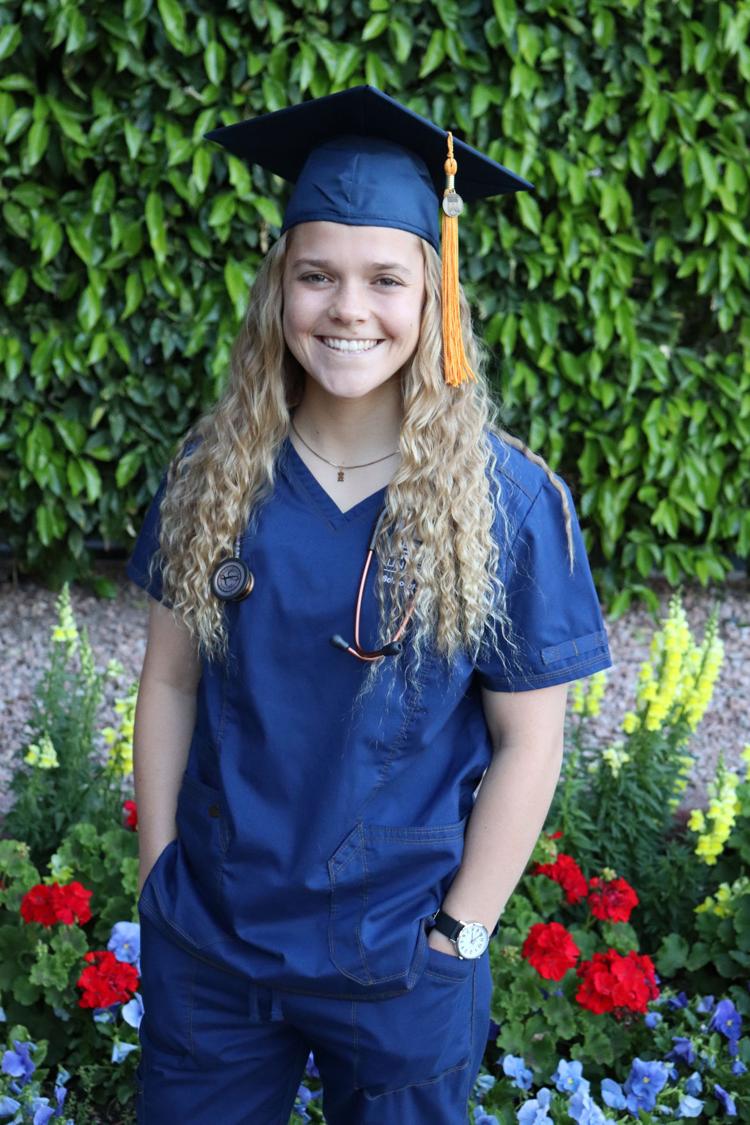 Grad: Toree Burgess
"Toree, you are always one to accept a challenge. Even as a two-year-old stuck in timeout, you'd look at us with crossed arms and your face would say, 'Is this all you've got? Bring it!' You were never one to embrace schoolwork or studying, although you always earned excellent grades and gave your all. You loved junior high sports and were voted most likely to play all the sports in high school. You were much happier at school while involved in sports and extracurricular events.
"Dropping you off at NAU [in your] freshman year was torture! Although we were excited for your adventures to begin, it was tough to hold back the tears, knowing life with our four little girls at home would never be the same. The first three semesters were rough; all work and no play made you miserable. You originally had dreams of diving in college, but a shoulder surgery after high school left you focusing solely on your studies instead. You were doing a great job, but you were homesick something fierce.
"You put all your effort into earning straight A's, so you could get into the nursing program. You took a biology class in the summer, so you could gain extra knowledge before the big Kaplan exam. You were determined to make it happen on the first try, so you could make it out in four years. You missed the camaraderie surrounding high school sports and squeezed in running or lifting weights whenever possible, as an outlet and to avoid the freshman fifteen.
"You also got a job as a residents' assistant to help cover costs. The RA job turned out to be a turning point for you. It was so much better your sophomore year because you were busy with something other than studying. The RA job required you to be in Flagstaff longer and the homesickness still held strong. However, life seemed so much better! Your coworkers became friends and the activities outside of studying provided a much-needed outlet. You played board games, made crazy awesome door decorations, organized hall events and gained valuable skills working with others. You realized through your leadership role, that you liked customer service.
"You made it into the nursing program the first time you applied! With the stress of being accepted into the program behind you, you were able to focus on the program and thrive. You leave NAU a well-rounded, highly educated, amazing young woman with a degree in nursing. Even during these uncertain times with COVID-19 lurking around every corner and depriving you of the ceremonies and celebrations you deserve, you are ready to be a nurse and make a real difference. Looking back, NAU was a great experience for you and the four years really did fly by! You are beyond awesome and we are so excited for you! You always amaze us with your hard work and determination. We love you more than you could possibly know.
Love, Mom, Papa, Sisters and the Zoo."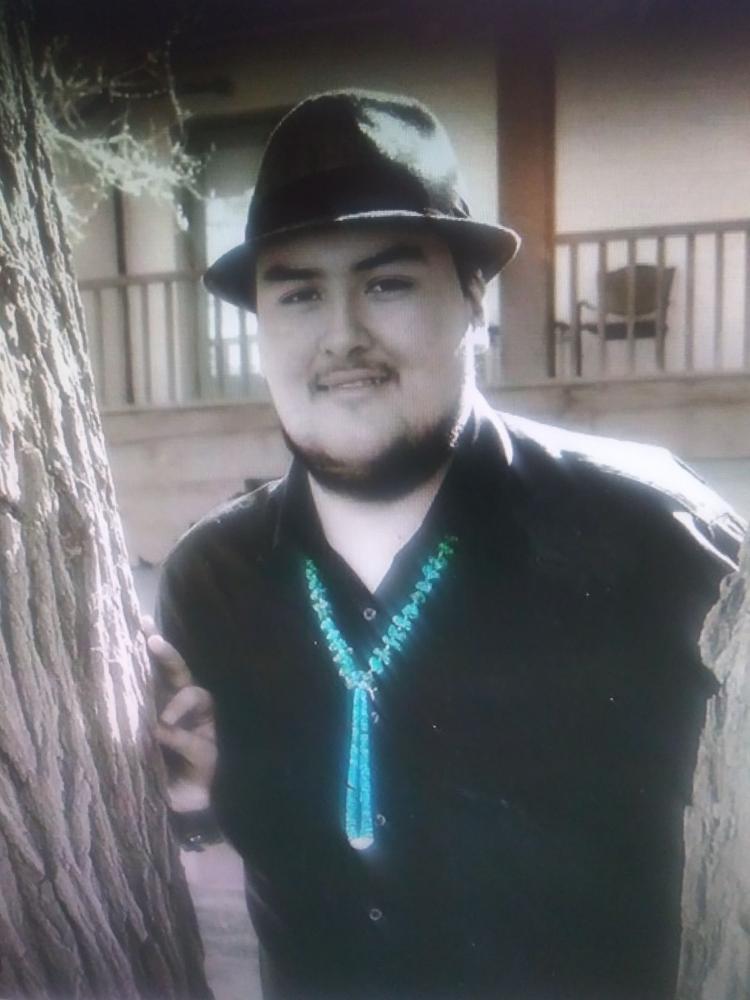 Grad: Darrion Chambers
"Darrion, graduation is a day every student looks forward to. Being able to walk across that stage and finally understand the purpose of having to wake up every morning for the last 16 years of your life. Not only are you making your parents proud, but you will be achieving one of your major milestone accomplishments thus far in your 21 years of life. Remember that you did not get here by yourself. You had family and friends cheering you on. Your professors challenged you to be a more critical and thoughtful thinker because that is the ultimate price.
"As you transition from the college environment to the real world, never stop learning and pride yourself to stand out in your own unique way. Take each new problem on with confidence, knowing that you have achieved heights and are equipped with the necessary tools to tackle your future. Life is about growing and to learn new skills, that you will carry with you for the rest of your life. You will see that happiness is temporary and elusive, and contentment is much more fulfilling. Pursue what you love and never forget that we love you. Now, you are ready to take on new things and start the next big chapter in your life.
"Congratulations son! We are so very proud of all the accomplishments and hard work in your life! Love, Mom and Dad."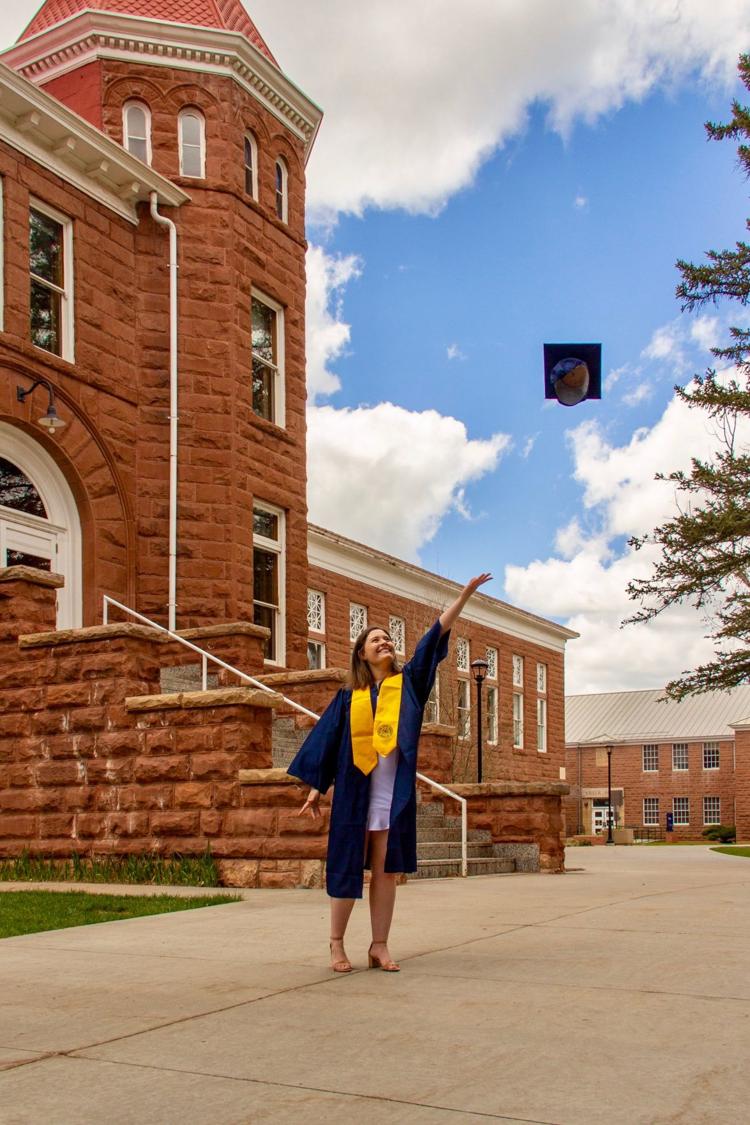 Grad: Julia Caputo
"2020 seemed so far from your first day of kindergarten, but here we are. We have always been so proud of the importance you placed on your education and the dedication that you put toward it. Your hard work, persistence and sacrifice have finally paid off! Not only were you successful in your classes, you were also able to have some of your best years at NAU. Getting involved in clubs, service organizations, professional groups and becoming a founding sister of the Delta Phi Epsilon, NAU chapter, were just a few of the amazing opportunities that you took advantage of. You made lifelong friends and created memories that will always be with you! Flagstaff will always hold a special place in your heart! Although you will not be walking with all the 'pomp and circumstance' you deserve, you have been given something that no pandemic will ever be able to take away! You are now a college graduate with a bright future and a family that can't wait to help celebrate your accomplishments! We love you tons and will continue to be your biggest fans! Now get to work. Love you! Mom, Papa and Josh."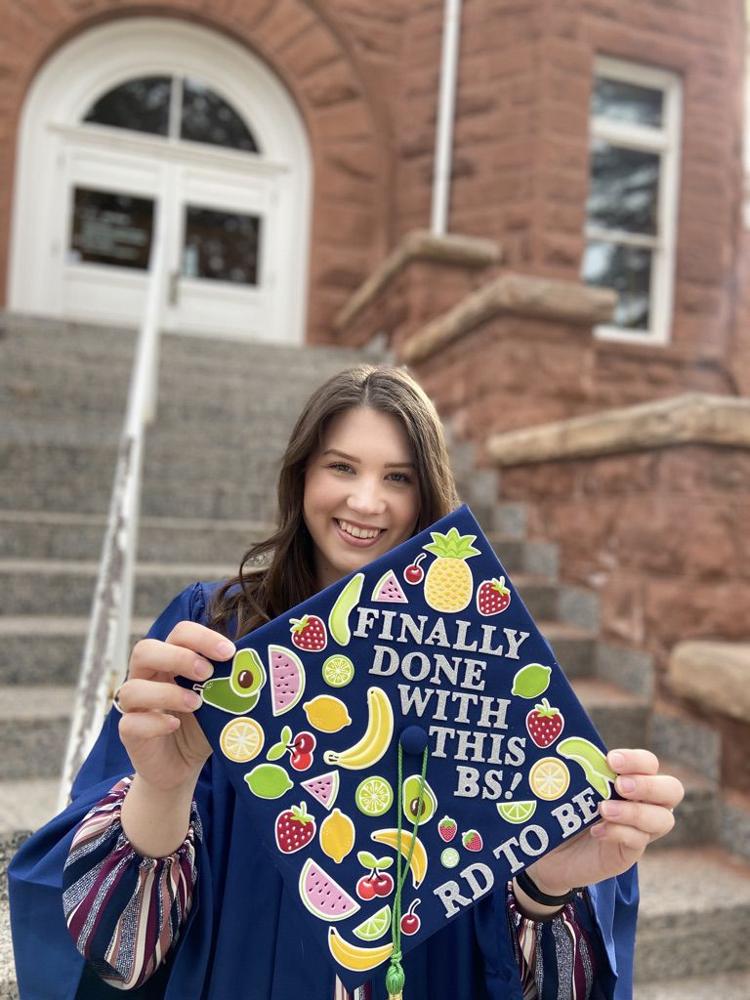 Grad: Riley Perrin
Parent: Megan Perrin
"After four years of hard work, our Riley girl is graduating with a B.S. in health science, nutrition and foods. She will be continuing her education at NAU pursuing her graduate degree with a [master's degree] in public health. Riley was awarded the Distinguish Senior Award for the College of Health & Human Services for the nutrition department.
"Riley, Dad and I are incredibly proud of you. We are so excited to see you grow and achieve your goals to be a registered dietitian. I feel like it was just yesterday I was peeling you off my leg to start kindergarten. Look at you now! Never stop believing in yourself and never stop chasing your dreams. We love you to the moon and back, Mom and Dad."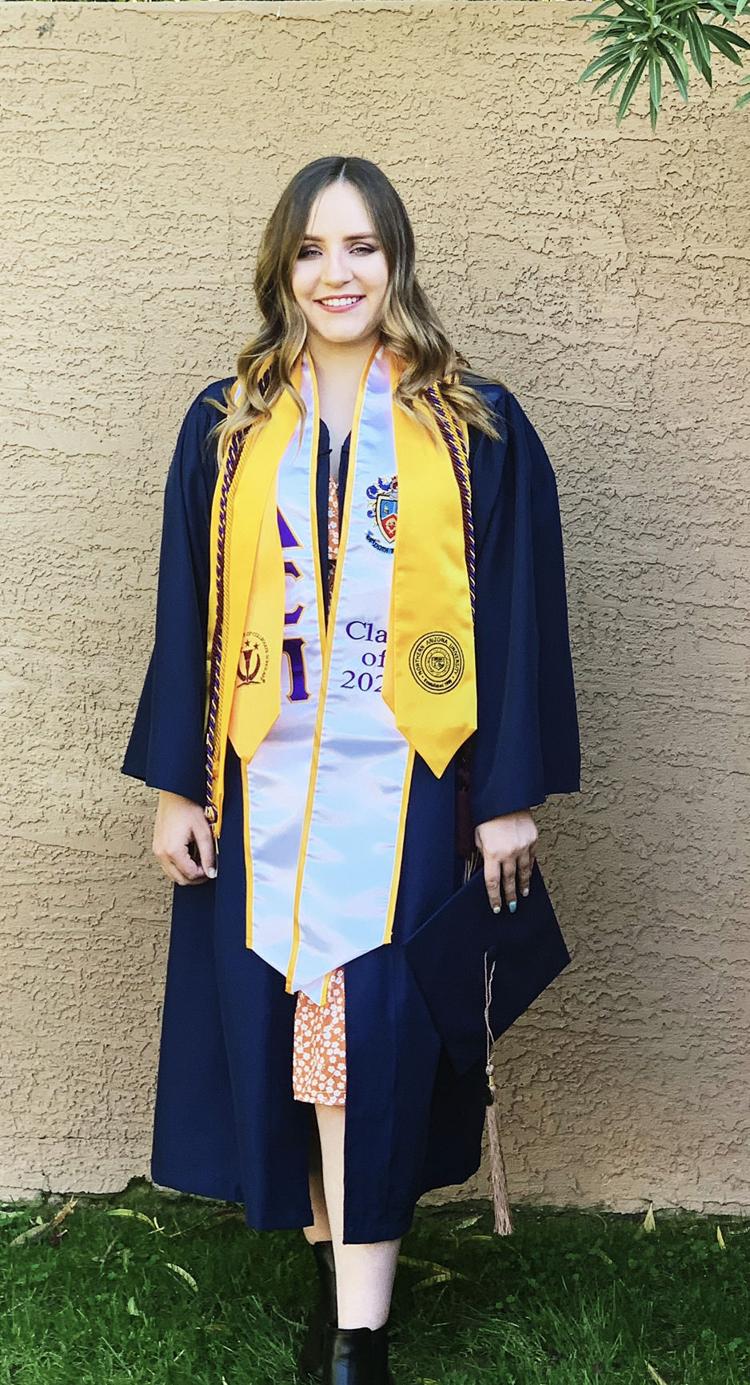 Grad: Michelle Couture
"You came to NAU with confidence and pride. You never looked back. You joined many groups and clubs that helped you pave the way. You furthered yourself by working on campus in Housing and Residence Life, becoming an ambassador for the business college and taking on an officer's position for Delts Sigma Pi, just to name a few.
"You were a typical freshman making your way through life and establishing what it takes to build a future. From there, you became a college graduate with a full resume of experience and a bright future in finance.
"You have made many wonderful friends and created everlasting memories to cherish forever. You have had good times and challenging times throughout your four years. All of these experiences have made you who you are today. We are extremely proud of you and couldn't ask for anything more. We look forward to the next chapter of your life as you continue to make us beam with pride. Love you, Mom, Dad and Madysen."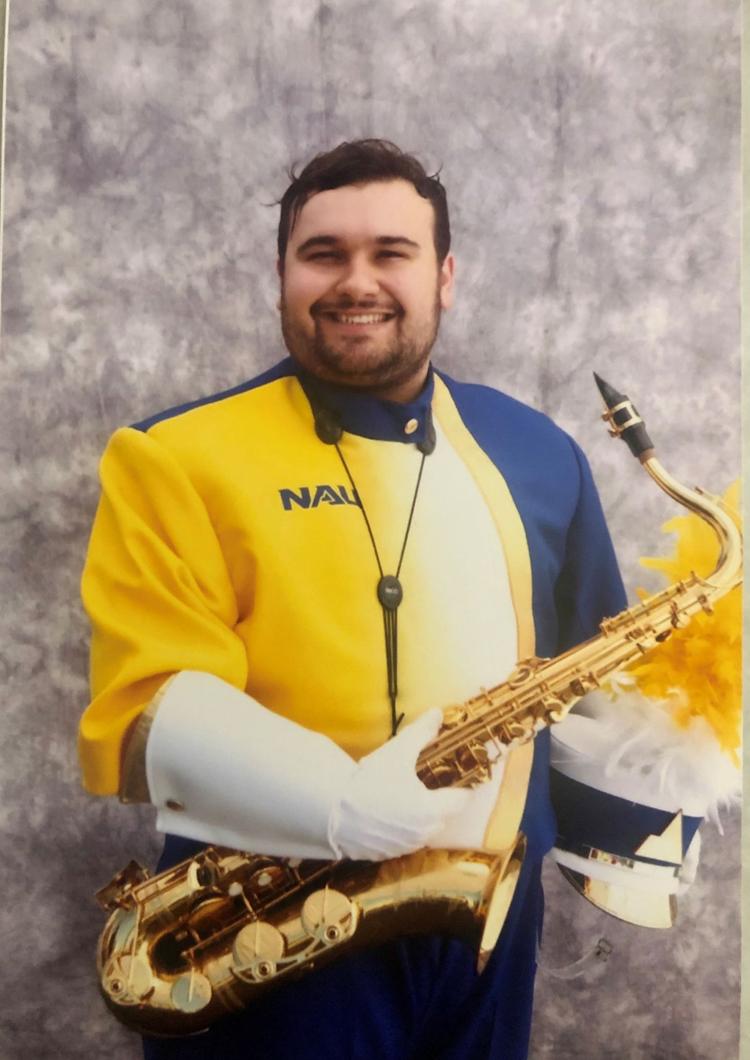 Grad: Christopher Marcotte
"Chris Marcotte will earn a degree from the School of Hotel and Restaurant Management from NAU this May. Chris is from Virginia and after touring the campus as a high school senior, he knew NAU was to be the perfect fit for him. Being 2,190 miles from home was never a worry for Chris. He was embraced by the staff at HRM and by the NAU band. Chris has had experiences at the Grand Canyon hotels and at the Marriott Vacation Club in Phoenix through the HRM program, which have been very rewarding. The marching band, pep band and music fraternity gave Chris so many great memories. We are proud of everything Chris has accomplished at NAU. Go Jacks!"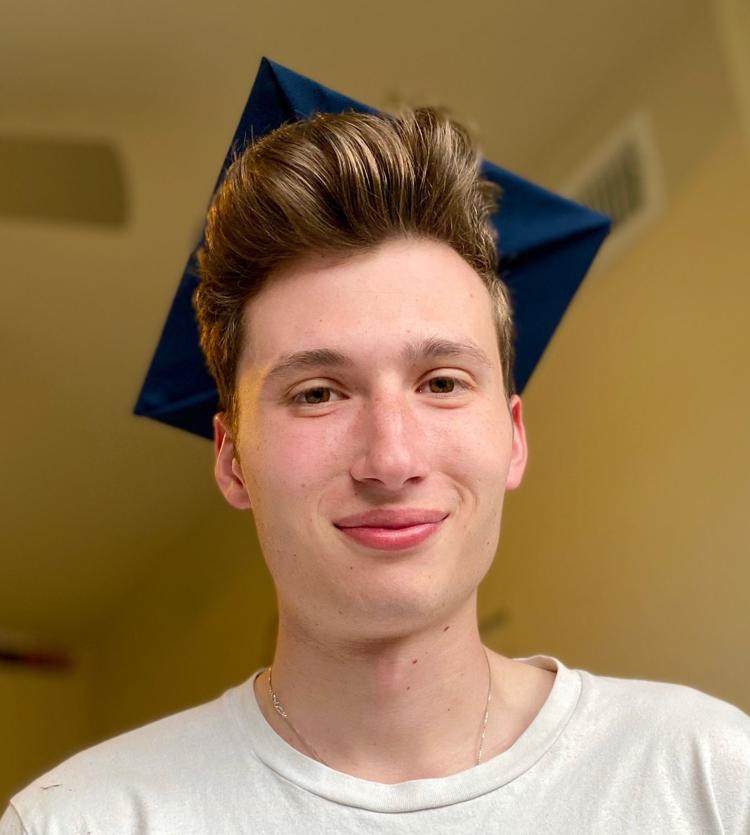 Grad: Carter Boro
"Congratulations to our oldest Lumberjack, Carter Boro, and your tremendous accomplishment. While we know you are bummed about not walking — oh, right, that is more how Mom feels! — please know how proud we are of the hard work and effort you have put into the past four years and the important thing is that you have earned your degree and we know you will go on to do great things in life. We are so proud of you and look forward to the new journey you will be taking. Always know, we are your biggest fans! All our love, Mom, Dad, Tanner, Regan and Grandpa"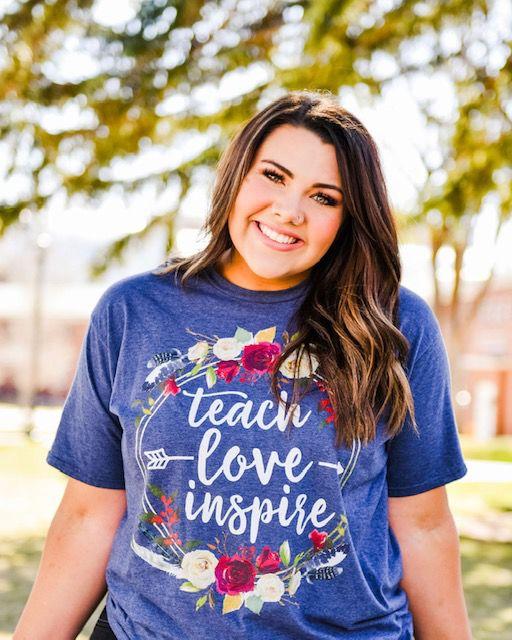 Grad: Mary Kellard
"We are so proud of Mary Kellard, who will be graduating [with a degree] in elementary education. She is the 4th member of the family to be a proud Lumberjack. It's sad to know that there won't be a ceremony due to COVID-19, but we're thrilled to see her go out into the world and mold these young kids' minds and hearts! We are excited for your new future! Your second graders will love you. Mom, Dad, Blake, Bridget, Troy and Tyler. We love you Mary!"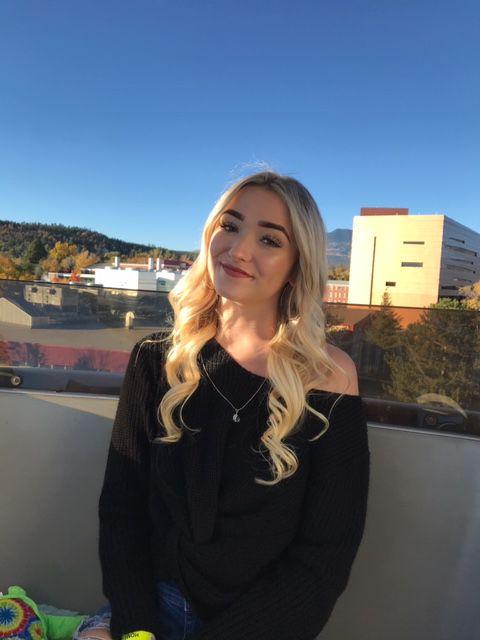 Grad: Nicole Coyle
"Congratulations to our future teacher, Ms. Coyle! Many people go their entire lives without finding their passion. You found your path early in life and were determined to see it through. We are so proud of all your hard work and accomplishments. We love you and know your compassion and dedication is going to make a difference in many young lives!"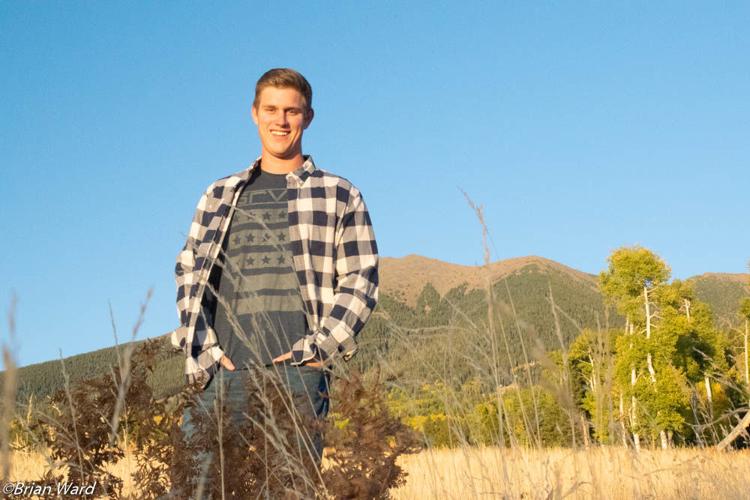 Grad: Zachary Simmons
"What a crazy experience the last four years have been for you! You have been challenged in ways only a loving family would know and have risen up time after time after time. We are proud of the man you've become. While the final few months were far different than you would have scripted, once again, you persevered and came through like a Lumberjack — bigger and stronger! May the challenges you've faced give you courage, determination and confidence to face the world ahead of you. Congratulations on the phenomenal job offer! We know there are great things ahead for you, Zach! Colossians 3:23. Love, Mom, Dad, Lucas, Kyle, Nana and Papa and Grandma and Papa."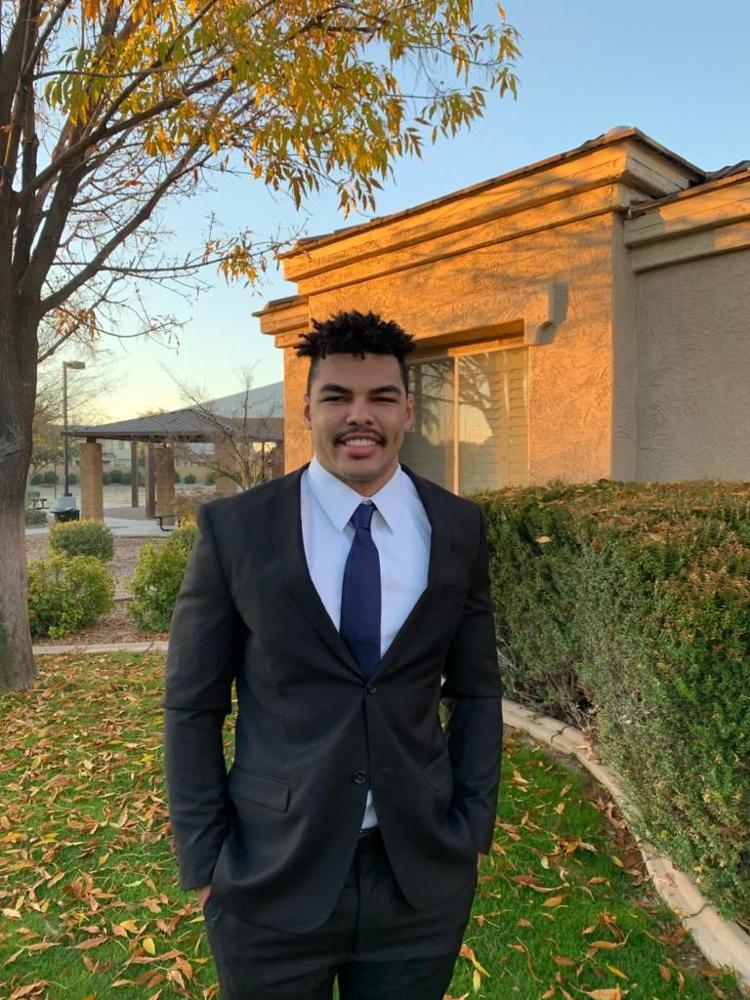 Grad: Zachary Land
"Dear Zach, woohoo! Another NAU alumni in the family! We are so proud of you and all that you have accomplished while at NAU. We know that you will continue to work hard to make your dreams come true. We will always be here for you to cheer you on and to offer our love and support. We love you more than you will ever know. Love, Mom, Dad and Amelie.
"P.S. — Make it happen!"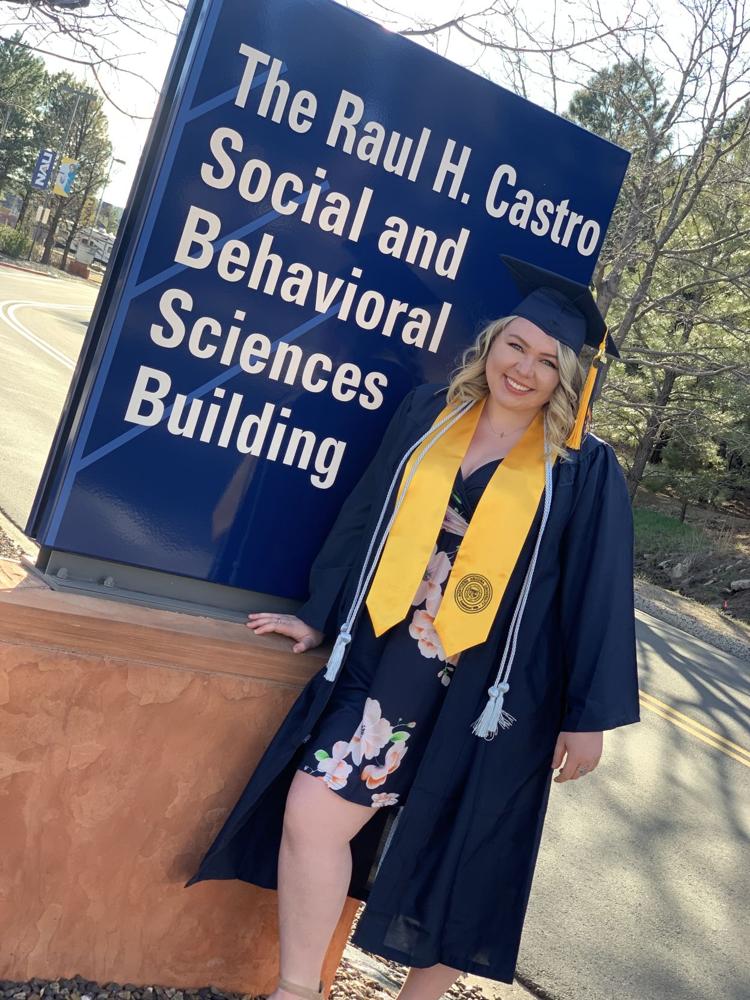 Grad: Kylie O'Leary
"Kylie, it's your turn to go conquer the world! We are so proud of all your hard work these last 4 years at NAU! Love, Mom and Dad."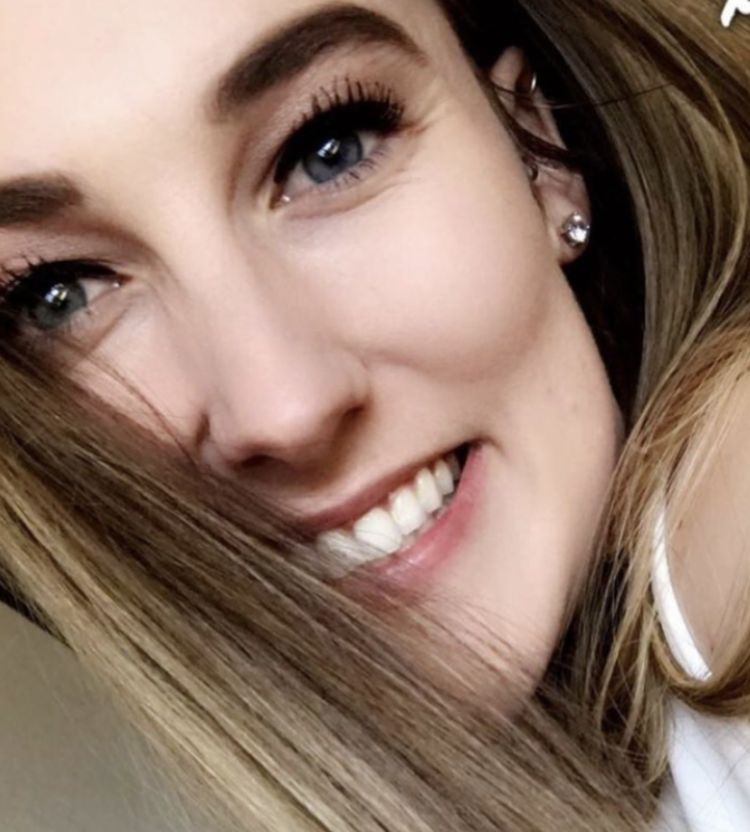 Grad: Kelsie Coval
"Kelsie, I have never been prouder of you than I am right now. It seems just like yesterday I was walking you to your kindergarten class watching you go from elementary to junior high school then to high school, now you are graduating college. You have made me so proud. I have watched you grow into a fine responsible young woman. As you transition from college into your career, I'm sure you will accept new challenges that are ahead of you. Your journey is just now beginning and I know you're scared, but just to reassure you, you're beautiful, smart and funny with a great personality, and you have a good head on your shoulders. You are going to do so great with your new journey. We love you and are so proud of you. Mom and Dad."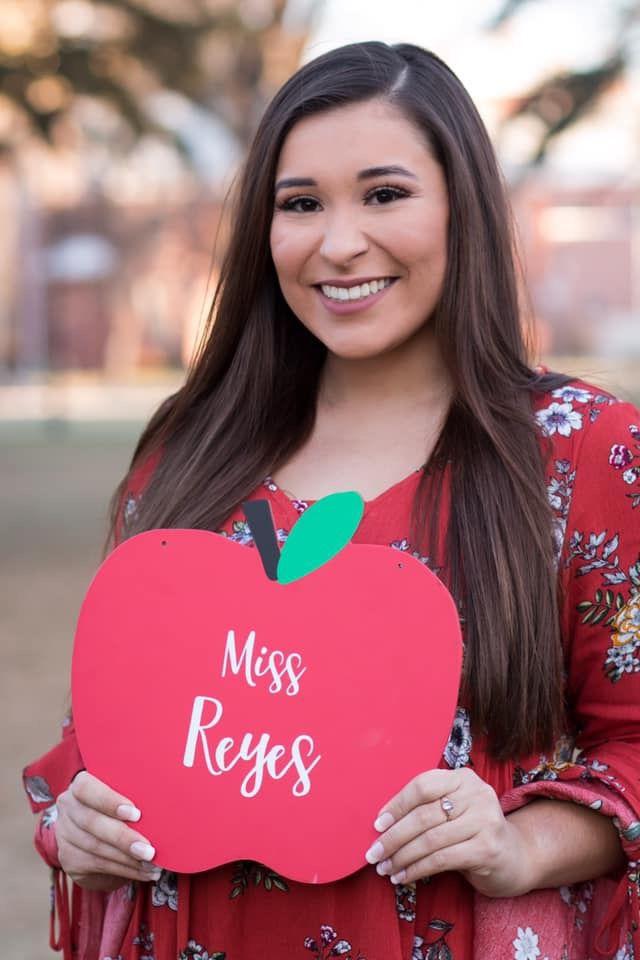 Grad: Kayla Reyes
"Congratulations to our daughter, Kayla Reyes, NAU Class of 2020, special education and elementary education major! We are so proud of you and of all of your accomplishments including landing your dream job as teaching a K-8 autism program. We love you to the moon and back, KK! Mom and Dad."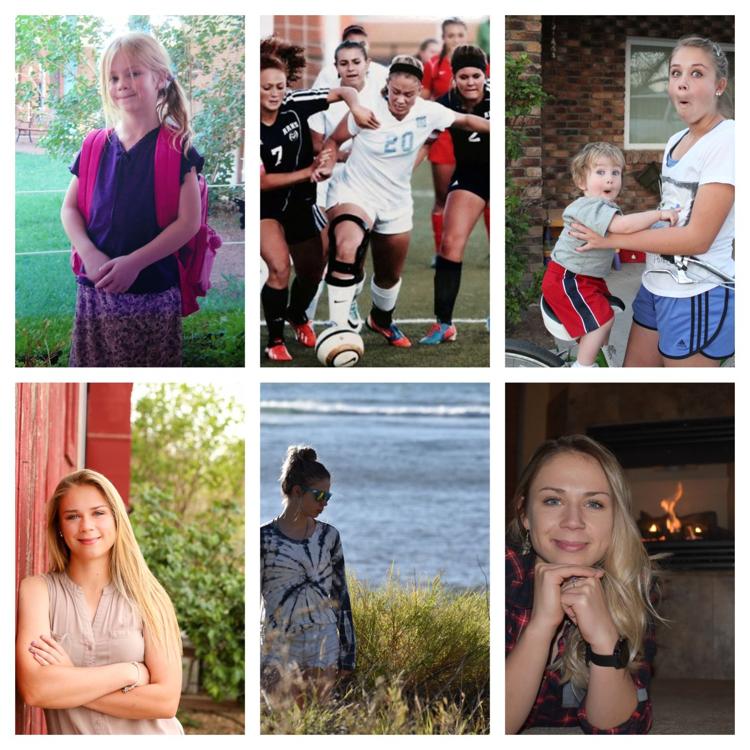 Grad: Brea Shepherd
"Hey, pretty girl. Congratulations, you made it and I never doubted you. Since you were a little girl, I always knew you were capable of doing whatever you set your heart to. I've never met a woman so determined and strong-willed. You were just that as a little girl, I knew it would suit you well in life. Although, sometimes it made you a handful to deal with when you were a kid. We could not be more proud of you. The world would be a better place if we all had a little bit of Brea discipline and strength, combined with a warm heart (good looks don't hurt either). You have a lot of life ahead of you. I know you'll grab it by the reins and steer it where you want to go, while readjusting with each bump and curve life throws at you. I look forward to watching you grow and bring happiness into my life with each moment you are in it. Thank you for the lectures you have given me, on how to be a better me. Keep up the good work and I love you. Dad."
"Dear Brea, you have been such an amazing addition to our lives. From the day you were born, you have brought a certain tenacity, vibrance and light into the world. Watching you play teacher with your dad, 'Now you listen to me,' in your toddler voice, overcoming an ACL injury your freshman year of high school, never putting up with the crap of others, guiding young soccer players to varsity level, to determining the best future for yourself. I never doubted your ability and I know your future holds great things and the people who encounter you will be the luckiest people around. Brea, you have the strength and stubbornness of a bull and the compassion and love of an angel, may you never lose these characteristics, as they make you, you! I love you. Mom."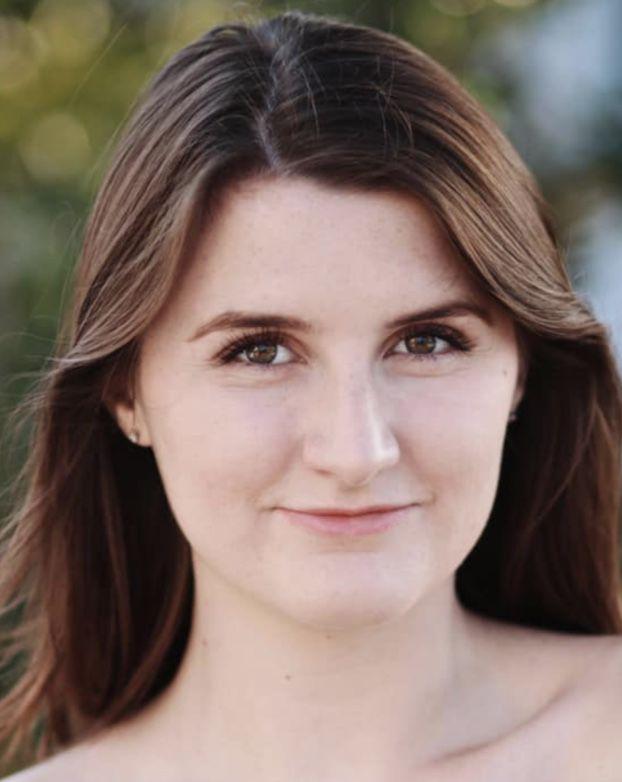 Grad: Laura Steuer
"What an accomplishment to see our daughter, Laura, graduate this spring in 2020 from NAU! Congratulations on your Bachelor of Arts degree in theater, with minors in business, arts and cultural management. You did it!
"We suspected all along during her school years with varied interests, that she could do very well in what she chose to study. With the diversity of theater, classes and sports she chose to pursue, the result would be someone well-balanced and ready for the world. That started long before getting to NAU, where she studied and applied herself exceedingly well to earn a merit scholarship that she would sustain throughout her college years. We can see how hard she worked to achieve her goals and that success.
"Theater is her passion and that started at a very early age. Performing has always been in her blood and feeds her spirit, beginning with dress-up in her Snow White costume, through Oro Valley Theater, Salpointe Catholic High School drama and now NAU College of Arts and Letters with a semester abroad at the University of Leeds in England. She expresses her zest for life in her acting, dedicating considerable hours of study and practice. She's very realistic and rational in how she approaches life. So not only did she work tirelessly to learn and hone her craft, but she also branched out beyond her major in theater with minors in arts, cultural management and business finance.
"Besides absorbing the education, Laura has had a great life and wonderful circle of friends at NAU, Leeds and Tucson. Her junior semester was capped by two wonderfully, different performances in NAU's [A Festival of One Act], something that filled her parent's hearts with joy in seeing her fulfill her passion! In her senior year it was an exceedingly comedic performance in another one-act play followed by the main stage play of 'Playing with Fire: After Frankenstein.' Unfortunately, because of [COVID-19 pandemic] limitations, she was not able to finish with the stage play 'Sense and Sensibility' to cap off senior year with that final performance. Still, her drive and perseverance fueled her determination to contribute what she could do in those final limiting months with classes only online, and still finish her college experience strong with an exceptional GPA.
"Never to be shortchanged by life's circumstances, we know that NAU and her college experience has prepared her well for life, anchored by her own remarkable qualities of care and concern for others, whimsical nature, self-motivation and creativity. She knows how to apply herself to her work. Her exuberance for heart-felt connection with family and friends provides continual joy to us. We're sure it will be a source of inspiration to her as well as providing a meaningful connection with any audience. What a thrill to see our daughter progress in life.
"Congratulations again on reaching your goal, Laura. It's a wonderful achievement."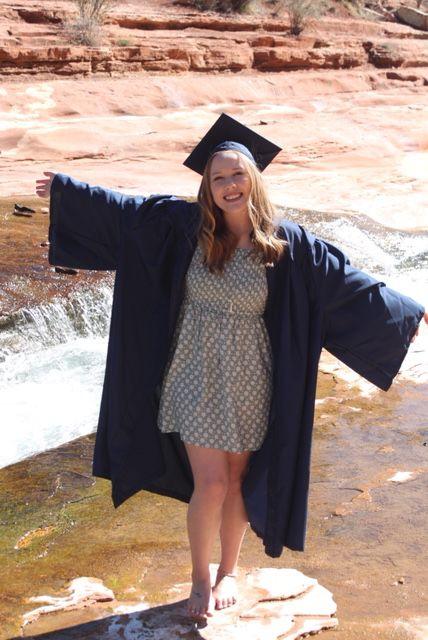 Grad: Emily Powell
"Emily, you've made this world a brighter place since the day you were born. As you take this big step into the real world, I couldn't be prouder of the woman you've become! Leave it to you to show the world what hard work and courage can accomplish, to lead the way in meeting every challenge, no matter how hard and to keep your eye on your goals, sticking to them until completed. It has been beautiful to watch you learn to [be an] adult. To strike out on your own and live, thrive, manage your time, your life and your relationships like a bonafide grown-up! With your determination and God by your side, you are going to soar, my girl!
"She is clothed with strength and dignity, and she laughs without fear of the future. Proverbs 31:25
"I love you, Mom."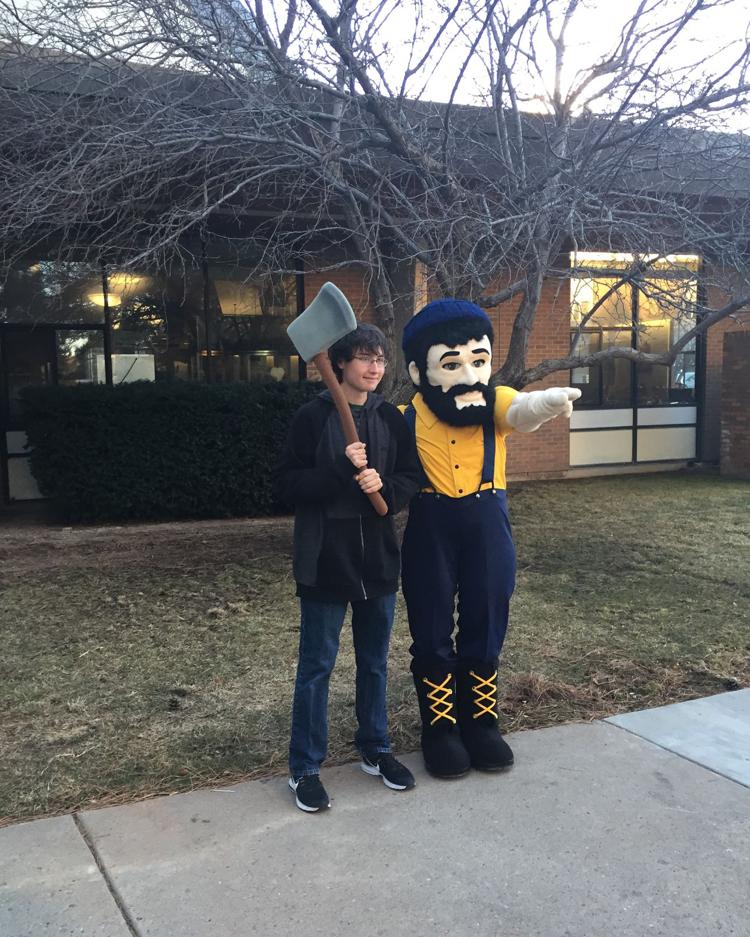 Grad: Kyle Cranz
"The academic road for college has not been an easy one for our son Kyle. There were so many times that he wanted to quit and just give it all up, but he persevered in spite of it all. He has been on the dean's list every single semester and will now be earning a well-deserved Bachelor of Science degree in political science with a minor in history. To say that we are proud of you is an understatement. When the journey is tough, it makes success that much sweeter and you have accomplished that with all of your hard work. Congratulations! We love you, Mom and Dad."
Grad: Nicole Garcia
"As I write this and think of what I can possibly say about my daughter Nicole in lieu of a graduation ceremony, I am humbled and honored to be able to show my love, pride and admiration for this young woman. Over the past four years at NAU, Nicole has blown me away at the growth and development we have seen in her. When we first moved her into her freshman dorm and drove away, leaving her was so hard. We thought how will she navigate school, jobs, life on her own so far away from her home and family?
"Well, Nicole took charge and thrived from the very beginning. Yes, she was hesitant, scared, new at life on her own, but she did it! When she came home the first summer, I saw a new person. She was still the same youngest child and enjoyed time to relax and be just that again for the summer, but she was also new in subtle ways that were very interesting to see.
"Sophomore year, we moved her into what was more like a grown-up apartment, though still on campus. It was fun getting to see her function as an adult in her apartment. A little surreal, she was really getting to experience new things like picking out kitchen and bathroom items for her apartment, and in her style.
"For the last two years at NAU, we had moved her into an apartment off campus. I could not see how it was going to work, she didn't drive, didn't have a car and it was too far to walk. How was she going to do this? But it didn't seem to worry Nicole. She said it would be fine and it has been. It hasn't been easy though. There have been nights she would be walking home through the beautiful woodsy trails from campus to her apartment and would call to talk until she arrived home. She found work and has been working with progressively more job duties and responsibilities ever since. Just hearing about her job duties, the heavy school schedule and the work it took to check off class after class, makes my heart swell for her.
"The obstacles she has worked through and overcome to accomplish finishing her degree have made me so proud and happy for her. Nicole is a smart, beautiful, funny, responsible, charge-ahead kind of young woman. These amazing traits in her have been nurtured and expanded through her time at NAU. She was smart in her choice of schools too. NAU was definitely the best place for her.
"Nicole, your family loves you and is so proud of your achievements and of your graduation. You have skills and experience now, which will take you wherever you want to go and succeed in whatever you strive for. Happy graduation Nicole, you have earned it!"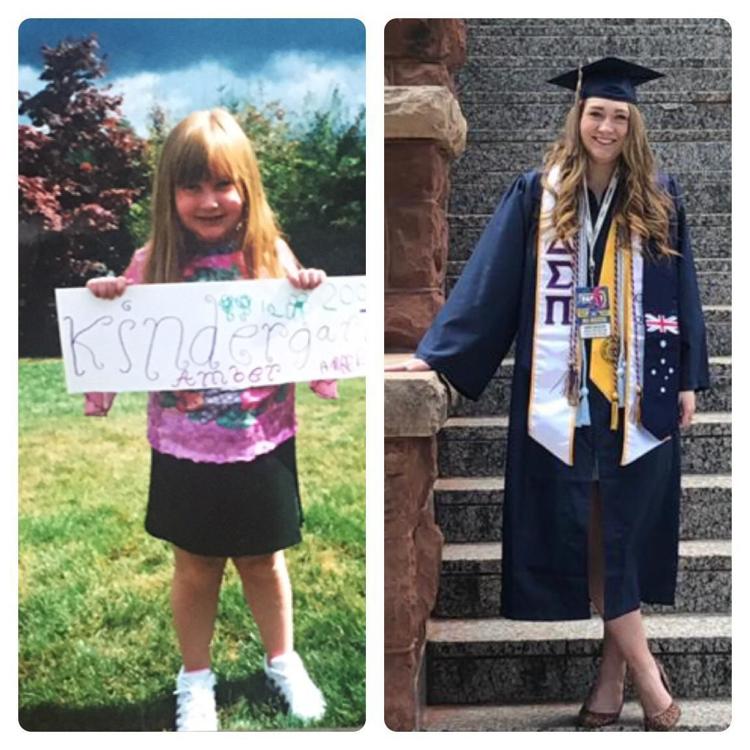 Grad: Amber Dalgleish
"Congratulations, Amber! What a wild ride! We are so proud of you and all you have accomplished at NAU. It's been such a fun journey to watch and to get to experience with you. We knew we were in for a party when our sweet and sassy girl was born on Halloween in 1996. You were a go-getter from day one and your time at NAU hasn't been any different. Nonstop busy at Lake Stevens High School in Washington, ([class] president, volleyball, tennis, DECA), we thought you might take some time off and just relax. But you jumped right into the fun of college quickly becoming an Edge member, Peer Jack mentor and joining Delta Sigma Pi Business Fraternity! You also applied for an internship with the athletic department which has been a wonderful experience. [Studying abroad] in Wollongong, Australia was the extra bonus. You worked hard to make all this happen through jobs and scholarships. You have met wonderful friends during these school years that you will cherish forever. A big thank you goes to NAU and all the staff for making this such a great experience! Amber, you sure picked a nice place to go to school. We have enjoyed our visits to Flagstaff. We have loved this community and are so happy we got to experience the Pinecone Drop on New Year's Eve, Football games at the Skydome, standing on the corner in Winslow, Arizona, spring training with the [Seattle] Mariners and all the beautiful National Parks on the way to Flagstaff!
"Amber, we can't wait to see what is next on your agenda. We are so proud of your accomplishments but what makes us the most honored is the fact that you are kind, humble, silly, honest and beautiful inside and out. We love you Amber! Now go kick some axe! Go Lumberjacks! Thank you NAU! Love, Dad, Mom, Brooke and Cracker Cat."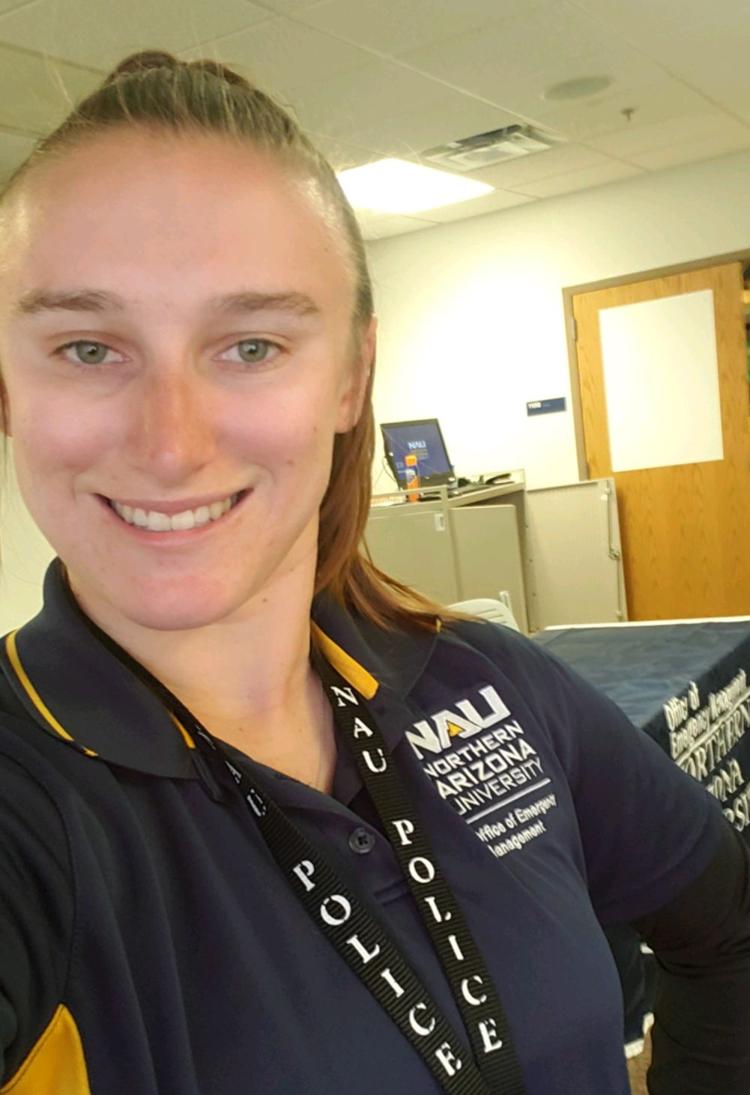 Grad: Rebecca Romas
"Congratulations, Rebecca Romas! We are so proud of you for getting your Bachelor of Science degree in business administration at NAU. We are all so proud of all your accomplishments and how far you've come. Reach for the moon and even if you miss, you'll land among the stars. Your hard work and perseverance pay off and you can do anything you set your mind to. We wish you the best of luck moving forward. Congratulations to the class of 2020. We love you, Dad, Mom, Melissa and Blaze."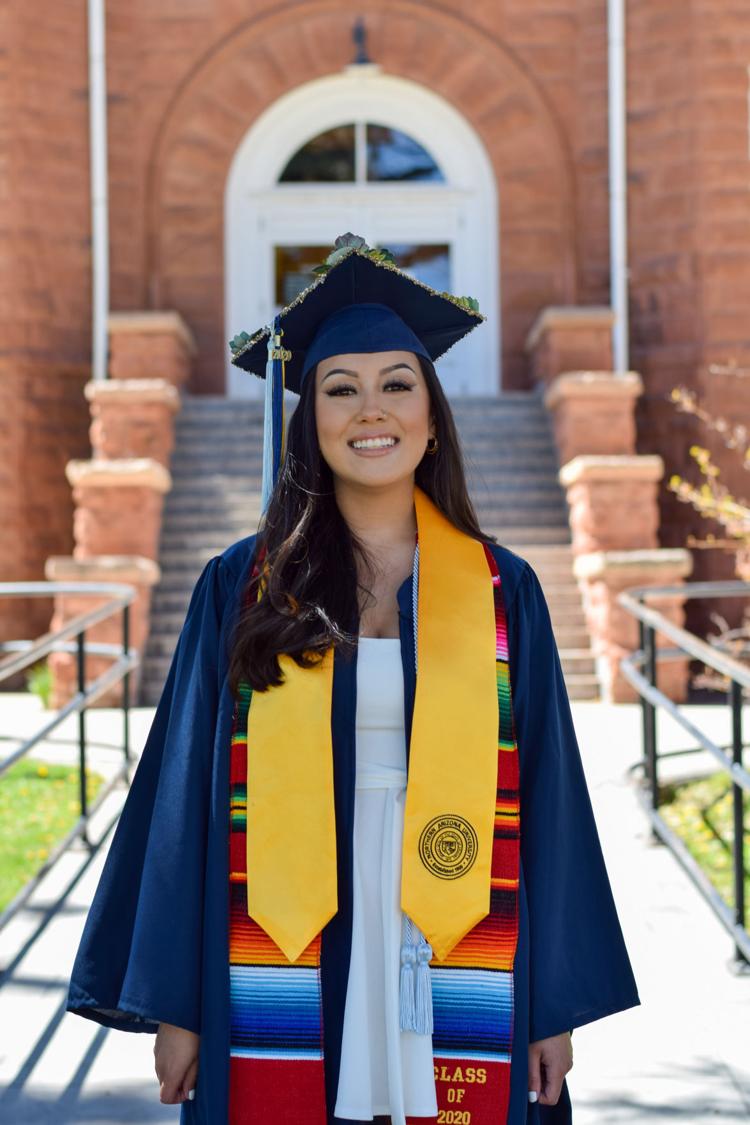 Grad: Lilian Morales
"Lilian Aymara Morales, a proud Latina from a border town of Bisbee, Arizona, was set to graduate this spring in just three years, with a Bachelor of Science in secondary education and Spanish. Her family is extremely proud of her hard work and dedication to her education. She is a first-generation college graduate who has held a strong work ethic and valued every opportunity that has come her way. Lilian has the support of her family and community who continue to support her as she strives to continue reaching her educational goals."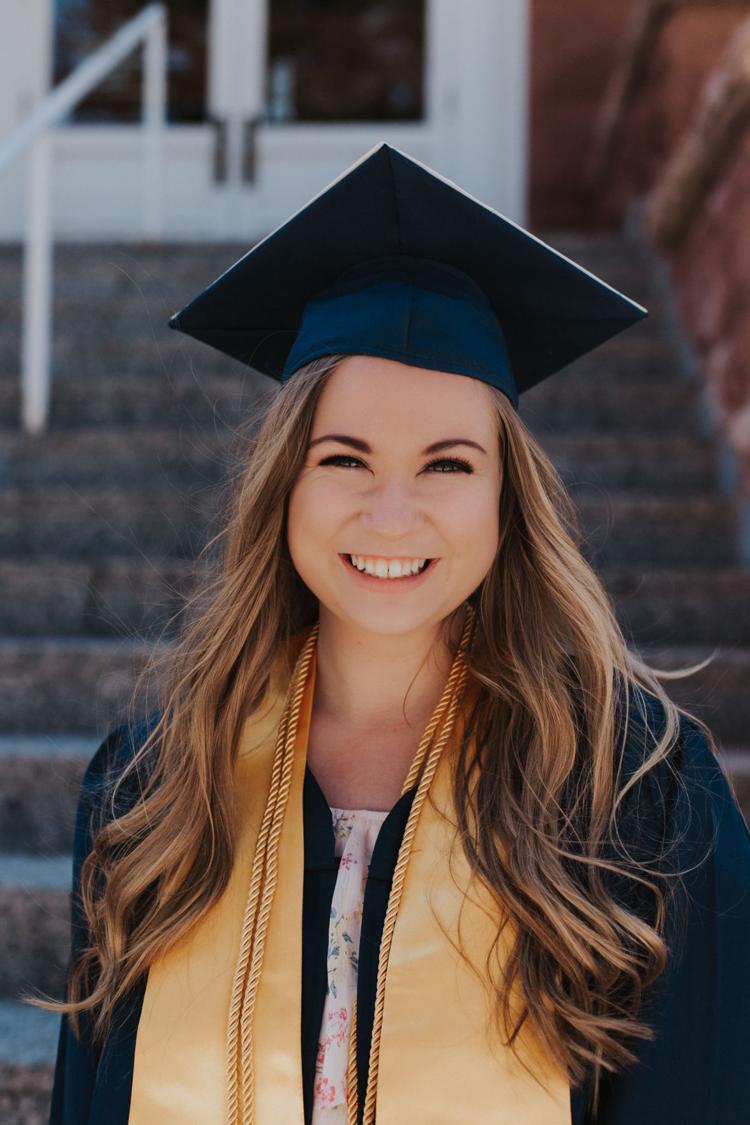 Grad: Brianna Sonnleitner
"Bree Sonnleitner, Martin Luther King Jr. once said, 'intelligence plus character — that is the true goal of education.' Bree, you have excelled at NAU from the moment you arrived on campus. Congratulations on all your amazing academic achievements. Apparently you are allergic to B's. We are so proud of you and the inspiring character with which you live your life. Love, Mom, Dad, Julia and Andrew."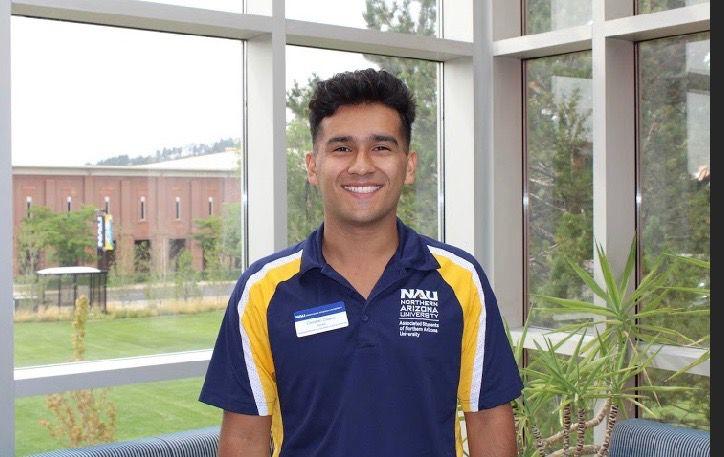 Grad: Christian Catano
"We are so proud of our son, Christian Catano. It has been so rewarding to watch him make the most out of his experience at NAU. Through hard work and dedication, he was able to obtain his degree in criminal justice with a minor in Spanish in just three years. He matured and shined in his short time at NAU. It was great to see him get involved at ASNAU, where he served as a senator his last year. We wish him the best in his future endeavors. May God bless you always! We love you so much, Mom, Dad and Lucas."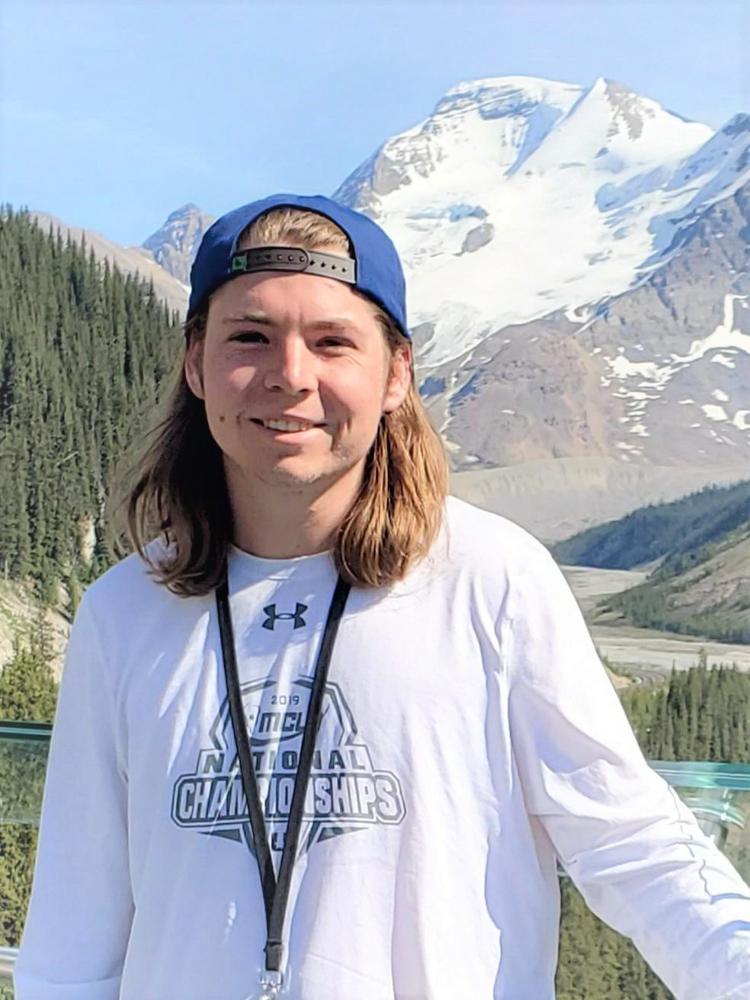 Grad: Eric Decuyper
"Eric Decuyper, aka "D-Cup" will be graduating with a B.S. in business management and a certificate in marketing. Eric is from Southern California, but most summers he and his family would visit his grandparents at their Forest Highlands summer house, so he got to get to know Flagstaff over time. He naturally gravitated toward going to college at NAU.
"Some of his best memories were freshman and junior years in lacrosse, where they won league both years and regionals his junior year with a trip to Utah for nationals. Snowboarding was mastered. He bought a used Jeep and did a lot of exploring and off-roading. He learned to golf and to play disc golf.
"Elective classes he enjoyed were 3-D Sculpting, making cool welding projects, astronomy and rock climbing. 'One of my most memorable moments at NAU was my final marketing presentation on Four Peaks Brewery Company right before Christmas break and wearing a sweater with Santa drinking a beer. It was fun having a big laugh with my class and with the professor who was famous for wearing sweaters daily.
"Eric is going to miss the NAU community of students. No matter what class he had, everyone was super friendly."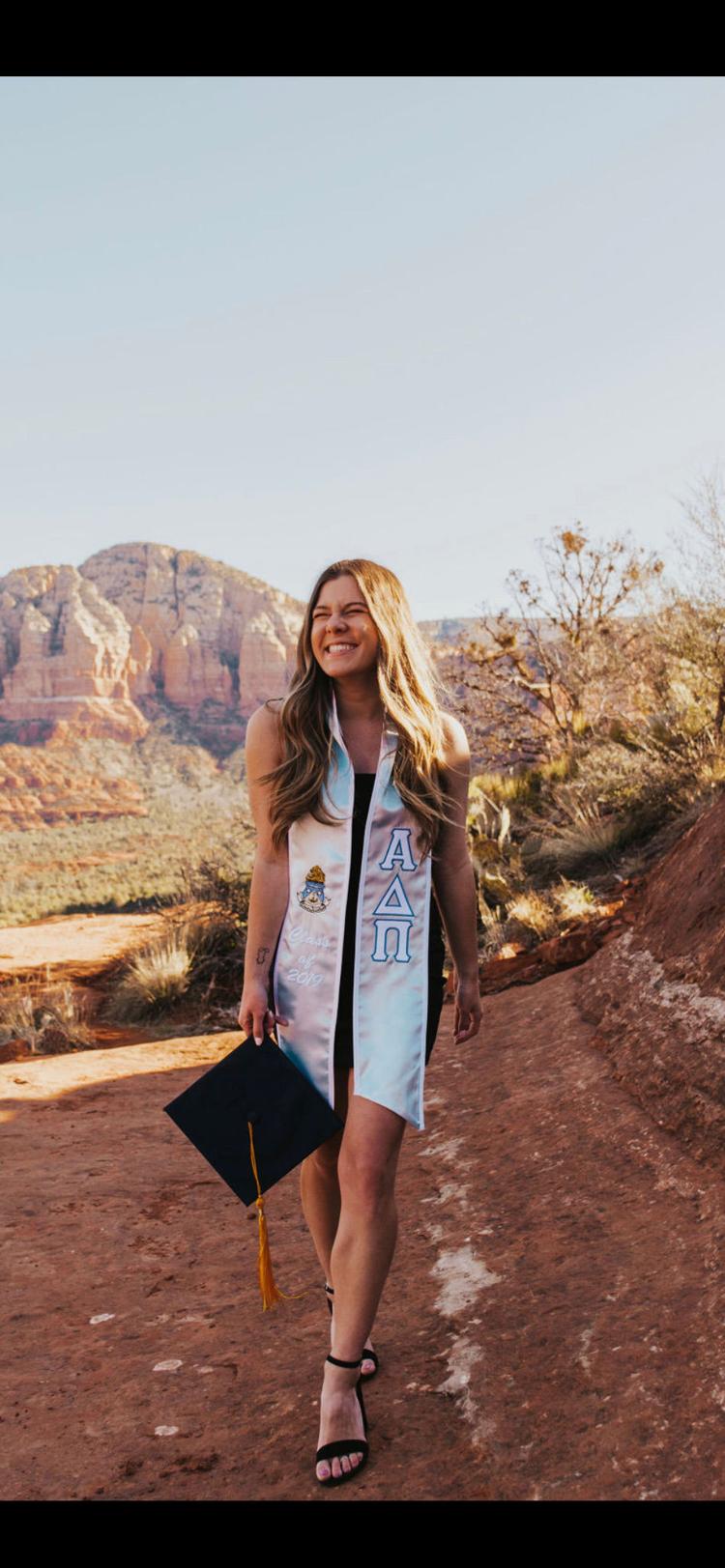 Grad: Shelby Turingan
"[We are] proud of our daughter Shelby Turingan. When you started at NAU, we lived in Japan and you headed off to college thousands of miles away. You had laughs and tears along the way, had fun with your Alpha Delta Pi sorority sisters and all the friends you've made. You changed your minor to social work but kept your major as psychology. You didn't always love the snow, but you made the best of it. I know not every class was easy, but you got through them and you've made it. You make us proud of you every day. We love you, Mom and Dad."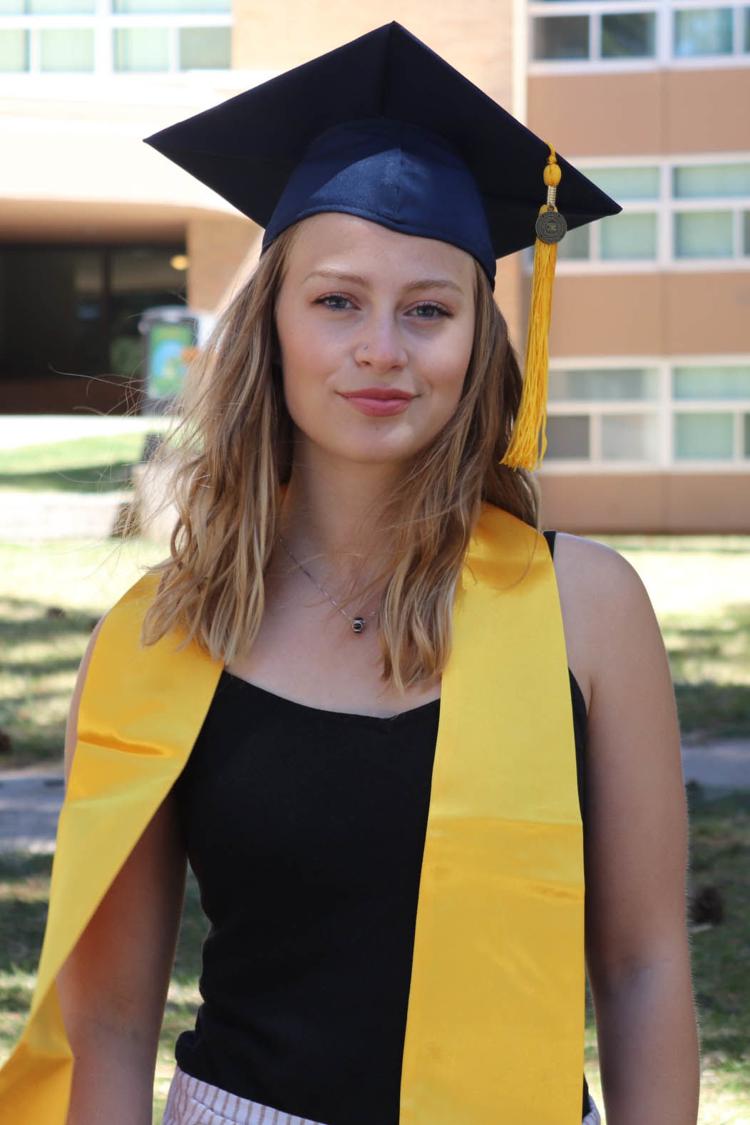 Grad: Kira Patterson
"This amazing young woman, Kira Renee Patterson, has challenged the world with her boldness, brightened the world with her smile and made the world a little kinder with empathy.
After three years of hard work, determination and maturity, Kira will graduate NAU with her bachelor's degree in geographic science and community planning with a geographical information systems emphasis and emergency management certificate.
"We are so proud of the woman she has become. From her preschool years, when her grandparents were leery of her 'forked tongue,' to official adulthood, where her poise in language and communication is superior!
"We love you Kira and know you are ready for the challenges to come! Keep your heart open, your head in the right place and your feet exploring the world. Love, Mom and Dad."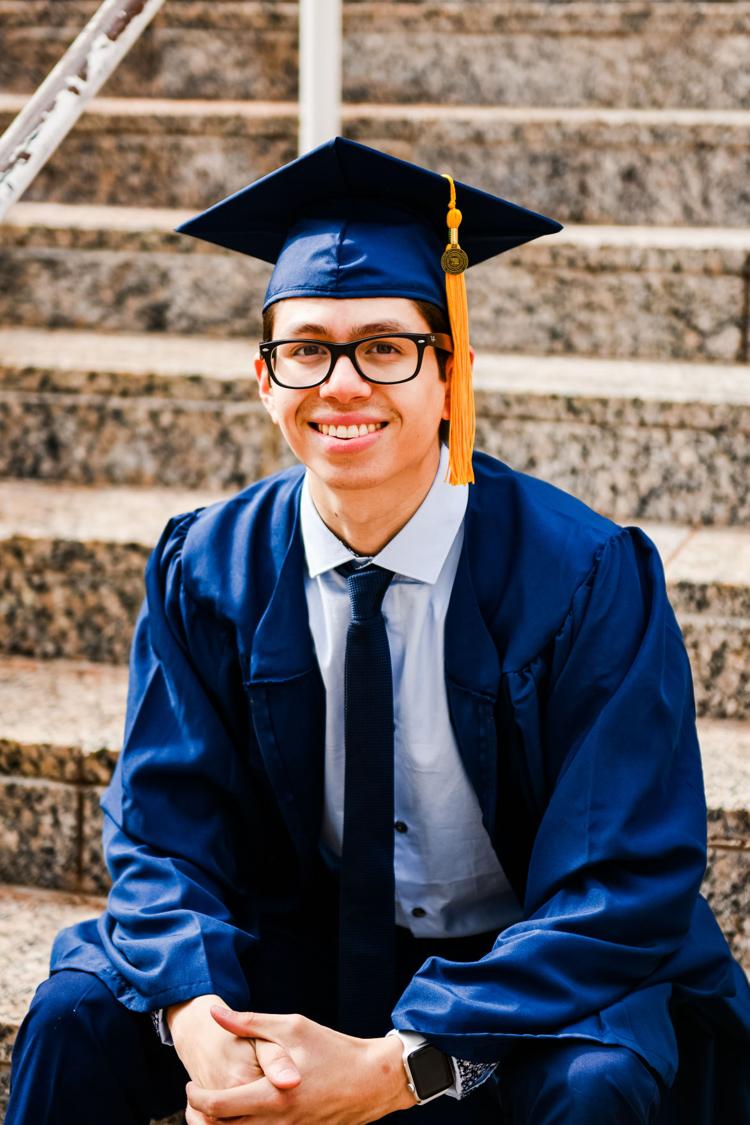 Grad: Fabian Colunga Tovar
"Fabian, you did it! You accomplished your goal and we are so proud of you. Watching you persevere these last four years has brought us so much pride and joy. You overcame difficult challenges, all while working and maintaining your scholarship. We feel proud that you finished what you started. You are a great role model for your brothers. You have shown your strength many times these past four years and as parents, we can't ask for much more. No words can express how proud we are of you. You actually will not know just how much our hearts are full of joy, until the day you have your own kids. We are excited to see what God has for you in your next chapter of life. Remember that we are all books and you get to write what's in it and what titles your chapters are named. Please remember we all only get one book so make it a good one! Keep working hard and never forget how much we love you. We are here for you today and until the end of our lives. Mamba mentality until you die! Love, Mom and Dad."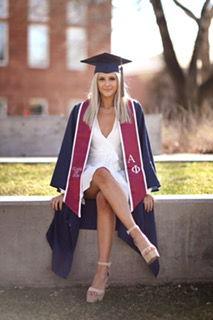 Grad: Jaden Gwaltney
"Jaden, we are so proud of you! The first in our family with a bachelor's degree! We've always known once you set your mind on something that nothing was getting in the way of accomplishing your goal.
"You're smart, beautiful, funny, confident and definitely genuine. What you see is what you get! It's been amazing watching you grow the past four years and we are excited to see where you take your future. Love Mom, Dad, Landyn and Jenner."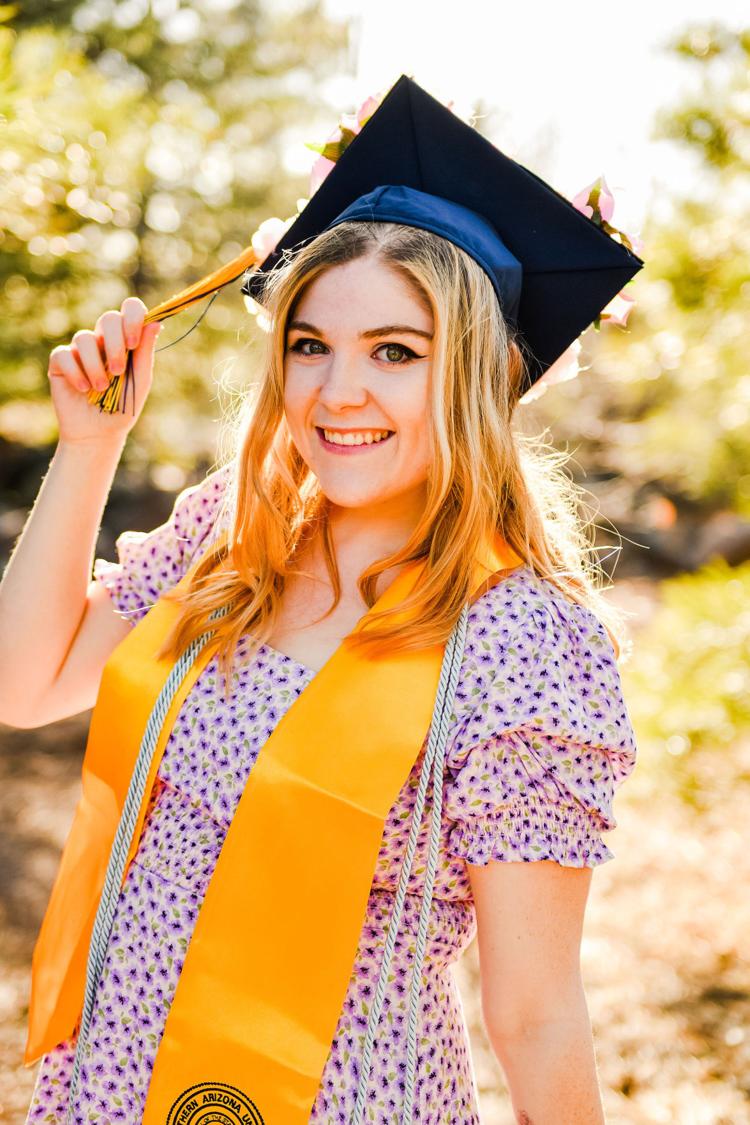 Grad: Samantha Keegan
"Samantha, we are so proud of you! You have accomplished so much the past four years! You have grown into a strong, confident woman with a heart of gold. Congratulations on graduating with honors with a Bachelors of Fine Arts in visual communications. Love Mom, Dad and Hayden."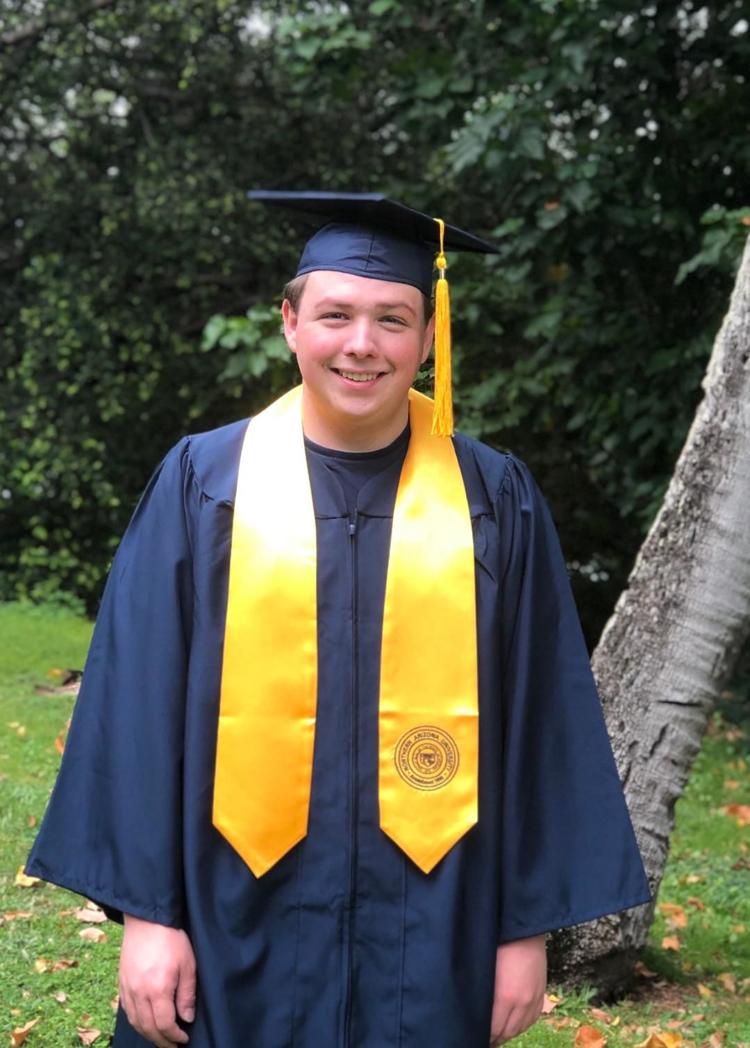 Grad: Jack Wilske
"Finding out that we were expecting Jack was the biggest surprise of our lives. He arrived five weeks early and we were in love. He was the cutest baby we had ever seen! As his parents, it's been an absolute honor to raise this young man. He was the sweetest little boy with the silliest laugh. He had us as well as his grandparents, aunt and uncle wrapped around his finger. He's overcome many challenges and obstacles in his life and his resilience shines through. Jack has always had a thirst for helping others and standing up for those in need. He has charisma that can hold a room's attention and a smile that can melt hearts. We are proud of his accomplishments and look forward to seeing his next steps on his journey. We love him so very much and are incredibly thankful he is ours."
Grad: Andrew Acosta
"Andrew, you have wanted to be an engineer since you were seven years old. Baby, you did it! You survived four years of studying late, college lectures, assignments, presentations, roommates and college food!
"You went and succeeded in accomplishing your dream of becoming an engineer. Words cannot describe how proud we are of you. Not only are you graduating as a mechanical engineer, but you are graduating in magna cum laude, too. We are overjoyed at all the accomplishments you have made over the years, but we are more excited for the new journey that is ahead of you.
"We believe in you, we always have and we always will! Now, go and enjoy this new chapter, be safe and never forget your way back home. We will always be here for you. With all our love, Mom, Dad, Gabby, Roxie and Maya."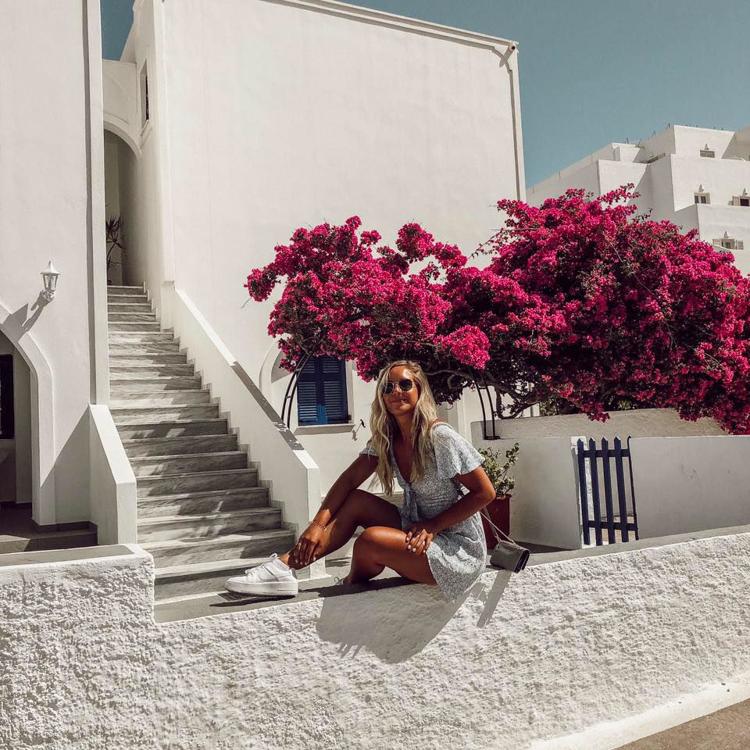 Grad: Madison Keyser
"My daughter is Madison Keyser. She is majoring in fitness and nutrition. She has grown so much over the last four years and has really found her passion for helping others live a healthy and happy life. She has a passion for travel and adventure, which took her to Ecuador, Fiji through the Vesabroad program at NAU and Thailand to visit her sister. Her junior year, she was determined to continue to travel and without anyone else, she went and made that happen for her second semester in Oviedo, Spain. From there, she traveled and took in all the cultures and food and lifestyles of the different countries ... and was able to expand her understanding and love for health and a balanced lifestyle. We are very proud of her and we look forward to watching her touch many people's lives in the future. We love you, Mom, Dad and Teagan."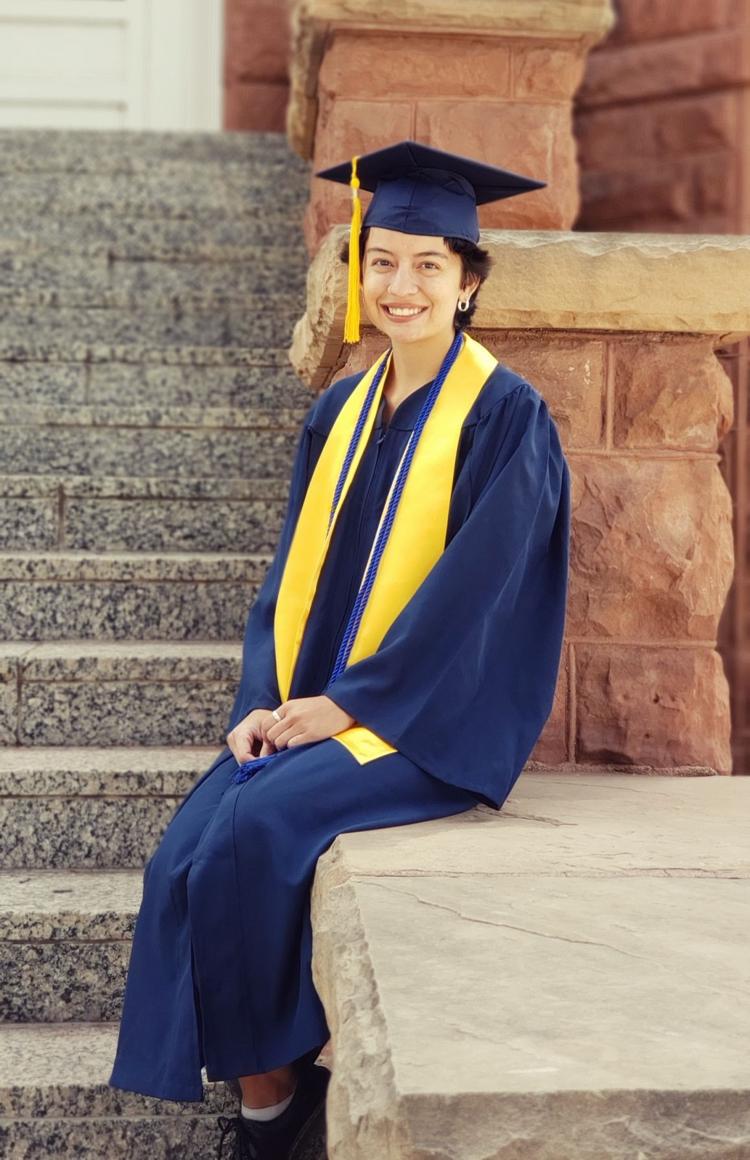 Grad: Ariannah Carrera
"This is our Lumberjack Ariannah. She is the wittiest, smartest, most caring daughter we could have hoped for. Her perseverance and dedication have allowed her to get through these challenging times and graduate with honors in three short years and we couldn't be more proud! We love you and we know you will accomplish great things! Now go rock the world, because right now, it could use someone like you more than ever. Congratulations Ariannah Skye Carrera! You did it!"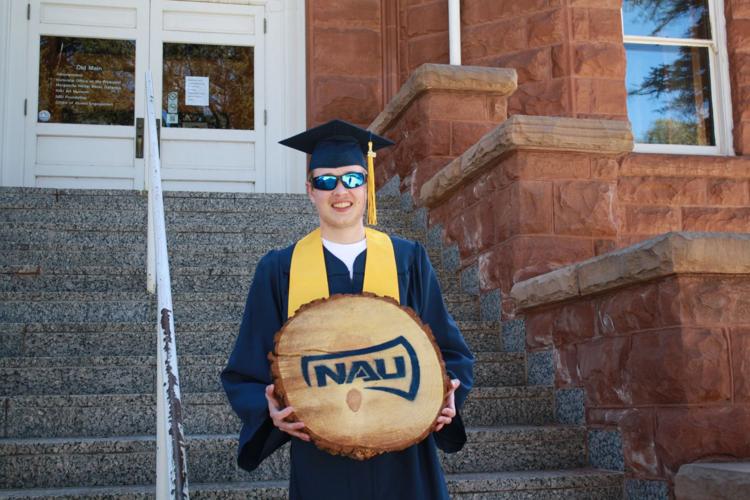 Grad: Eddy Kennemer III
"Dear Eddy, it is hard to believe that your graduation is here. This is something we have envisioned for a long time. This is not at all how we envisioned it, but life isn't always how you want it to be. Watching you grow up and go through milestones brought many happy tears to our eyes — mostly your mom's. We have watched you become an amazing human being. We are blessed to have you as our son and we could not be more proud!
"You are now free from school and able to choose your path. Your future is in your hands. Your family will always support you and love you each step of your journey. We have been and will always be your biggest fans. Your future is bright and awaiting. Your life has a purpose and you will do amazing things! Face your fears and learn from each choice you make.
"Never forget that we believe in you. We will always be here for you. We are so proud of you. We will always love you. Congratulations on this huge accomplishment! This is the beginning of anything you want! Hakuna Matata! Love, Dad and Mom."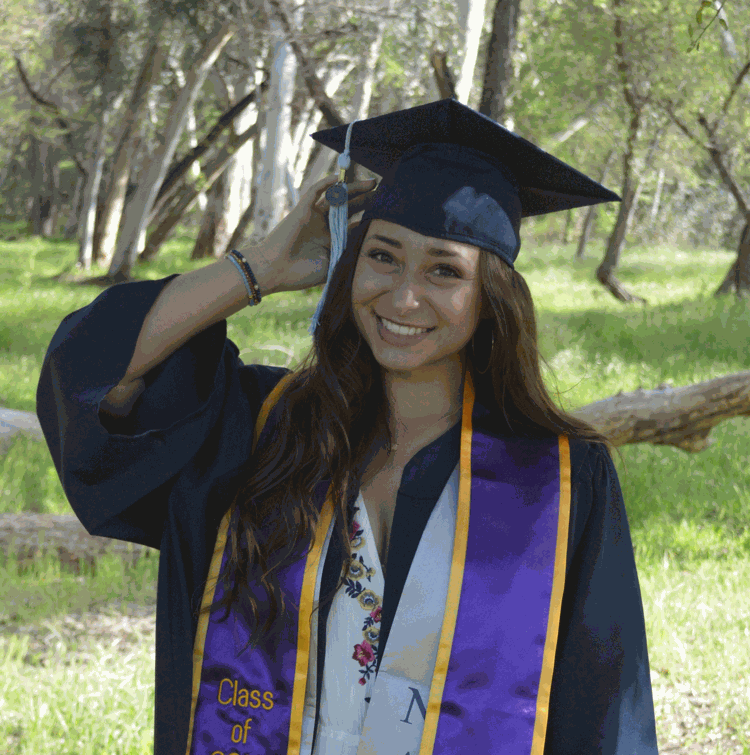 Grad: Lauren Garcia
"Lauren, four years of sweat and tears and you're finally graduating! We are excited to be celebrating with you as you move on to your next big adventure. You've accomplished so much and we are so proud of you. Enjoy this special time, you've certainly earned it! We love you, Mom and Dad."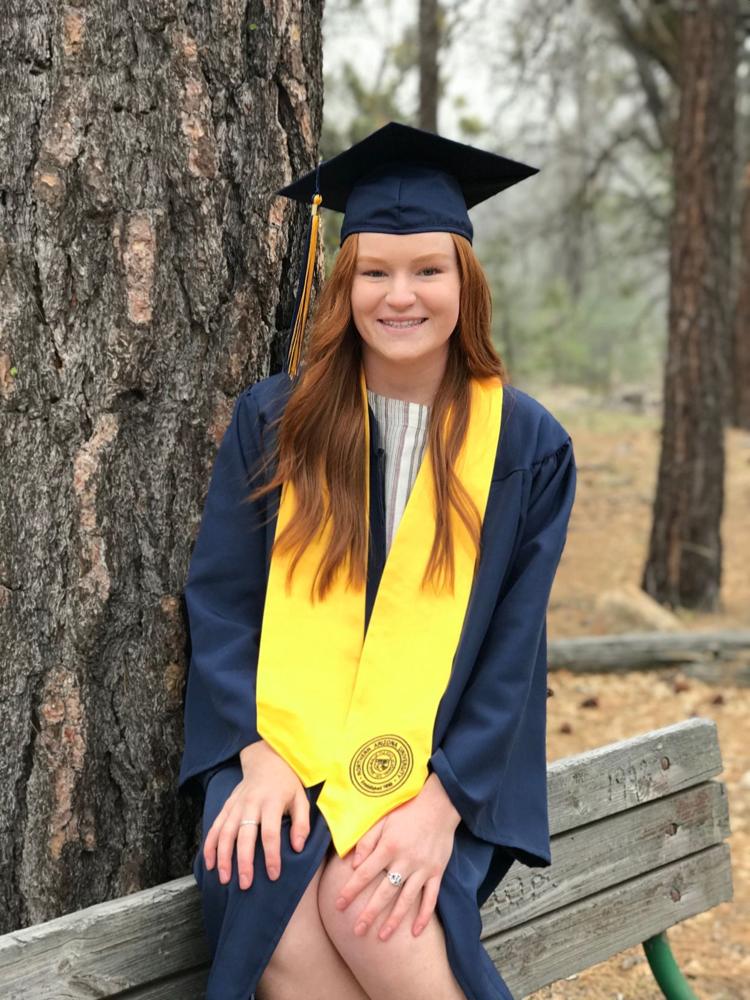 Grad: Lindsey Toney
"Lindsey, we are proud of many things in life but, nothing beats being your parents. We are beyond proud of you. If you believe in yourself as much as we believe in you, you will be unstoppable! Be bold enough to use your voice, brave enough to listen to your heart and strong enough to live the life you've always imagined. Congratulations Linz, the fam bam."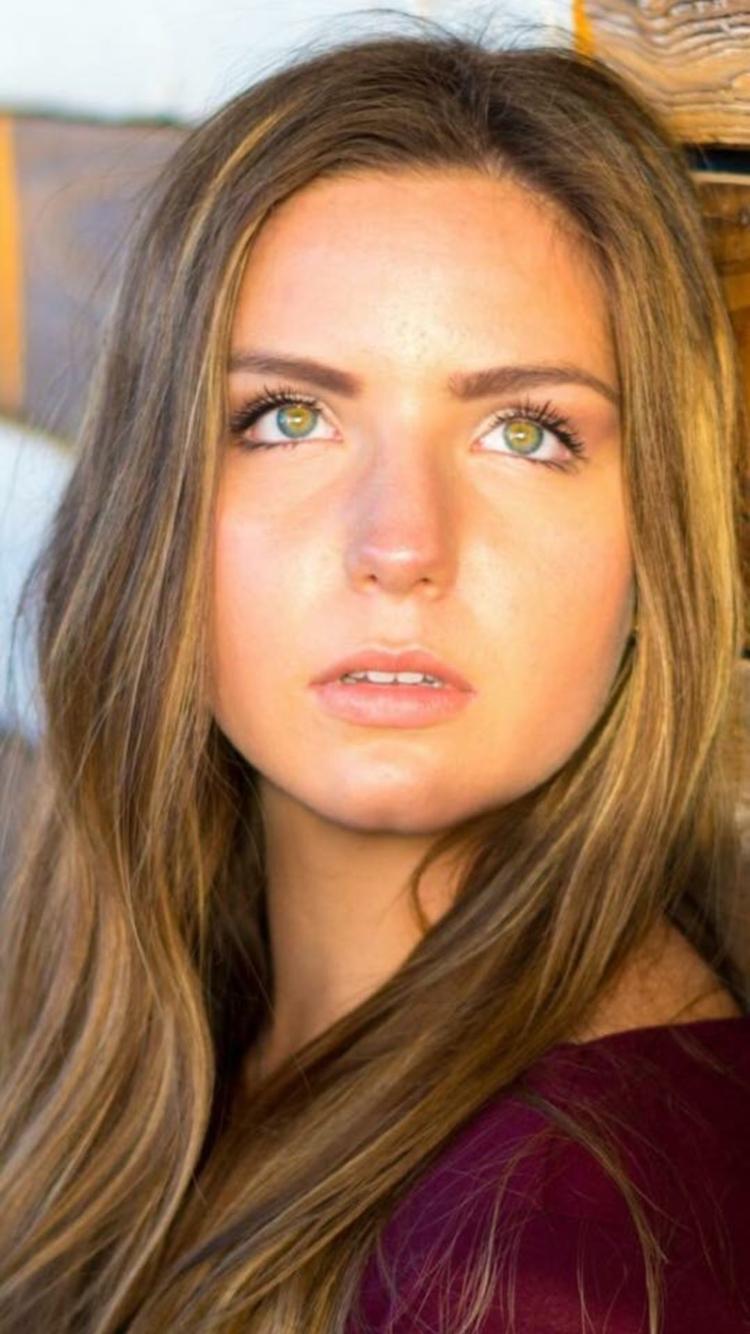 Grad: Mikayla Tessitore
"For our daughter, Mikayla Tessitore, may the Lord bless you on this day that you are graduating from NAU. May he give you a moment of peace to reflect on the many trials and victories you have gone through to get to this day. May he also remind you of the times you came up short when you were tired and downhearted and the road seemed too hard and long. It was through both times that you were surrounded by your Lord, Family and loyal friends.
"Although this is just a stop on your way to your ultimate goals, we should pause to celebrate this goal achieved and what it took to get here. You and we have laughed, cried, shared times and adventures and witnessed you grow stronger as a young woman and individual. To those who would try to lessen this day, or what you have gone through to get here, I have only a quote from Theodore Roosevelt to give: 'The credit belongs to the man who is actually in the arena, whose face is marred by dust and sweat and blood; who strives valiantly; who errs, who comes short again and again, because there is no effort without error and shortcoming; but who does actually strive to do the deeds; who knows great enthusiasms, the great devotions; who spends himself in a worthy cause; who at the best knows, in the end, the triumph of high achievement and who at the worst, if he fails, at least fails while daring greatly, so that his place shall never be with those cold and timid souls who neither know victory nor defeat.'
"Let us celebrate this achievement together — family, friends and peers — and take joy in what has been done! We are extremely proud of you, Mikayla! May the Lord continue giving you strength and courage for the future! We cannot wait to see where your future takes you but know we will be with you always and that you are never alone in anything you do! Let the adventures continue. We love you more than words can convey!"
Grad: Antoinette Sampogna
"Annie, as your time at NAU comes to an end, we want you to know how proud we are of you. It has been a long road, but we knew you had the determination and courage to see this through. The tassel was worth the hassle!
"You are ambitious, compassionate, thoughtful, intelligent, we could go on, but we digress. You are ready for life and all the wonderful things ahead. You will be an amazing special education teacher! All of your future students will be lucky to have you.
"As you follow your passion, always stay true to yourself! At least this way we don't have to hear our name horribly mispronounced at graduation. Love, Dad, Mom, Carmella and Colin."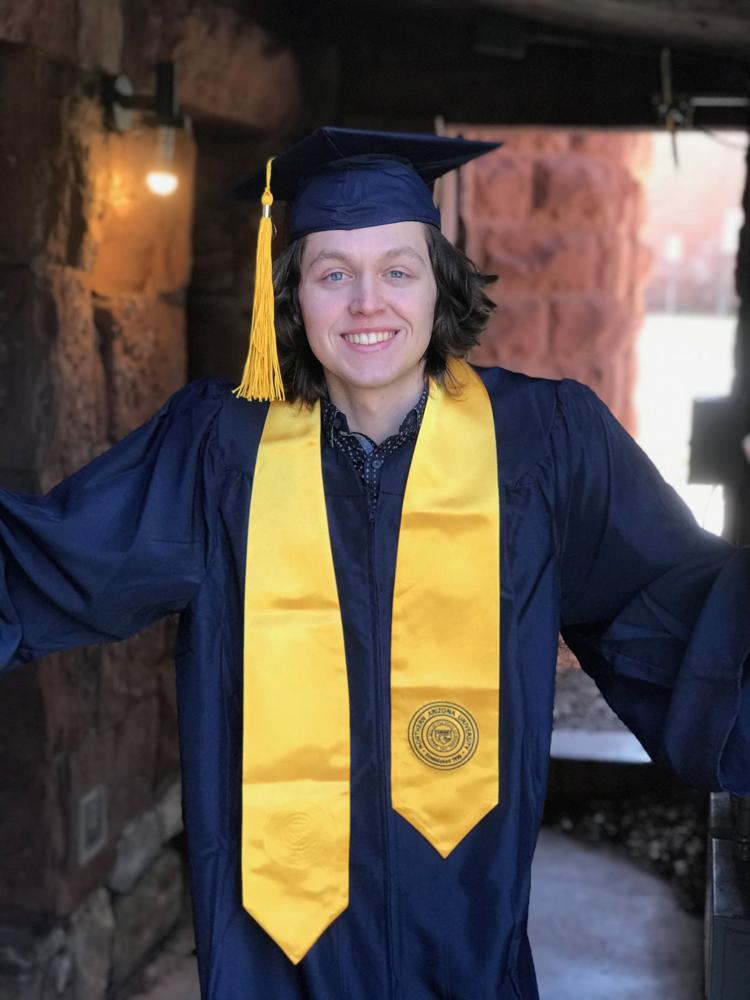 Grad: Dominic Ricchetti
"Congratulations, Dominic! We are all very proud of you and all of the hard work you have put in over the last four years, the commitment you've shown and your determination to overcome any obstacle. Now that it is time for you to go out and apply what you have learned, we have faith that you will continue to be successful and step up to any challenge that life puts in front of you, as you've done in the past. We have no doubt that you will do great things!
"We wish you nothing but happiness and good fortune, and of course we are looking forward to sharing in your success! We love you, Mom, Dad, Vinnie and Caitlyn."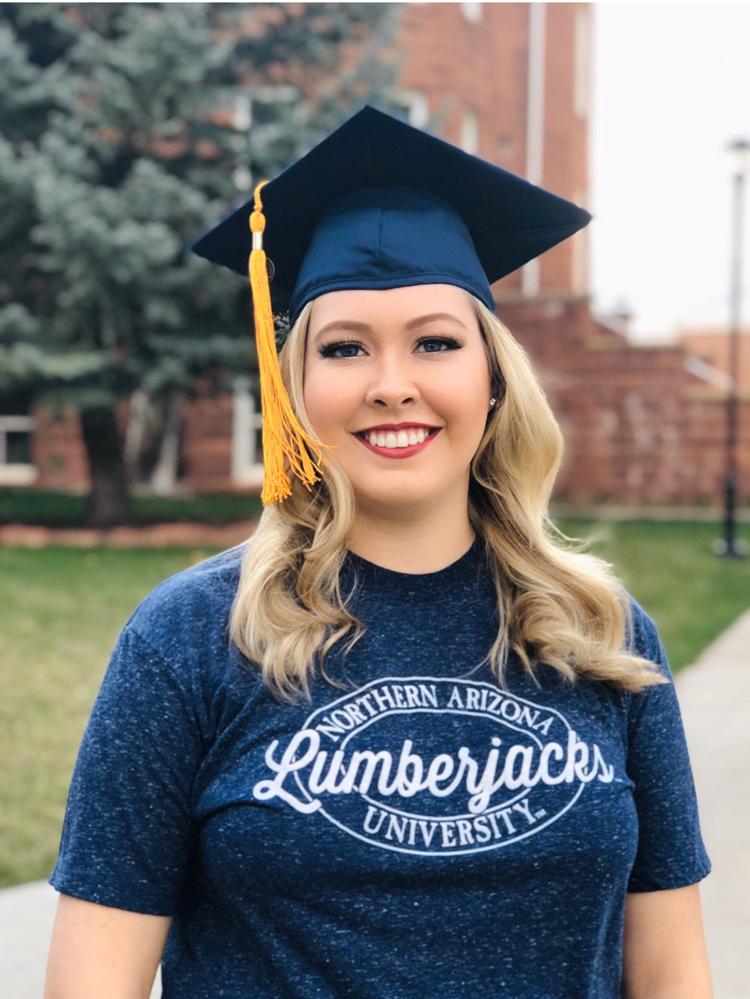 Grad: Rebecca Antill
"We love you Rebecca and are so proud of you and all your achievements. Your future is so bright. Love, Mom, Matthew, Grandma and Grandpa."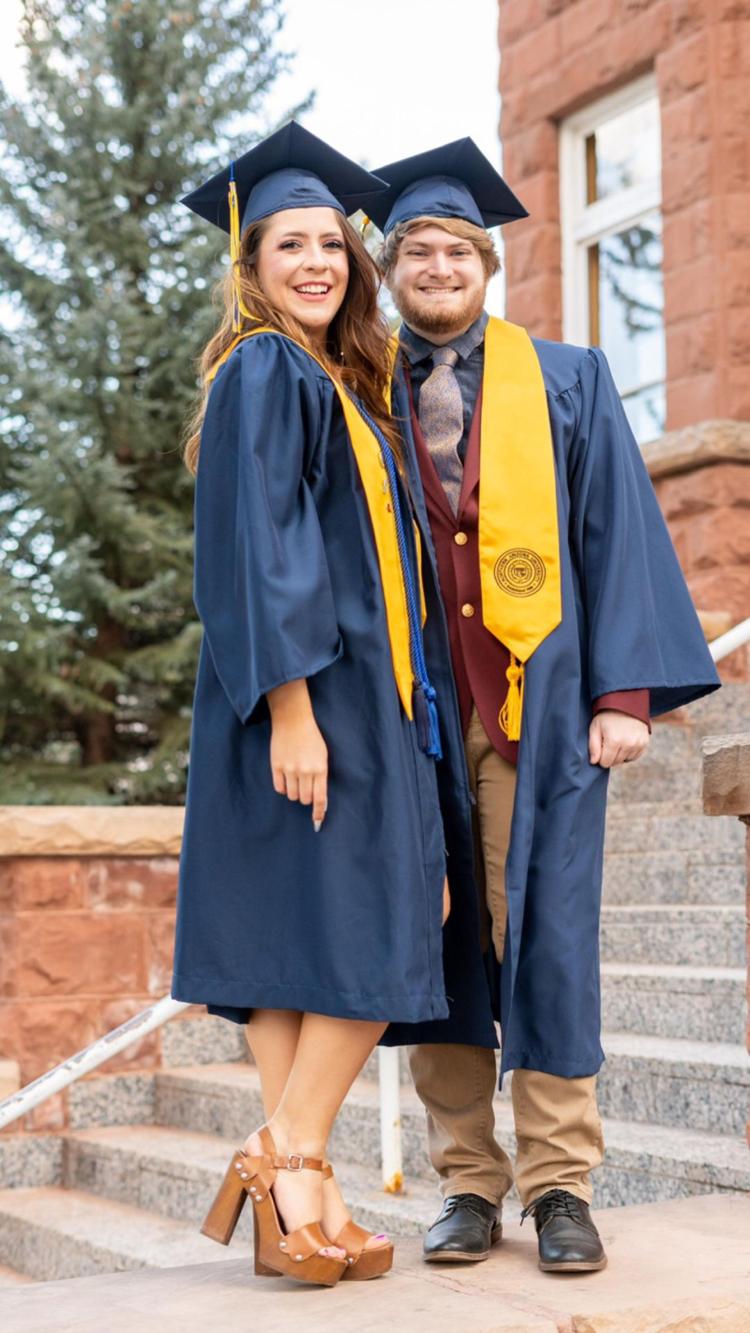 Grads: Bailey Barr and Sara Downs
"We are so very proud of you, Bailey Barr, for your hard work and dedication these last four years. Bailey is graduating with a Bachelor of Biomedical Science and a minor in chemistry and anthropology. He is planning on continuing his education to become a [physician assistant] (P.A.). While at NAU, he became an [student instruction] (SI) leader in microbiology and maintained a 4.0 for all four years. It was amazing to watch you grow into the strong, responsible and caring man you are today. We can't wait to see what your future holds for you.
"While at NAU, Bailey met his beautiful soulmate, Sara Downs and they have plans after graduation on getting married. Sara is also graduating with a high GPA, honors and was just recently awarded the Golden Axe Award. We are so proud of both of you and can't wait to see what the future holds for the two of you."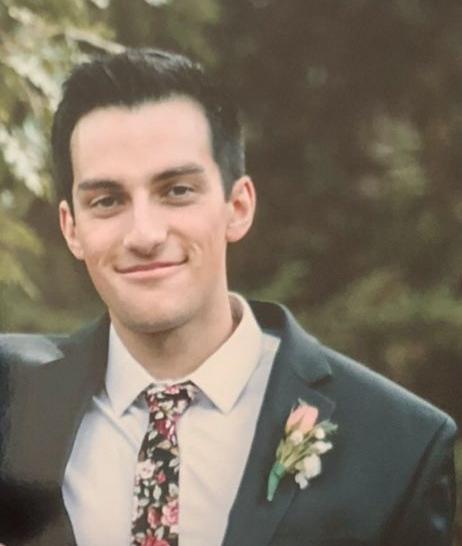 Grad: Andrew Marshall
"Congratulations on your accomplishments Andrew! We are very proud of you and wish the best for your future and can't wait to see what your future in biology holds. We love you son, Mom, Dad, Emily, Logan, Ella and Grandpa."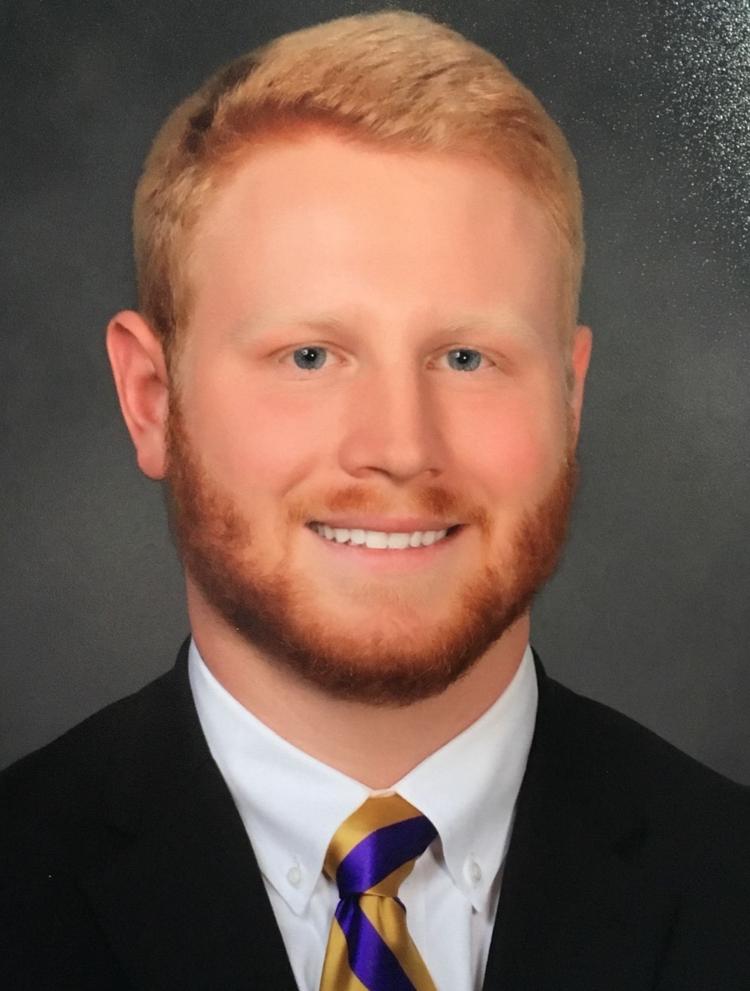 Grad: Chris Galus
Congratulations to our 2020 NAU Mechanical Engineering Graduate, Chris Galus! All of us are so extremely proud and excited for your future. We always knew you were an intellectual, awe-inspiring son, big brother, grandson, Godson, nephew, cousin, friend, hard worker, student, athlete, mentor and wonderful person, but you have really proved that. You moved to Flagstaff a kid, you are leaving a true Lumberjack, full beard and all.
"I would love to list endearing moments from your first 18 years. However, right now, we celebrate your journey through college. You chose NAU for the great atmosphere, cooler weather and picturesque landscape. We appreciated your enthusiasm and school spirit, albeit worrisome while you built a beer pong table with a bottle cap design incorporating NAU colors. From the time we dropped you at your dorm in Reilly Hall, you made the most of every second. You had great adventures and amazing opportunities. Some of which include being a member of the Society of Automotive Engineers, a member of the on-campus American Society of Mechanical Engineers, a Founding Father and member of Sigma Pi Fraternity, Sigma Pi Social Chairman and Sigma Pi Philanthropy Chairman, communicating with the Amazing Day and Donate Life companies. You became a Member of the NAU Renewable Energy club, worked on hydro, solar and wind development projects and were a member of the Arduino club and the Multicultural Engineering program.
"You received honorable scholarships which helped you strive for excellence, such as the Dr. Charles J. Santa Cruz Scholarship from Gilbert High School that was given to one distinguished senior in the graduating class [of 2016] and the Marine Corps Scholarship Foundation Award, which is given to children of Marine Corps veterans.
"You participated in intramural sports. Your fraternity team won flag football, glow dodgeball and you were the champion of the singles racquetball tournament twice. You took group hikes of Mt. Humphreys and the lava caves. You attended philanthropy events such as the Tri Delta Watermelon Crawl, Chi Omega Color Wars, Gamma Phi Moonball, Kappa Delta Shamrock Bowl and Delta Phi Epsilon Deepher Dude. You volunteered as part of the Raytheon math summer enrichment program and were a proctor in NAU study hall, as well as participated in multiple Flagstaff Urban Trail cleanups. Many senior year hours were dedicated to NAU NASA Space Grant Consortium Internship at ATC Materials in Flagstaff. Junior year summer was spent at Raytheon Space and Airborne Systems internship in California. All culminating in a well-rounded man with phenomenal accomplishments and a tremendous academic achievement.
"We all are so proud, love you and are grateful for Snapchat or we wouldn't know half of this. Congratulations and best wishes at your new job at Raytheon!"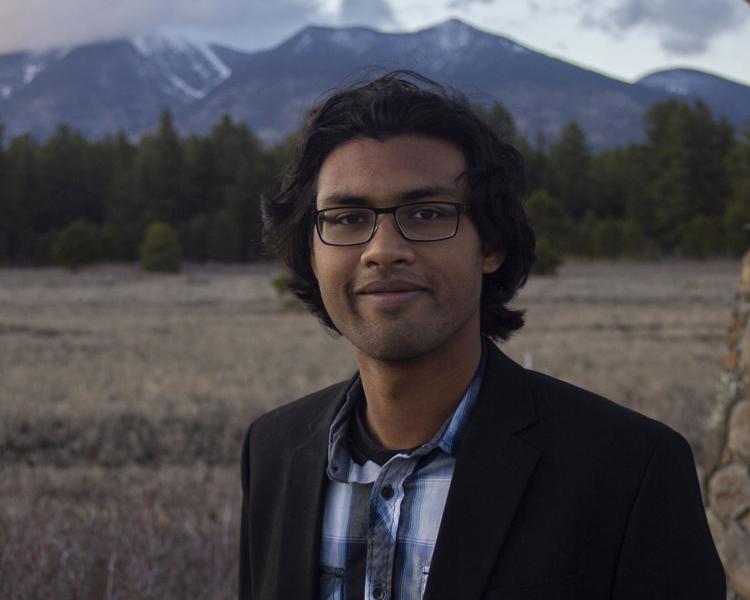 Grad: Nikhil Dass
"Nikhil Hoshea Dass is completing his college degree with honors in visual communication (graphic design) from NAU. He has been blessed by God with academic excellence, extraordinary musical talent, a combination of creative artistic flair and an analytical mind, a quiet, discerning spirit and an unassuming disposition. It is a joy to see him grow and excel in college as well as a musician and artist. We wait in anticipation of what the future holds for him and wish him the very best."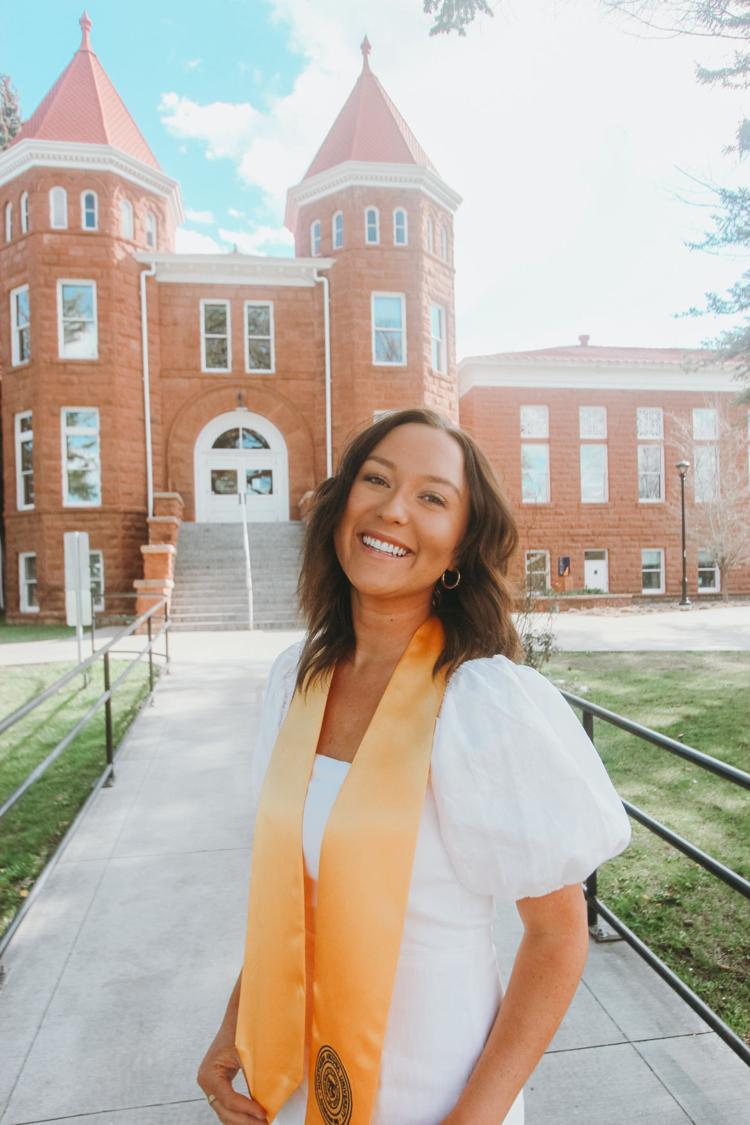 Grad: Sydney Hickey
"[We're] celebrating your graduation, Sydney! With determination, growth, bravery, education and travel, you took every opportunity college gave you and wildly succeeded. We are so very proud of you and happy for you. Happy Graduation! With all our love, Mom, Dad and Brent."