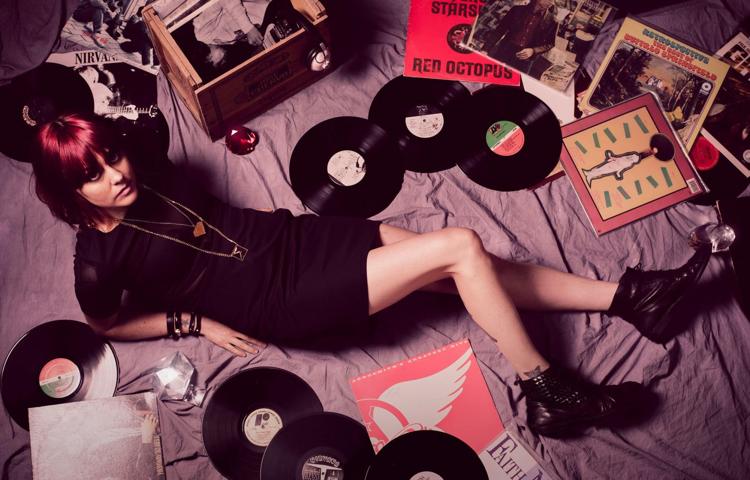 Charismatic attitude and positive thinking helps an independent artist not only keep her happiness, but gives her the energy she needs to express her love for music.
As a guitarist, singer and engineer, Vanessa Silberman is in the middle of her cross-country tour and loving every second of it. NAU students and Flagstaff locals will be able to witness Silberman's outstanding vocals and charisma when she performs Sept. 21 at the Hotel Monte Vista in downtown Flagstaff. Her passionate voice emphasizes her unique vocal style, and she connects to her audiences and fans on a sincere level.
"I've been in the business for so long, for 15 years or so. Now more than ever music is all I do and all I focus on," said Silberman.
Born in Berkeley, Calif., Silberman has been involved with several successful bands. She has given opportunities to many local artists by allowing them to perform in her shows. Silberman took up other successful roles within the music industry like being a record producer, an independent Artist and Repertoire, graphic artist and was even responsible for the founding of the band Diamonds Under Fire.
For Silberman, the inspiration to pursue a music career began at a young age, while living in Hawaii. Her first experience with the band Nirvana gave way to her love of music.
"When I was in Hawaii, the first band that I really heard was Nirvana," Silberman said. "At the time we didn't have TV or radio. I learned about them through my friends. They would actually have the records and would play them. I remember listening to Nirvana with no idea of what they even looked like."
Silberman used the time spent with her friends to listen to the artists who would inspire her career. Today, she uses their inspiration to produce music from the soul.
It is evident that after working for more than a decade within the music industry, that music is a main reason for Silberman's happiness, whether it is the connections she has with other musicians or the nostalgia songs provide.

What makes her unique as an artist is her ability to provide the electric feeling in her music and capability to cope with a crazy life a musician has, all without drinking or smoking.
"I'm so involved with music that I don't have time for the extracurricular activities or what-not outside of that," Silberman said.
Music is one of the tools people use to cope with everyday life. It can help set the mood for situations and events, motivate a person to achieve their goals and it can even bring treasured memories from the past. Silberman understands the power music has in everyday life and uses it to help her fans, as well as herself.
"Music is such a surreal thing that can really map out someone's life," Silberman said. "No matter what, a 5-year-old or a grandfather can relate to it."
A big part of the music industry is the performances bands and artists are able to provide for fans. One way Silberman uses her performances to impact her audiences, and create connections with other artists, is by having different drummers perform with her.
This past March, Jimmy Dias, the founder, vocalist and guitarist of the band Love Dimension was given such an opportunity and was astounded by how genuine Silberman is.
"I would say she has gratitude to be performing," said Dias. "She is so happy to be doing music and has a lot of positivity and good energy. I just realized I would like to be a part of that and help out in any way I can."
Dias, who is also a drummer, will be performing with her on her West Coast leg of her tour.
"It is going to be pretty cool to see how Vanessa does her thing," Dias said. "I can learn from her by observing how she interacts with the audience and how she runs a tour. It will be things that I can apply to my band and our tours."
Silberman enjoys the connections that playing with local artists creates and believes open invitations are a way to spread positivity in the music scene.
Local Flagstaff musician Amaal Daas was able to perform with Silberman and recounts her vibrant attitude.
"I really enjoyed playing with her," said Daas. "She sent me some songs, some of her new solo stuff she was working on."
Given the opportunity to perform with an artist such as Silberman allowed Daas to witness her gratitude to play.
"She has a lot of original material, and is really approachable at her shows. She has this positive energy with all her music and how the whole show is run," Daas said.
Although music and touring consumes most of her life, Silberman enjoys some of the simpler things. If a chance to have some free time is ever presented, she does her best to travel, watch movies and enjoy fashion.
"Sometimes if I do have time, I sit down and watch Netflix," Silberman said. "I'm crazy into Western and war films. I've seen probably every Western there is."
In the future, she hopes to continue as an independent artist, engineer and producer. She hopes her success with connecting to other artists and bands will help her make records. Most of all, she hopes to keep providing positive messages.
"Be yourself. Empower yourself. You can do anything," Silberman said.