NAU has asked the Arizona Board of Regents (ABOR) to approve a new athletics fee of $75 per semester. ASNAU voted in favor of the fee March 15.
The vote, which occurred just before spring break, was nearly unanimous, breaking down 10-1. Only Senator Jo Olas was in opposition.
But while a breakdown of the vote might suggest the fee was not controversial within ASNAU, that may not be the case for the student body at large.
The fee seemed to be unpopular with students at the forums held in early February. ASNAU conducted a survey about the fee in mid-February. ASNAU sent an email to the student body and collected 2,816 responses from students.
The data collected, however, may be of somewhat dubious quality as ASNAU did not go through the proper channels when implementing the survey and did not take certain issues into account.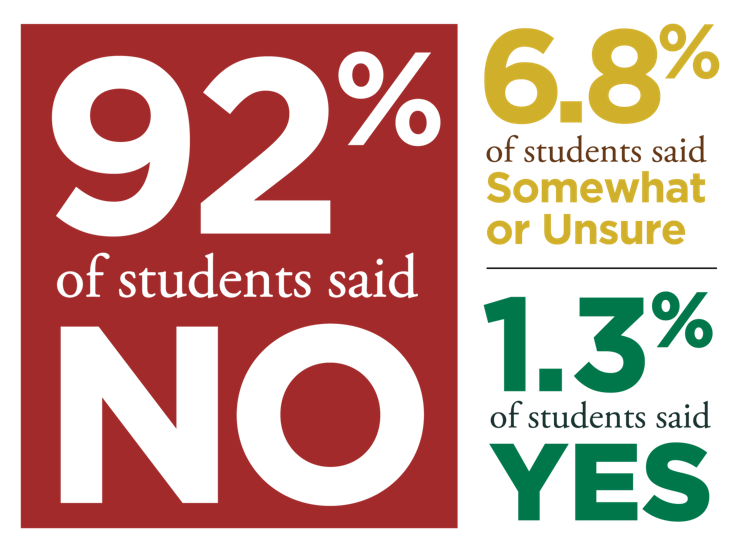 For example, the survey did not receive approval from NAU's Institutional Review Board. The review board approval is required by the 1974 National Research Act for surveys and studies to ensure the ethical treatment of a survey's subjects and the proper use of data collected.
Nonetheless, the numbers collected do appear to show a trend with a vast majority of respondents opposing the fee.
Of the 2,816 respondents, more than 92 percent said they opposed the fee and 6.8 percent said they were only somewhat supportive or unsure about the fee. Only 1.3 percent of respondents said they were in outright support of the implementation of the athletics fee.
ASNAU decided against opposing the fee, however, instead negotiating a number of changes in an attempt to improve it.
If approved by ABOR April 5, the fee would be implemented for the 2018 fall semester.
ASNAU president Lauren L'Ecuyer said ASNAU negotiated to improve the fee before they decided not to oppose it, temporarily capping its rate and implementing an advisory board to oversee it.
"We recognize fully that asking for $150 from students is not small, and the student government would never want to go out of their way to take more money from students if it wasn't needed," said L'Ecuyer. "But in this case we felt that the administration and Athletics did a fine job of presenting the case that made it seem as though we do need this fee."
Olas said her fellow senators may have decided not to oppose the fee because some of them felt they were between a rock and a hard place. That is to say, according to Olas, NAU Athletics and the administration told ASNAU that if the fee was not implemented, it would likely be added to NAU's tuition request that is before ABOR currently.
"If we don't make it a fee it's going to be subsidized in our tuition," said Olas.
Olas said she could not get past the evidence that pointed to the majority of students opposing it, and thus could not support the fee. She did add, however, that she understood and respected her colleagues decision, given the choice ASNAU had to make.
L'Ecuyer said the choice presented to ASNAU was never as one sided as Olas suggests, but did describe the situation in a similar fashion.
"Senators had to make an educated decision: Is this list of nine requests worth it to support the fee, or do we say, 'No we don't support the fee and we don't get these nine requests and the fee still has the potential to go through,'" L'Ecuyer said.
In all, ASNAU was able to negotiate nine changes or clarifications to the fee, including that the fee be capped at its current rate at least until 2026 and then it would be reviewed at that time.
It is unclear whether the fee could be eliminated should the review process find that it is no longer necessary, because there is currently not an official way to eliminate a fee, according to L'Ecuyer.
NAU was not willing to budge on every request made by ASNAU, however, and the cost to students was one of these non-negotiable items. Senators had originally tried to get the fee lowered but that was something NAU was not willing to change. ASNAU also hoped to mandate that NAU give at least 50 percent of the fee to student groups — but again NAU said no.
One request NAU did agree to was the creation of an advisory board that would decide what projects the fee was used for. This board would include "a group of diverse students to review where the money is allocated before the tuition-setting process begins annually to review the proposal," according to ASNAU documents.
"We're hoping that by having a student advisory board, they can really begin to prioritize what students need from Athletics and develop the fee into something that is, directly or indirectly, as beneficial as possible to the student body," L'Ecuyer said. "[The advisory board] is a pretty big deal and it's not something that most fees have."
During the forums on the fee, some students questioned what the fee would pay for and the answer students got from NAU Athletics was simple: They don't know what exactly the money would pay for, only that it was needed.
So this advisory board, L'Ecuyer said, is one way to address that question. ASNAU also mandated that the fee will never pay for scholarships, wages for staff, recruiting for staff or students, travel expenses, athlete stipends or anything that the review board did not approve.
Students will also continue to receive free admission into NAU athletic events until at least 2026, and at least a portion of the fee will go to fund the renovation of the Walkup Skydome's roof and construction of a multi-purpose fieldhouse, which could contain an ice rink.
L'Ecuyer said that without the fee some of those improvements may not happen.
ASNAU also negotiated that NAU is to provide a discounted rate for any ASNAU sponsored events and that other NAU students should be able use fields at a price comparable to what students pay at other NAU facilities.
Lastly, ASNAU also stipulated that NAU Athletics release a specific breakdown annually of what the fee is paying for.
In general, L'Ecuyer said she was happy with the process this fee went through and said it showed the university's commitment to shared governance and student input.
"I think it's something that is unique to our campus and to our administration that they are willing to use this shared-governance model and bring the people to the table who are really paying the fee and have a vested interest in where it goes," L'Ecuyer said.
She added, though, that there could always be improvements.
"I think [the administration] did the best job they could in the time they had to outreach to the student body," she said.
L'Ecuyer said that one way to improve the fee-setting process would be to have the process span at least the fall and spring semesters, giving students plenty of time to provide feedback that would shape the proposal.
"I think hosting multiple forums throughout a semester may be easier than trying to do it the semester of," L'Ecuyer said.
Another way of improving the process when it comes to fees would be to make advisory boards like the one implemented for the athletics fee a standard for setting fees at NAU.
But the question of just how much sway student governance has and how much students should be able to impact the fees that NAU imposes on them remains.
In January of this year, the Arizona Auditor General released a report saying that NAU had failed to follow ABOR procedure when implementing some fees, including not seeking student input, which ABOR requires for mandatory fees.
The Auditor General also criticized ABOR for not having as definitive a process as it should when it comes to setting fees, and ABOR is now working to correct that.
For Olas, even if students decide to raise fees, she said she would like to see an option available to students that might allow them to say no to implementing new fees.
Olas agreed that the process for deciding on the athletics fee felt rushed and suggested that more student feedback may lead the university to invest in fees that might be more popular with students.
Olas said she has worked to get more student involvement in NAU Athletics, and "it's like pulling teeth." Olas added that for her, the survey helped confirm this.
"I don't think that's what students want to do with their time, I think the vast majority don't want to go to the games," Olas said. "I don't think it's a very creative thing [NAU is] doing. I think [putting money into athletics] is something that happens at a lot of universities. Why don't we show our unique character rather than trying to fit in to the standards of the rest of the world?"
ABOR is scheduled to vote on the fee and other tuition increases at NAU April 5.
"We understand the students don't want another fee. At the end of the day, the decision was out of our hands," L'Ecuyer said. "We can't veto a fee."
Additional reporting by Megan Troutman