For several months petitioners have been walking the streets of Flagstaff collecting signatures for ballot initiatives and City Council candidates, but now the Flagstaff City Council has finalized ballot language for local tax propositions.
In a meeting on June 19, 2018, Mayor Coral Evans along with the other City Council members approved language for three sales tax propositions, numbered 419, 420 and 421.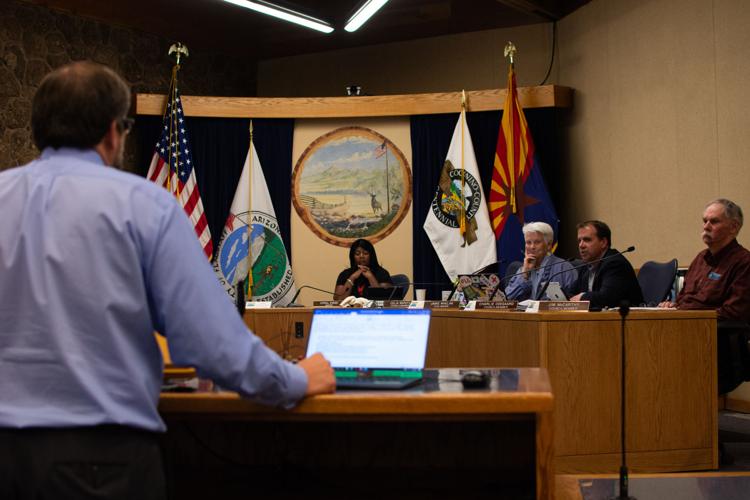 Proposition 419 will extend three existing sales taxes with a combined tax rate of 0.426 percent. The sales taxes are set to expire on July 1, 2020. The revenue generated from these taxes has funded roadway, pedestrian and bicycle path construction and maintenance.
If 419 is approved, the taxes will not expire in 2020 but will be extended to July 1, 2041 and continue to fund road and path improvements.
The first of the other two propositions, both new sales taxes, is Proposition 420. If approved a 0.23 percent sales tax will be collected to generate revenue to construct the Lone Tree Railroad Overpass connecting Butler Avenue to Route 66. The tax will start on July 1, 2019 and end July 1, 2039.
Proposition 421 is the last of the proposed sales taxes and if approved will levy a 0.15 percent tax. It will begin July 1, 2020 and will last a decade, with the revenue generated going towards public transit improvements for Flagstaff.
In a previous council meeting on June 5, 2018, Vice-Mayor Jamie Wheelan expressed her hope that voters will approve all three initiatives while the draft ballot language was still being changed and altered.
"I want to get everybody on a 'yes, yes, yes' roll [when voting]," said Wheelan.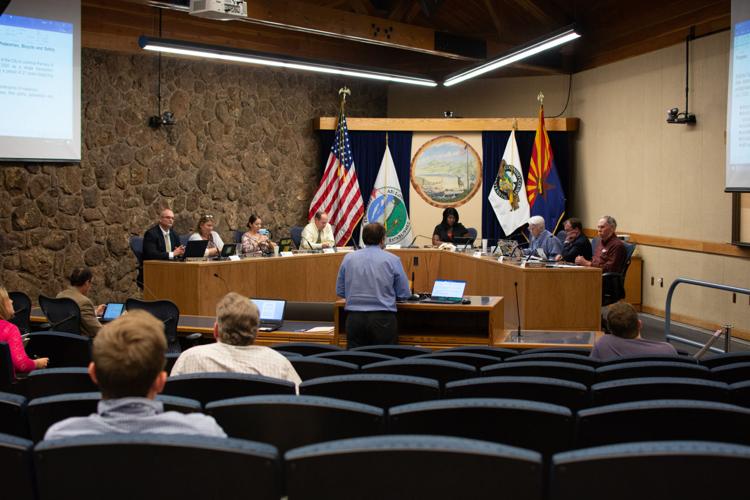 Ballot language for the three propositions can be found on the City of Flagstaff's website.
Flagstaff's minimum wage will once again be on the ballot for debate.
Proposition 418, also known as the Sustainable Wages Act, is a response to the controversial Proposition 414 passed in 2016. It was proposed by a group of local business owners known as Elevate Flagstaff and has the support of the Greater Flagstaff Chamber of Commerce.
The City Council could have opted to hold a special election over this initiative, but chose to include it on the Nov. 6, 2018 ballot. Some took issue with the language. Councilmember Jim McCarthy shared his thoughts, believing that the initiative needed neutral language.
"The official title is called the 'Sustainable Wages Act', and I believe the word 'sustainable' is prejudicial," said McCarthy. "It's trying to frame this measure in a way that voters will vote for it, rather than in a neutral way. I would suggest that we either call it the 'Minimum Wage Revision Act' or the 'Minimum Wage Act', something very simple."
McCarthy also had suggestions for the body of the initiative to better describe the effects of passing 418.
He explained that should voters approve 418, Flagstaff's minimum wage will be reduced to the state's minimum wage until Jan. 1, 2021, when it will rise to 50 cents above the state's minimum wage. It also completely removes the scheduled raises for tipped workers in Flagstaff as well as the language guaranteeing tipped workers get to keep all the tips they receive. Finally, it also restricts the city's ability to ensure employers are transparent about what they pay.
Full text of the proposed changes to Flagstaff's minimum wage laws in Proposition 418 can be found here on the Chamber of Commerce' website. 
If it doesn't pass, Flagstaff's minimum wage will remain as it was after Proposition 414 was passed in 2016.
Language for other propositions will be finalized as the final draft ballot continues to come together.
Three new City Council members will also be chosen by voters in November as incumbent Council Members Eva Putzova, Scott Overton and Celia Barotz have all announced they will not be seeking re-election.
So far six candidates have officially submitted their names to be on the ballot. The first is Austin Aslan, a resident of Flagstaff for over two decades with experience serving in local governments in California.
Paul Deasy, a consultant and policy analyst for NAU executives, has declared candidacy too. Retired business executive Dennis K. Lavin is looking to win a seat as well, running on his corporate experience for finances and budgeting.
Alex Martinez, a captain in the Navy Reserves and a former public-school superintendent, is also hoping to win a seat on the council. He currently works on Flagstaff's Planning and Zoning Commission.
The only woman attempting to win seat on the council is Regina Salas, who has lived in Flagstaff for 12 years now and has worked for Coconino County Parks and Recreation as well as the Chamber of Commerce before she started her own business.
Lastly, Adam Shimoni is throwing his hat in the race again following his narrow defeat in 2016 to Charlie Odegaard.
Incumbent Mayor Coral Evans is running unopposed for the office.
Voters will get to decide which of these measures are passed and which of these candidates are elected on Nov. 6, 2018, along with many other state ballot initiatives.