Flagstaff City Council voted 5-2 on Tuesday night to give the green light to a massive student-housing development project many years in the making.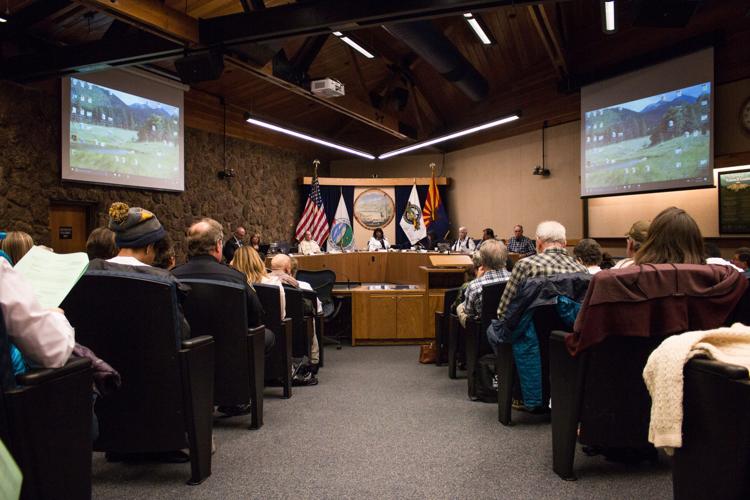 The April 17 meeting was headlined by zoning code changes to allow for a massive, off-campus, student housing project known as Mill Town. The complex will be located at 1801 South Milton Road, where the Arizona Department of Transportation (ADOT) building is now. ADOT will move to the location of the old Harkins Theater.
The proposed building went through some small yet significant changes to acquiesce to council's concerns last month.
For instance, Vintage Partners, the developer for Mill Town, dropped 57 bedrooms, bringing the number down to 1,164. Additionally, the modified proposal cut the number of square feet for commercial space by just over half, down to 23,200 from 48,400.
But some members of council, even after the March meetings, were far from convinced. Councilmembers Celia Barotz and Eva Putzova were the two dissenters for the revised Mill Town plan. The two have been critical of the "massive, monolithic" nature of the project. Barotz and Putzova advocate for the project to be more oriented toward middle-income families rather than be "luxury" student housing.
"If, however, council does finalize the rezoning, many will be surprised by the massive scale, dominance and footprint of the building," the two wrote together in an Arizona Daily Sun opinion article before the April 17 meeting. "We don't think Vintage's idea for this site works for Flagstaff — there are other ways to achieve density on this site."
The pair's pre-meeting concerns carried over all the way to the final vote, as Barotz and Putzova were the two "no" votes on the rezoning.
One of the things Barotz was big on including in the project was units dedicated to older, lower-income people. And while there were doubts the developer could flat-out reserve certain units for certain ages due to federal equal housing laws, the council and the developer did come to an agreement that it would market at least 22 units to older tenants and price those units at below market value — 30 percent lower at minimum.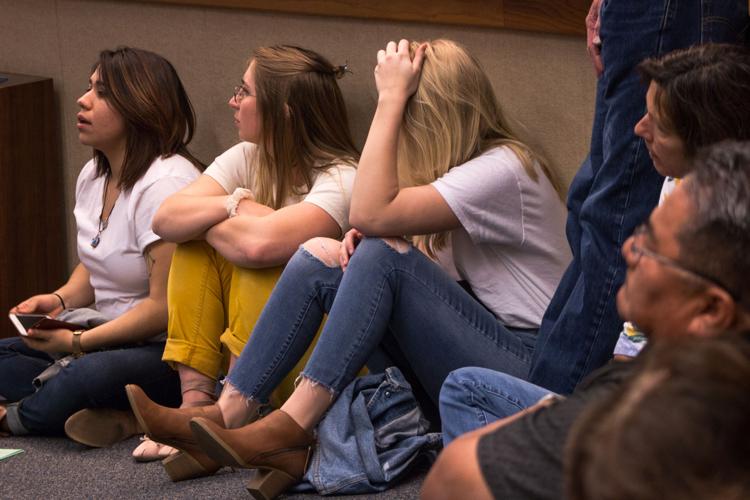 "We're certainly willing to do it — that wasn't up for discussion — it's just how do we do it," said Walter Crutchfield, one of the partners at Vintage.
Barotz said she wanted the developer to agree to 50 units instead of the 22.
While other student housing projects like the Hub have received a lot of criticism from both the community and the city council, Mill Town has had a much warmer welcome. Julie Pastrick, the CEO of the Greater Flagstaff Chamber of Commerce, an organization that advocates on behalf of local businesses and promotes the Flagstaff economy, was one of the community that approved.
"This is a great example of a good project. It has so many amenities and concessions that most of us who live in Flagstaff truly value," said Pastrick.
At the meeting, Mayor Coral Evans was clear on why she believes Mill Town succeeds where other student housing initiatives have failed. Evans has long been publicly critical of student-housing projects that nestle themselves into historic neighborhoods, but Mill Town has no such issue, along with more openness and cooperativeness from the developer.
Aside from the benefits of increasing the supply of housing and a safer way to cross Milton with a pedestrian underpass, council is eyeing Mill Town as a jumping-off point for addressing Milton's infamous congestion with its forward-thinking transportation features like bus lanes and wider roads.
"We haven't taken the time to think Milton out," said Vice Mayor Jamie Whelan. "This project is way ahead of its time."
While Mill Town was at the forefront of the four-hour council meeting, county politics took up the back half. After nine hours of meetings over a four-month period with Coconino County Sheriff Jim Driscoll and County Attorney William Ring, a pro-immigrant group called Keep Flagstaff Together turned to the Flagstaff City Council to address their issues with the sheriff's policies.
The group wants council to encourage Driscoll via a resolution from council to no longer acknowledge detainers coming from Immigration and Customs Enforcement (ICE). These detainers are requests to hold a jailed individual, often for 48 hours after the time of their scheduled release.
The group believes these detainers and the accompanied "warrants" — documents not typically signed by a judge or third-party magistrate, but rather by an ICE administrator — are violations of individuals' fourth- and 14th-amendment rights.
"What can we do when our local sheriff creates policies that are both legally and morally objectionable?" former NAU professor Sandra Lubarsky asked at the meeting.
Lubarsky's question was rhetorical — Keep Flagstaff Together had worked with councilmembers on getting a resolution up for consideration for the meeting. The resolution would call on Driscoll to "uphold the constitution" in ignoring the ICE detainers, "advise inmates on their right not to speak to ICE agents" and only notifying ICE of undocumented inmates after they've been released.
Councilmember Jim McCarthy was skeptical on aspects of the resolution and voiced his opposition. However, McCarthy said he was highly interested in continuing the discussion moving forward with revised versions of the resolution.
That sentiment echoed across the council.
"I think that the worst thing we can do is to be silent in the face of injustice," said Evans. "And I want to say publicly that I have an issue with this second-tier citizenship that has been established here in this country because of this immigration system that has been broken for a long time."
Barotz said she wanted to move forward with addressing the sheriff's policies and compliance with ICE as well, and that "time is of the essence."
According to the Arizona Daily Sun, City Attorney Sterling Solomon received an email from state Rep. Bob Thorpe, R-Flagstaff, writing that if the city goes forward with a resolution he would file a complaint with the attorney general.
Keep Flagstaff Together volunteer Marcus Ford called Thorpe's remarks "nonsense," as a resolution by the city is nonbinding and that the AG would throw it out.
"It's just bullying," said Ford.
Ford told The Lumberjack he was also skeptical of Driscoll's responses in their meetings. He said the sheriff basically oscillated between doing it as a courtesy to ICE and having no choice in upholding the law.
"If it's the law, it's not a courtesy. If it's a courtesy, it's not the law. In my mind, you can't have it both ways," Ford said.
Keep Flagstaff Together members speaking at the meeting said they are confident in their assertions that Driscoll is not legally obligated to answer to ICE in the way that he has been doing. Only time will tell, as there is an ongoing lawsuit against the county sheriff on his policies that will likely have its hearing in May.
Council decided to save further discussion on a resolution for a later meeting, particularly to work out legal details.