Just before spring break, all three Arizona universities unveiled their proposals for tuition for the upcoming academic year. On March 28, NAU President Rita Cheng was part of the Arizona Board of Regents (ABOR) video conference, accompanied by other university presidents to discuss the tuition increases.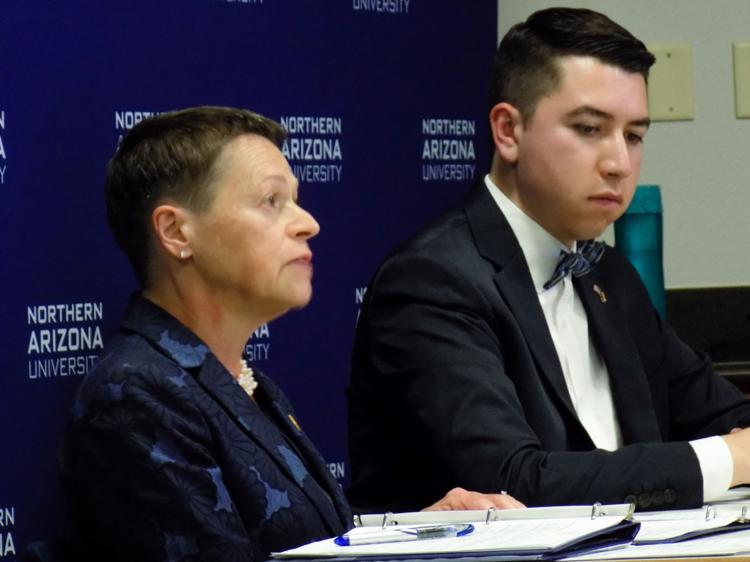 The conference was led by ABOR Chair Bill Ridenour who introduced each of the university presidents in attendance to the video conference — ASU President Michael Crow, UA President Robert Robbins and Cheng.
Crow spoke about ASU's tuition not increasing more than 3 percent for in-state students. The tuition proposal requests no increase in tuition, no additional program fees, no additional differential fees and no additional class fees for undergraduate students. However, there would be a 2 percent increase for online students and capping the tuition for online in-state residents who are taking the equivalent of attending university full-time.
Crow also spoke to a falsehood that tuition is meaningless.
"Tuition is not a meaningless thing, it is a an investment by families and students in their higher education for which there is a dramatic return," said Crow.
Robbins introduced a 2 percent tuition hike across for all incoming students beginning in fall 2018, but no increase in mandatory fees. Incoming undergraduate students will be guaranteed the tuition rate for four consecutive years, under the requirements for UA's guarantee program, similar to NAU's tuition pledge program.
"Tuition and fees represent a piece of UA's plan to fund ongoing critical needs. When combined with other sources of revenue and increased operational efficiency the university is able to achieve its strategic goal," said Robbins.
Cheng said NAU developed their tuition proposal around NAU's goal of student success to continue to fund education that will prepare students to thrive in their careers.
"While tonight is about setting tuition, the overall discussion is much broader and included many components around expectations, goals and overall budgets and revenue streams. This proposal incorporates students' valuable insights, and it provides a strong foundation for NAU's future," said Cheng.
Cheng's proposal again protects the NAU tuition pledge program, which is entering its second decade.
With the coming changes, NAU will have eliminated more than 300 class fees and reduced the rate for another 300 classes over a three-year period, Cheng said. The NAU administration, however, is recommending additional program fees. The tuition proposal includes a 3.5 percent increase for in-state and out-of-state students attending the Flagstaff Mountain campus and the Yuma campus. NAU's Yavapai campus will have a 5 percent increase for both in-state and out-of state-students.
The tuition proposal also includes the highly debated $150 per year athletics fee. This, if approved, is a new mandatory fee that would be required of all students at the Mountain campus, and the estimated $3.1 million the fee would generate per year goes to NAU Athletics.
After each university introduced their tuition proposals, students who wished to speak on the proposals were given time.
UA Student Regent Vianney Careaga introduced the NAU students who wished to speak on NAU's proposal.
ASNAU President Lauren L'Ecuyer said she was satisfied with NAU for keeping the pledge program alive with the tuition proposal.
"As you know, NAU has a pledge program that is extremely beneficial to the overall well-being of our campus ... I want to express my satisfaction with the proposal to keep the pledge program in place, to ensure that students who enter NAU will have knowledge of how much they will be paying for tuition for the next four years at the rate," said L'Ecuyer at the meeting.
L'Ecuyer also said that students don't take the program for granted and that it helps all students financially.
Also up for debate at the meeting was the newly proposed athletics fee. NAU Athletics held four forums and met with the ASNAU representatives to discuss the fee. Most of the feedback seemed to be negative.
ASNAU also conducted a survey of students regarding the fee. ASNAU approve the fee in March in a 10 to one vote.
ABOR Chairman Ridenour thanked each of the university presidents and student speakers.
"Your input is very valued, and we thank you for it," said Ridenour.