With expectations of increased enrollment at NAU, and Flagstaff seeing a surge of newcomers, five community leaders gathered March 8 to help better define the future of Flagstaff.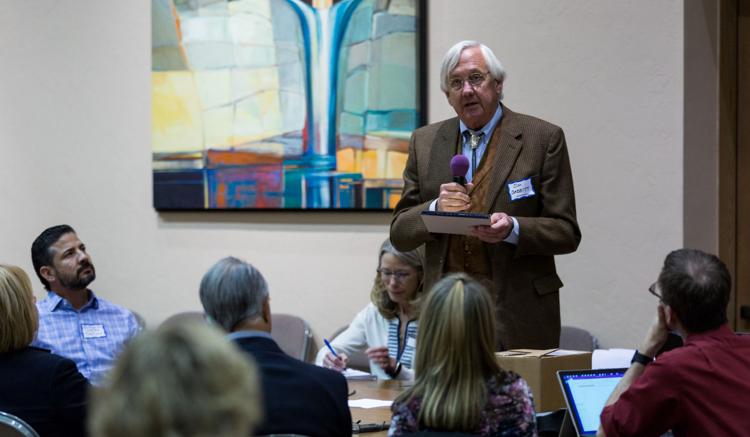 Mayor Coral Evans, one of the leaders at the Growing Pains public forum, said all of the interactions between the university, businesses, the city, the state legislature and Arizona Board of Regents (ABOR) were unprecedented happening under one roof. And it comes at a pivotal time, as the questions of unfettered growth for Flagstaff are at the forefront of these leaders' minds.
"It seems unlikely that this rate of growth can be sustained going forward," said Jim Babbitt, a Flagstaff businessman and leader at the forum. "Former city council member Dr. Murray Feldstein — I'm sure a lot of people remember Dr. Feldstein — observed in his profession that steady, moderate cell growth is normal. Extremely massive cell growth is called cancer."
NAU President Rita Cheng, state Sen. Kate McGee, R-Phoenix, and ABOR President Eileen Klein were the other three leaders at the forum, along with dozens of community members ready to offer their perspective on how to address the growth.
The population of Flagstaff in 2006 was 58,519. Ten years later, that number climbed to 71,455, an 18.1 percent increase.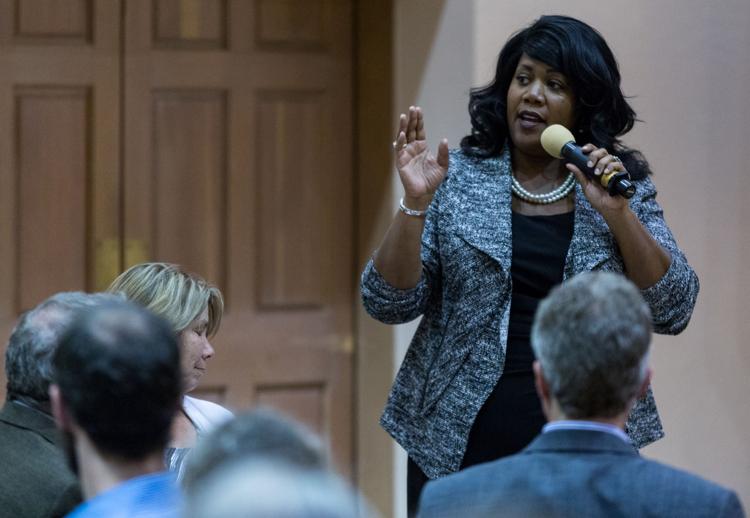 Compared to cities like Yuma or Tempe, which received an 8.1 and a 7.1 percent increase within that same timeframe, this is a massive surge.
"I'm not really sure when all of that happened," said Evans. "We're being told that it happened after the downturn, we're being told it happened just before the downturn, but somehow growth came to Flagstaff, Arizona. And that's really what we're dealing with right now, is this concept of growth. And for some of us who've been here a long time, that's extremely uncomfortable."
NAU is no stranger to growth either. In 2006 the university had just 12,340 students at the Flagstaff campus, that number rose to 22,134 in 10 years, a 44.2 percent increase.
In 2015, ABOR set a goal for Cheng and NAU to have a total of 35,000 students enrolled across all campuses by 2025. At current rates, NAU will meet this goal.
Higher enrollment was, and is, part of the patchwork ABOR strived for in funding the three state universities when state funds began to run dry after 2008. Universities such as NAU are still recovering.
"Our state was one of the hardest hit and our public universities were one of the hardest hit systems in the entire country," said Klein. "We've had some of the largest tuition-rate increases as a consequence. Our state thankfully has stabilized."
With student housing making its way off campus, traffic congestion ramping up and long-time residents fearing the city is losing its small-town identity, many are looking for who's at fault — and how to fix it.
One of the most common suggestions heard across multiple working groups included improving public transportation in Flagstaff so students can be more comfortable living away from campus. Some suggested it would be effective to make buses free to all students, while others thought it more appropriate to have new, targeted routes for student pickup.
Evan's group proposed that NAU should create a separate Flagstaff campus located away from the main one to divert student traffic throughout the city.
Like many other suggestions, nothing was solidified, but everything will be documented and put into consideration said Steve Peru, the moderator for the event and CEO of United Way of Northern Arizona.
While Cheng discussed the university's benefits to the local economy and gave a reality check on its contribution to Flagstaff's growth problem, saying NAU is in the top 1 percent of universities for number of students  housed on campus at 48 percent.
Not all in attendance were convinced.
Adam Shimoni, city council hopeful in 2018, asked the president if she thinks NAU's growth is "inappropriate." Cheng said the growth is appropriate and it would be "high risk" for the university to go in the opposite direction of its current infrastructure trajectory.
"They're not taking credit. They're totally blind to the changes they've put forward on campus through their enrollment practices," said Shimoni. "It reflects on our town, and our town's lack of ability to accommodate it."
Regardless of the catalyst, one thing was agreed upon: "Growth for growth's sake" is not something either the city, NAU, the legislature or ABOR are entertaining.
"Our current plan is very weak on addressing student housing, and there is not very much consistency between the plan and what gets implemented," Babbitt said. "There is less than an ideal amount of community input sometimes."
While many recognize the benefits the university has delivered to the town, others showed their distaste for the problems it has ultimately brought. Some are even concerned a displacement of historic neighborhoods is on the horizon as a mirror of something similar that is happening in Tucson.
Evans, an NAU graduate, said she finds herself ambivalent toward her own neighborhood now occupied by loud college students.
"Many of you know that I have been nothing but consistent in talking about student behavior, about the noise, about the parties, about the litter, about what I see as blatant disrespect in the neighborhood," Evans said. "I know that they're students, and I know they want to have to fun, so I don't want to have to call the cops on them."
While the forum ended after two hours of dicussion, work on addressing Flagstaff's growth problem is only just beginning.