In a unanimous ruling April 9, the Arizona Supreme Court made the decision to revoke Delayed Action for Childhood Arrival (DACA) students' access to in-state tuition rates, and April 25 NAU DACA students held an educational forum to share their stories with the public.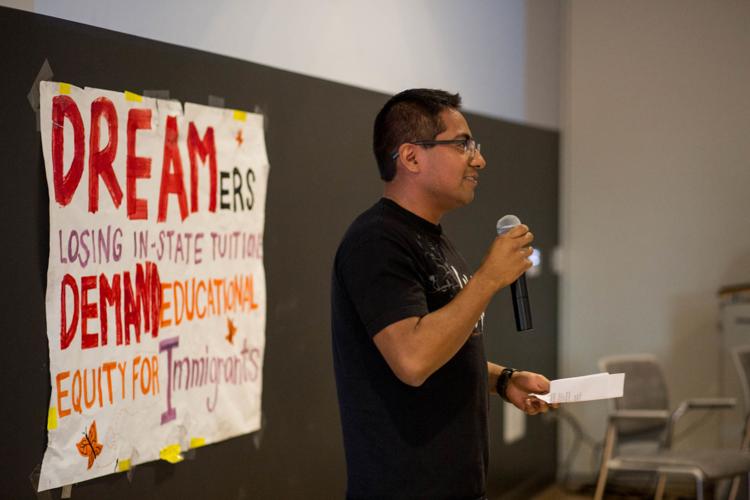 The ruling will be set into motion immediately and affect more than 2,000 students who are currently attending community colleges and universities within the state, including the 26 DACA students that are currently enrolled at NAU.
The court has yet to explain their ruling, but Arizona Attorney General Mark Brnovich announced in a press release that a full-written opinion from the court will be published May 14, 2018.
NAU President Rita Cheng responded to the decision in an NAU News article. Cheng said she and the other universities in the state are unfortunately liable to follow the rules of this decision, but they are working to contact Congress regarding changes to be made to the current immigration policy.
She also stated NAU administration will maintain close contact with DACA students enrolled at the university to ensure they have the services necessary to continue their education.
"Like many of our faculty, staff and students, I am concerned about this week's ruling. Educating all students, including DACA students, is very important to NAU and to me personally," said Cheng.
Cheng further explained that, although the administration may not agree with the supreme court's decision, the university is bound by law to follow the court's ruling.
"As a state institution, NAU must follow the law, but I understand how challenging and difficult this is for our DACA students and their families," Cheng said.
In 2015, the Maricopa County Superior Court made the first ruling on this case in State of Arizona v. Maricopa County Community College District. The superior court's decision allowed DACA students to receive in-state tuition if they were able to provide documentation of in-state employment and the ability to satisfy all residency requirements.
The superior court's ruling was appealed in 2017 and, during that time, the Arizona Board of Regents (ABOR) announced in a June 29, 2017 press release they would continue to provide DACA recipients in-state tuition until the Arizona Supreme Court reached a decision.
President Donald Trump attempted to repeal DACA in September 2017, fulfilling a campaign promise. His executive order was blocked by a United States district judge who made the decision to allow DACA recipients to remain within the program until a congressional decision had been made.
DACA was originally signed by former President Barack Obama in 2012. It offered temporary protection for young immigrants who were brought to the U.S. by their families before 2007 and who were under the age of 16. Individuals must reapply every two years.
Obama originally designed the program to assist immigrants who were trying to integrate into American society by working or pursuing an education. DACA protects these individuals from deportation as well as problems concerning identification, paying for higher education and overall health and safety.
Dr. Luis Fernandez, a professor of criminology and criminal justice and director of the Master of Arts program for sustainable communities at NAU, gave a brief introduction of immigration history within the U.S.
"Labor and the role of race play an essential role in the process of immigration," said Fernandez.
Fernandez explained when immigration in America began, the creation of anti-immigrant propaganda, highlighting the racial stereotypes of immigrants and minorities, began as well.
Many of the posters claimed immigrants could either be considered black or white. The strict distinction promoted by the propaganda allowed for further alienation of immigrants within society and the workplace as well.
If Trump and his administration are successful in repealing DACA, the decision would challenge the legal status the 800,000 undocumented immigrants brought here as children and currently reside in the U.S.
Although DACA has not been repealed yet, the Arizona State Supreme Court's decision will prevent DACA recipients from receiving in-state tuition rates while attending a state university without a permanent legal status. Tuition rates for DACA students in Arizona are predicted to rise and even possibly exceed out-of-state tuition rates, according to NPR.
"The fee changes will take effect immediately and in some cases more than triple the annual cost of attendance," said NPR reporter Vanessa Romo.
Kassandra Carrasco, senior hotel and restaurant management major, is one of 26 DACA recipients at NAU. On April 25, she joined other DACA students and spoke at the Community and University Public Inquiry educational forum.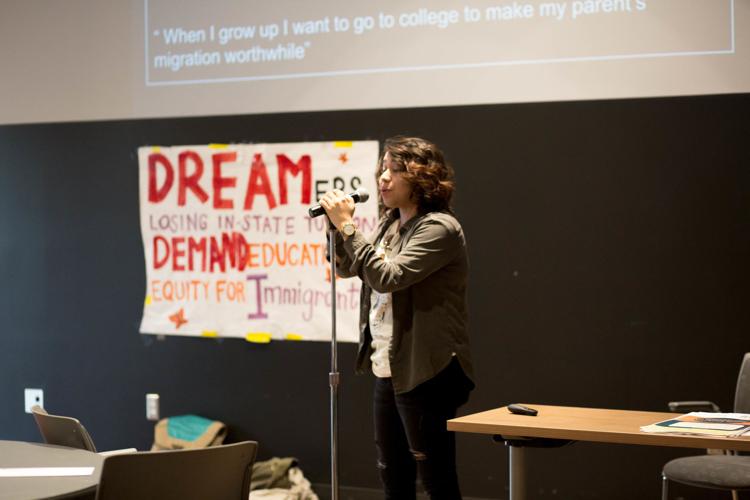 Carrasco shared her story to inform those on campus about DACA because the program is constantly being changed, making life even more difficult for those in the program.
"To share my story allowed me to be vulnerable. It's putting a face to the issue, it's humanizing the issue and I think that sharing my story allows the community to see that we are here. We are within our peers. We walk the same sidewalks and eat at the same places," said Carrasco.
She stated one of her main problems regarding tuition during her transfer to NAU was that a lot of the administration at NAU were not aware of the DACA program.
The university originally tried to charge her out-of-state tuition rates, despite the fact she attended Coconino Community College prior to attending NAU. In order for her to receive in-state tuition, she had to fill out various forms and papers as well as file her taxes independently.
"It's really important to be updated on what's going on because the misconception is that, 'Oh you know these illegals are just taking advantage of this program,' but no, it's very strict," Carrasco said.
A "letter of support" was handed out at the educational forum, which asked NAU students and President Cheng to show their support of DACA students by asking them to come together to take action.
So far, no appeal of the Arizona Supreme Court's ruling has been made, but the Arizona Dream Act Coalition has started fundraising to provide emergency scholarships to DACA recipients next semester as reported by the Arizona Republic.