With the third Faculty Senate meeting of the semester, the utterance of "shared governance" still has the power to get faculty talking. And now with NAU's decennial accreditation report recently released, there is new reason for the conversation.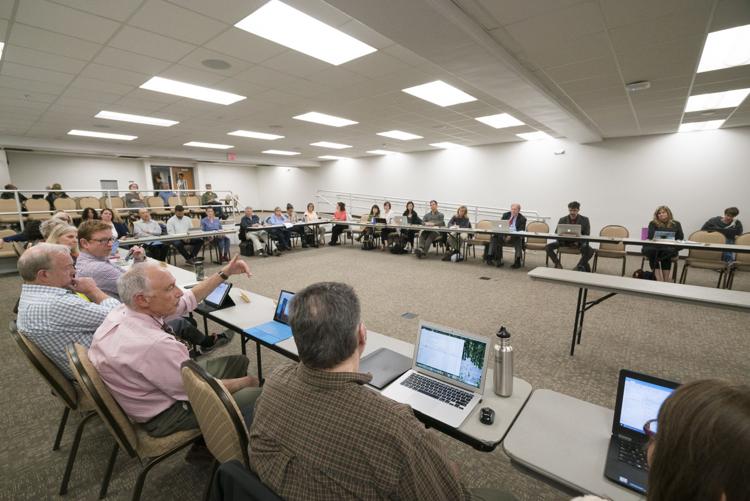 Shared governance is a constitutionally guaranteed agreement between university administration and faculty that certain policy decisions, usually those relating to academia, are to involve both the Faculty Senate and the administration in conceptualizing and implementation.
In addition to hearing about the state of mental health at NAU and a report from President Rita Cheng, the discussion around shared governance managed to wedge itself into the March 26 meeting.
Some people doubt that there is a mutual understanding as to what shared governance is after Faculty Senate experienced some breakdowns in communication.
"I personally would like to hear what upper administration believes shared governance is," said associate professor and Senator Joseph Wegwert. "My sense is that we don't agree. My sense is that there're some alternate universes that we're operating in."
Marianne Nielson, a professor and senator, said the administration often does not give enough time for feedback. She said the administration needs to give issues and proposals "more time to breathe."
Before the January Faculty Senate meeting, Cheng sent a letter to the senate's Executive Committee, and was heavily critical of the changes proposed to the Constitution.
"Unfortunately, the 2017 Amendment once again attempts to mandate that NAU's Faculty Senate would unconditionally have ultimate management authority over all aspects of NAU," read part Cheng's letter.
Faculty Senate President Gioia Woods said the Executive Committee was initially taken aback by the president's remarks.
"The president read that as, how shall I say, as an attempt to increase our power," said Woods in January.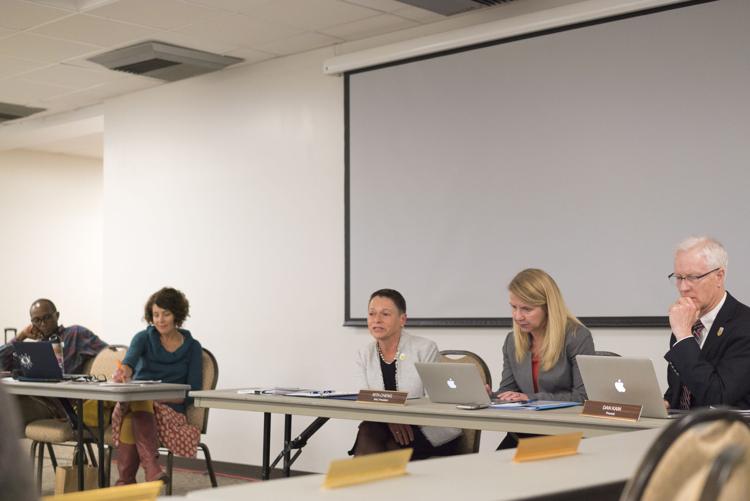 But Woods has been working with Cheng since then to reach a better solution. Currently, the amended Constitution is being looked over by the administration's legal team, Woods said.
These lapses in communication, among other concerns, has senators such as Wegwert still talking about what shared governance actually means. But Wegwert himself said he is not actually concerned about the communication and does not want the conversation to drift away from being about governance. He said the scenario the senate finds itself in could be used as a "moment of leverage."
The moment of leverage Wegwert referred to is the timing of the recently released accreditation report. The Higher Learning Commission released their report in February lauding NAU in many areas, including assessment of degree programs and cultural events.
But the report does come down on the university for a lack of input on a range of issues, including policy moves like multi-term enrollment.
Vice Provost Laurie Dickson worked with the Higher Learning Commission to realize the report. She presented the findings to Faculty Senate on Monday.
"They basically highlighted that you guys are doing almost everything right," said Dickson.
Despite the misgivings about shared governance, "our accreditation is not in the balance," Dickson said.
Woods is looking into holding a forum on shared governance with the administration to iron out what both sides want out of it.
Before shared governance dominated the conversation in the last half of the meeting, Faculty Senate focused on other issues. One on the minds of three women from Campus Health Services is mental health — and the shocking numbers they've found.
Health Promotion Manager Melissa Griffin, Executive Director of Campus Health Services Julie Ryan and Interim Director of Counseling Services Megan Gavin came to let faculty know that campus health problems are actually on the rise, and what instructors can do to help.
"Anecdotally, just in discussions, we've heard from faculty and other colleagues it feels like there are more mental health concerns among our students … the data will support that," said Griffin.
From 2013 to 2017, students experiencing "overwhelming anxiety" increased from approximately 50 percent to 60 percent. In the same time, students reporting that they are "so depressed they can't function" increased 30 percent to 40 percent.
About 9.1 percent of students have "seriously considered suicide" at NAU, 1.2 percent below the national average.
Today, 87 percent of students at NAU say they are "overwhelmed" and 62.6 percent say they are "very lonely," both roughly tracking the national average. One area where NAU actually exceeds the national average is with concerns about dealing with finances from students, Griffin said.
The Health Services "Mental Health Task Force" requested faculty to do an even better job about being open to student issues. One such suggestion is to include mental health services information in their Blackboard Learn shells, as well as instead of canceling class if they go on vacation, setting up a mental health presentation instead.
Cheng was present at the meeting and gave an update on her dealings with the legislature. Cheng said NAU is continuing to fight back with the other universities against House Bill 2172, the bill that would allow non-lethal weapons on campus. Cheng also addressed the resignation of Arizona Board of Regents (ABOR) President Eileen Klein and the emerging House Bill 2203, which would dismantle a statewide ABOR and instead have boards for the individual universities.