In March, Flagstaff community leaders came together to solve the "growth problem" the city and the university are facing. A month later, the participants have weighed in on which suggestions might have the most teeth.
At the March 8 Growing Pains event, Flagstaff Mayor Coral Evans, NAU President Rita Cheng and other community leaders came together to address the massive growth both entities have seen over the past few years.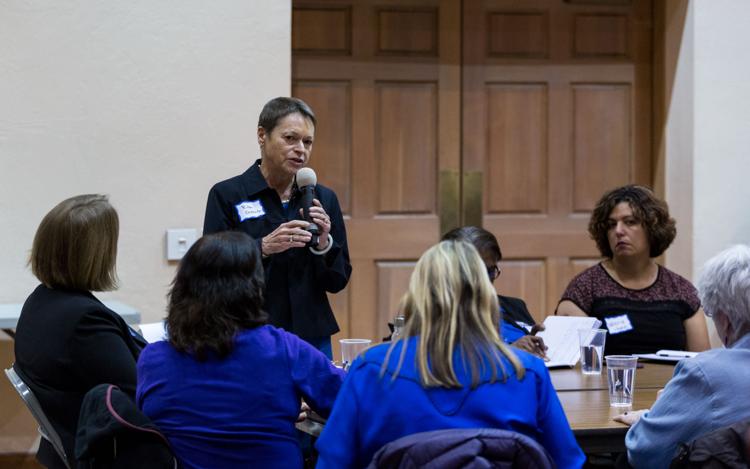 The Flagstaff population in 2006 was 58,519, but 10 years later, that number sits at 71,455, an 18.1 percent increase. Compared to similarly populated cities such as Yuma, which received an 8.1 increase in the same time — Flagstaff is booming. Additionally, NAU enrollment for the Flagstaff campus leaped from 12,340 students to 22,134 students, a 44.2 percent increase.
The growth has made some residents skittish about the community's future.
"I've been in Flagstaff for 26 years, and I've always wondered why there hasn't been a stronger relationship," said organizer for the event John Grahame, speaking about Flagstaff and NAU's communication channels. "For some reason, there's a real sense of Tucson and UA having a love affair. I think we can really do that."
Grahame said he believes the problem Flagstaff currently faces is not necessarily growth, but a longstanding lack of a communication between the city and the university. He lives in Tucson six months out of the year, and he sees the community's relationship with its university as an ideal that Flagstaff and NAU should be striving for.
After the event, where approximately 100 members of the community attended to share their ideas, participants were given the opportunity to solidify their feelings and ideas in a survey. Grahame and other organizers released those findings April 16.
The most popular response out of 49 different questions received overwhelming support, with a 4.52 rating out of five. Participants agreed that we need to "increase state funding to our universities and community colleges."
The likely reason for this response is because NAU's enrollment growth for the past decade has been treated as an alternative for state funds. Arizona universities saw their state funding decrease by 36.4 percent from 2008 to 2017 fiscal years, $1.07 billion to $681 million, so enrollment targets from the Arizona Board of Regents (ABOR) have consequentially increased to make up for lost revenue.
And Cheng is meeting those targets, resulting in the student population boom.
Other popular sentiments among participants included to "create a formal partnership between NAU and the City of Flagstaff to manage not only the impacts of enrollment and population growth, but the many opportunities for neighborhood and community enrichment." Another was to "ensure that we are incentivizing our university presidents for education, research and community impact, not simply to grow student enrollment just for growth's sake and communicate that clearly to the public."
"The Hub was getting people on edge," Grahame said. "It's not an anti-growth thing, but rather 'let's get together as a community, roll up our sleeves and solve this problem.'"
One of the least popular initiatives was to "amend the zoning codes in ways that will encourage students to consider moving into existing neighborhoods rather than into large student high-rises." This incentive received a 2.39 rating out of five.
Grahame has done these types for forums before. He gets hired by a group of citizens to address a local issue by organizing a forum like Growing Pains. Grahame has helped with gridlock on Highway 180 and plans for mining and forests before. Addressing Flagstaff and NAU growth is only one of the mid-sized projects he's done, Grahame said.
Some participants took the extra step and submitted anonymous comments on the ideas and successes of the forum. One participant highlighted his or her criticisms with Cheng.
"I sat at Rita Cheng's table and witnessed her be totally oblivious to the issues the growth was creating on our town," they wrote. "I'm sure her bonuses and salary have something to do with her opinion. I think we need to highlight these bonuses and get them removed from her pay. Otherwise, she will continue to grow NAU and turn a blind eye on the impacts to the community."
The next step for the forum will be a closed-door meeting among community leaders on the best and most pragmatic ideas. The meeting will be next week and will include important community representatives, one for NAU being Emily Allen, assistant vice president for community relations.
Grahame said he is particularly excited to see Allen be involved as a new member of the NAU staff — Allen was hired by the university in January.
"We want to figure out who's going to be a part of the larger group that's going to roll up their sleeves and do the work," Grahame said.