In an effort to create sustainable practices in Flagstaff, some businesses have chosen to provide less plastic straws to their customers.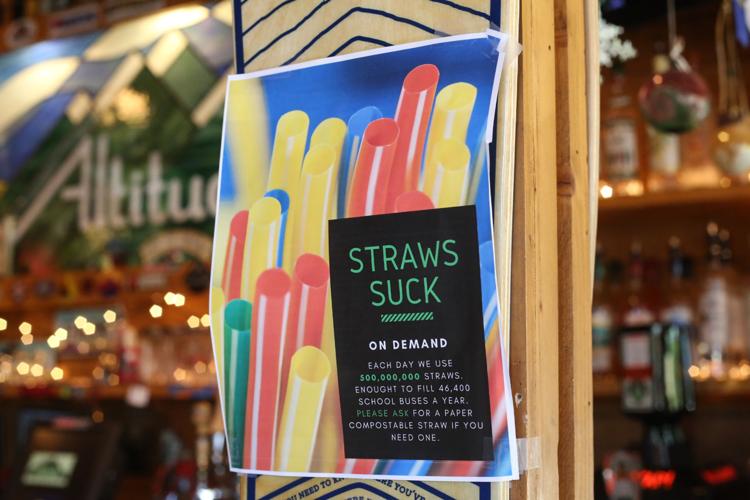 Many businesses including Single Speed Coffee Cafe and Altitudes Bar and Grill have chosen to provide compostable straws as an option for their beverages and have even attempted at doing away with single-use plastic materials permanently.
After learning of the damage being done to oceans and the effects of plastic straws on ocean life, Lynda Apple, owner of Single Speed, decided her business would begin implementing sustainable practices as a means to better the environment.
"Being hugely connected to the oceans, it only took one picture of a sea turtle with a straw stuck in its nostril for me to be like, 'we are not having those any more,'" said Apple.
A 2015 University of Georgia study led by environmental engineer Jenna R. Jambeck concluded that an estimated 275 million metric tons of plastic waste was created every year. Of that amount, an estimated 4.8 to 12.7 million metric tons ends up in oceans every year.
As part of the coffee shop's mission statement, Apple explained they would begin phasing out single-use plastic materials altogether. The promotion of reusable containers was also a part of their future plans.
After noticing that people would often bring their own reusable containers and bottles to restaurants, Apple wanted to improve the restaurant experience in Flagstaff by adopting more sustainable practices.
"One of the things I'm going to be implementing pretty soon,' Apple said, 'is that I'm going to start charging for any to-go cups. I'm going to surcharge for any to-go cups or any to-go orders for when people don't have their own things to put them in."
Aware of the harmful impacts of plastic wastes, the European Union (EU) has recently proposed to ban single-use plastic products such as plastic straws and to make manufacturers responsible for cleaning up the waste of the products.
Apple stated this proposed ban from the EU has affected Flagstaff businesses because of the limited supplier options of compostable straws.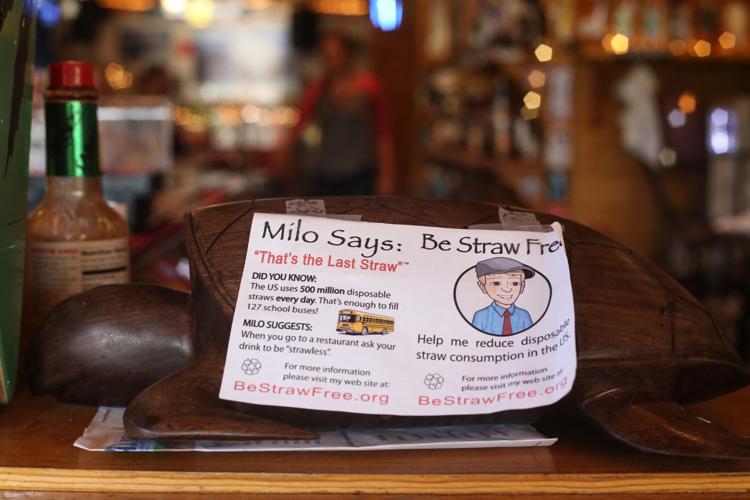 "There's only one company around right now in all of the world that any of us can find that are making the quality straws right now that we need for coffee and smoothies that don't just disintegrate," Apple said. "With the European Union recently making plastic straws illegal, that company cannot keep up with demand."
Apple explained that Single Speed is running out of the compostable straws quickly and she is working to find another company that is able to provide the straws to Flagstaff businesses in bulk.
Partnering with Single Speed, Altitudes has also decreased their use of plastic straws in an attempt to improve sustainability.
Also moved by the negative effects that plastic waste has on marine life, assistant general manager Megan Rawlinson said that Altitudes is doing their best to educate customers on how decreasing the use of plastic straws can improve the environment.
"What I don't think people realize is that yeah there's plastic and it ends up in the ocean, but it breaks down into microscopic particles of plastic and then the fish eat it," said Rawlinson. "Then we're eating the fish. We're just eating our own plastic. Or the animals that we are eating are eating the fish."
Some customers have shown negativity toward the use of the compostable straws and Rawlinson said she tries her best to inform them why they are better for the environment.
"I've seen people be like, 'These are soggy. I don't want to use them,'" Rawlinson said. "Or they're like, 'What the heck is this?' But we try to explain it and make it like a positive thing, if we can."
Aside from some of the restaurants that are attempting to create sustainable practices in Flagstaff, one organization that has yielded a noticeable impact has been the Azulita Project.
The Azulita Project is an organization dedicated to defending the oceans from plastic pollution. Some of the organization's goals include consulting schools and businesses on decreasing the use of single-use plastics, organizing plastic-free events including a partnership with the Flagstaff Mountain Film Festival and raising funds to support both the United States and Mexican involvement for reducing plastic waste.
Maria Campbell is one of the board members of the Azulita Project and has worked as a marine biologist specializing in sustainable fisheries. She has also spent a decade monitoring plankton and microplastics across the world's oceans.
Campbell said that only about eight percent of the plastics actually get recycled. Some are combusted and converted into heat and electricity.
The remainder of the plastic waste is put into landfills. Once there, winds blow waste from the landfills into the streets, sewers and rivers where it makes its way to the ocean. This accounts for an estimated 80 percent of the plastic waste that ends up in the oceans, according to the Environmental Protection Agency.
"With almost eight to 13 million metric tons of plastic finding its way into our oceans now, the damage to marine life has been very visible," said Campbell.
Campbell said in order to improve these conditions, efforts must begin with local communities. The Azulita Project has been consulting with Flagstaff schools and businesses on ways to decrease and possibly eliminate the use of single-use plastic products. This is all in preparation for the organization's "Flagstaff Doesn't Suck" environmental campaign aimed at reducing disposable straws.
The first Flagstaff business to begin this sustainable practice was The McMillan, which provided metal and compostable straws on request.
Following suit was Criollo Latin Kitchen, which also provided compostable straws upon request. Probably the biggest venue to provide the compostable straws, The Orpheum Theater, soon followed the example set by other businesses.
There are two types of compostable straws that Campbell described: Paper straws, which are chemical free; or Ingeo straws, a branded type straw derived from plants natural in the U.S.
Also provided are an array of reusable products such as Klean Kanteen water bottles, steel pints and metal straws for events throughout Flagstaff. The Azulita Project even provided To-Go-Ware bamboo utensils and reusable bags.
"Anyone can buy metal, bamboo or glass straws that they can carry with them at all times, and these are straws for life," Campbell said.
By providing the options for compostable and metal straws and decreasing the amount of plastic straws used, businesses have taken some of the first steps in helping Flagstaff in understanding that single-use plastic products are damaging to the environment.