Nearly 700 people, many of them high school students, crowded around Flagstaff City Hall, holding signs, shouting slogans and listening to speeches as they took part in the March for Life in Flagstaff in conjunction with national protests.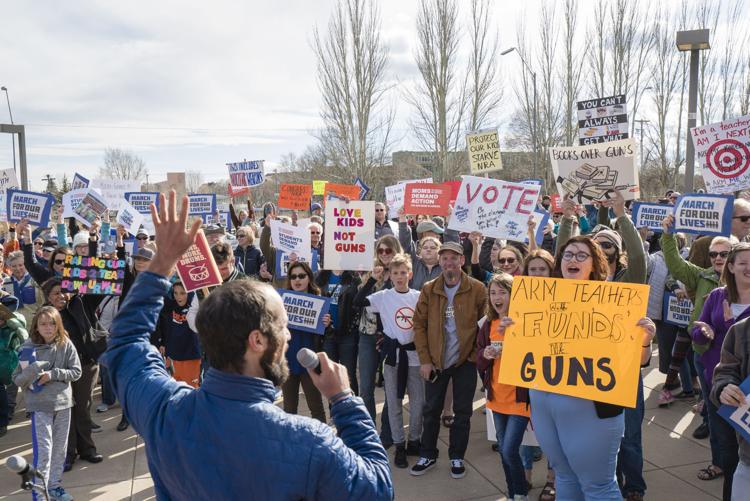 The march, which is happening across the country, was organized by survivors of the school shooting in Parkland, Florida. Since the shooting, much of the country has grappled with the issues of gun control and school safety and the march comes in the wake of even more activism on those issues. 
As the march was nationally organised by the students from Parkland, the local march was centered around young people and high school students. Flagstaff High School freshman Cyanne Henson, was one such young person who spoke during the march.
"I am broken knowing that what a girl wears at school is more regulated and important [to politicians] than the regulation of guns in our communities," said Henson.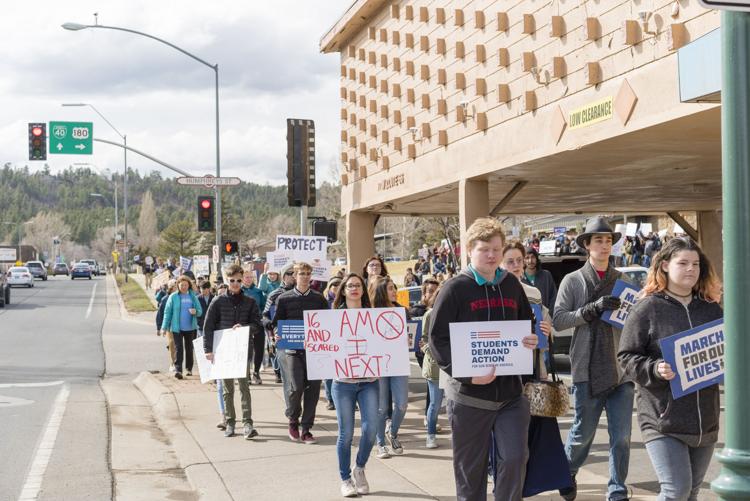 In addition to high school students, many community members were also in attendance, as were several city council hopefuls and incumbents. Councilmember Eva Putzova and Flagstaff Mayor Coral Evans were in attendance. Evans said she wanted to show her support for the march and the youth who organized it.
"I am absolutely so proud of the youth in our community and clear across this nation," said Evans. "It is the strength and the voice of the youth and the kids that actually get change and I am happy to be here in my capacity as mayor to show that I 100 percent support them and am 100 percent behind them."
Evans compared the current student activism to the sit-ins and school desegregation protests during the civil rights movement of the 1950s and 1960s.
"We're going to have some kids show us how to be adults, and that's not the first time in history," Evans said.
The march was kicked off by Isabella Garcia, the chair of the Arizona chapter of the high school democrats and a junior at BASIS High School. Garcia said she hoped the march would spur politicians into action because their "response to mass shootings is to do nothing."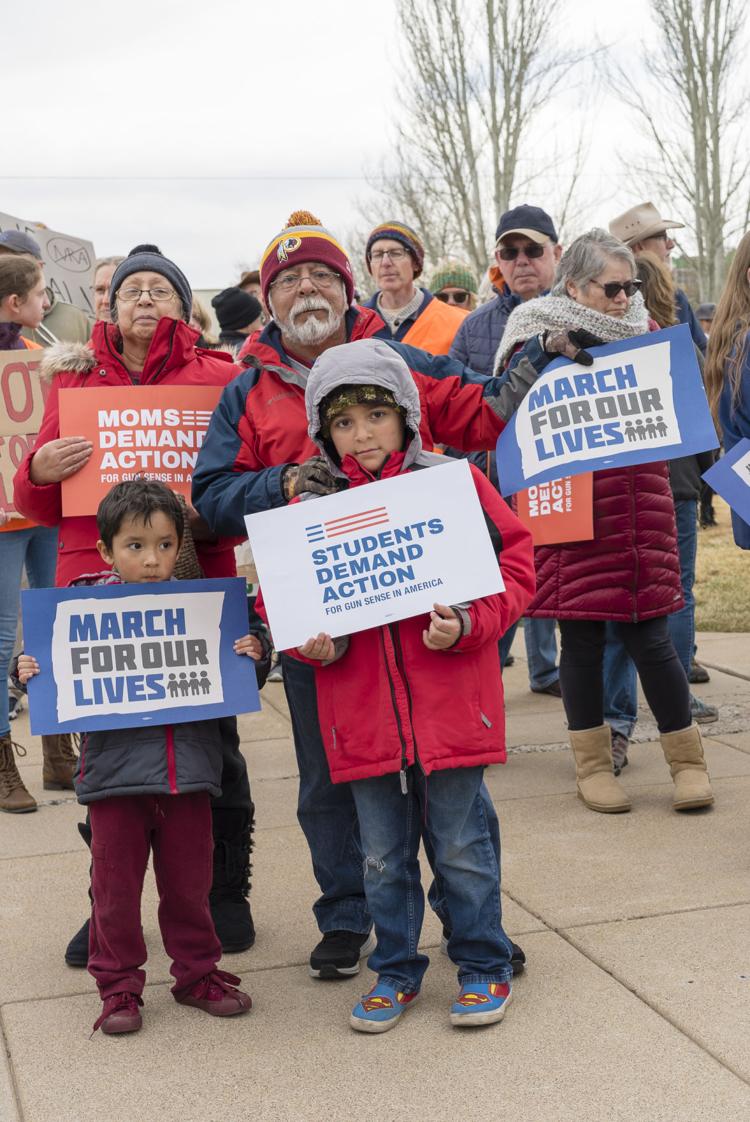 "We go to places that are supposed to be safe," said Garcia. "We never have a guarantee and we never have a guarantee that ourselves, our families, our friends or those that we love are going to come home."
"We are three months in, it is March and we have seen hundreds of innocent people mowed down," Garcia said. "But [gun control] is a battle that can be won, and it doesn't stop at these signs or these marches, it will keep going, it will move to the midterm elections. We must fight ... for the belief that if this nation is to be truly great, she must stand behind her people and protect them, that is why we are here."
On March 14, along with the rest of the country, students at several high schools including Flagstaff High School, Coconino High School and Flagstaff Arts and Leadership Academy organized and participated in a school walkout.
The walkout lasted 17 minutes in honor of the 17 students and educators who were killed during the Parkland, Florida shooting.
Earlier this month, Gov. Doug Ducey released a plan in response to activism and called for change in the wake of Parkland. The plan includes a measure called the Severe Threat Order of Protection (STOP order). This would allow police, family members or school officials to ask a judge to temporarily take away a person's Second Amendment rights if they are showing "red flags" and may be a danger to themselves or others.
But many democrats in the house including Wenona Benally, who represents Arizona's 7th Congressional District in the state house and took part in the march, believe the plan does not go far enough.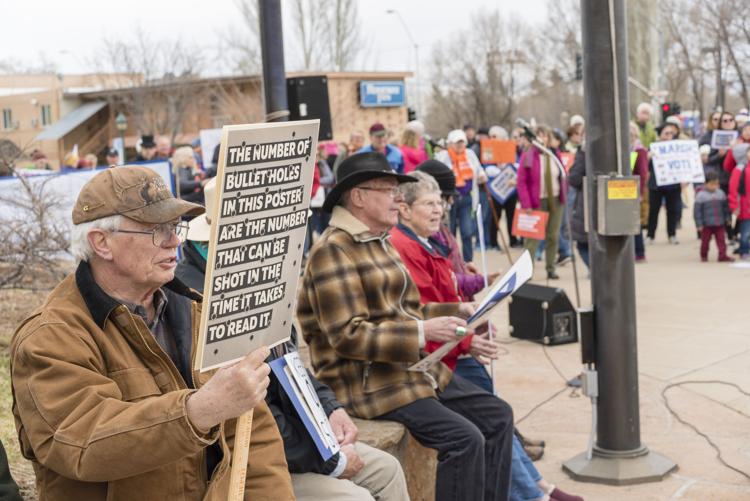 "We still need background checks and we need a ban on bump stocks, neither of which are in this plan right now and that's something that's important, certainly to garner my support," said Benally. "It's a step in the right direction, unfortunately it doesn't go far enough."
Currently the plan is just that, but Benally said it may lead to a bill and hopes that it will go further than it currently does. Benally said, although mass shootings get the most media attention, many of the largest effects of gun violence go largely unnoticed.
"The reason so many people are out here today is that gun violence affects us on so many levels. It's not just about the mass shootings," Benally said. "It's about the high domestic violence rates in which guns are involved, [it's suicides and] it's about police brutality and situations in which innocent lives are taken. Gun violence is an epidemic in this country."
Benally added that because of the current increase in activism, she is more optimistic for change than ever.
Sophomore at Coconino High School Anibaa Chee, is part of that increase. Chee attended the March 24 rally, and the school walkouts on March 14.
"When it comes to bullying, that's already scary," said Chee. "I want to feel safe and I don't want to be scarred in my own school where I should be learning; instead I'm scared for my own life."
This story was updated at 3 p.m. March 26, 2018.