Editor's note: While the Muellers acknowledge that their situation could have been treated more delicately, they hesitate to place blame on the government for their daughter's death. The Muellers explained that in hindsight, it is easy to question the conversations, decisions and actions that occurred in the heat of the moment. The complexity of the situation warrants diligence, and assigning blame is not their intention. Instead, the Muellers hope that through sharing their experience, they can advocate for transparency.
"I want you to listen to the pace of his breathing – to the number of times he swallows as he tries to describe to us what happened," The New York Times foreign correspondent Rukmini Callimachi said.
The audio played. Abu Huzaifa al-Kanadi paused for 11 seconds and swallowed twice. In those few short moments of silence, the disappointment could be heard in the subtleties of his breathing: short gasps and deep sighs. More revealing than his hesitance was the baseline of humanness, Callimachi said to the crowd.
The silence was prefaced by a question. "At a certain point, you decide you want to quit. Was there one moment or a series of moments?" Callimachi said in the audio clip.
The five-minute audio excerpt came from Callimachi's award-winning podcast "Caliphate." This profound segment stems from an intense questioning with Callimachi's primary anonymous source, Huzaifa, a Canadian-born citizen and an ex-member of ISIS.
"Caliphate" follows ISIS through the fall of Mosul, Iraq, the self-proclaimed promised land of the extremist group. Callimachi often reports from the front lines of war conflict and has been a key asset in unearthing artifacts and documents, which contain clues regarding the intricacies of the inner workings of ISIS. At times, Callimachi has preceded the United States government in obtaining and reporting this information.
Callimachi visited NAU's campus Nov. 18 to participate in a conversation about Kayla Mueller, an NAU alumna who was held hostage by ISIS leaders and died in Syria in February 2015. The Martin Springer Institute United Christian Ministry hosted this event in honor of the sixth anniversary of Kayla's kidnapping, which occurred while she was volunteering as a humanitarian aid worker in the Middle East.
"The parents of your classmate"
"I wanted to share with you tonight an example of enormous humanity and of enormous heart by people that very much have skin in the game," Callimachi said. "Those are the parents of your classmate. The parents of Kayla, Carl and Marsha Mueller are with us here tonight."
Kayla's parents were front and center in the crowded Cline Library lecture hall, where the talk was held. In an exclusive Lumberjack interview, Marsha and Carl detailed the years following Kayla's hostage situation, which began in 2013. Since then, they have been diligently involved in uncovering information about her captivity, including the controversial details surrounding her death.
Kayla's death was announced by ISIS via Twitter, and the cited cause was a reported Jordanian airstrike. The U.S. military claimed there were no airstrikes in the area on the day of Kayla's supposed death, according to the "Caliphate" podcast. Recent information published by The New York Times revealed Kayla may have died at the orders of Abu Bakr al-Baghdadi, ISIS's leader, who recently died following a U.S. led raid Oct. 26. The operation was dedicated in Kayla's honor.
Kayla was held in the home of Abu Sayyaf, the late oil minister of ISIS, and was reportedly raped and tortured by al-Baghdadi. This abuse was supposedly facilitated by Umm Sayyaf, Abu Sayyaf's wife.
"He held her as his personal hostage. He raped her. If she was killed — and we have heard rumors that she wasn't killed from very credible sources — but we believe she likely is gone," the Rev. Kathleen Day said. "If he didn't kill her himself, he probably ordered it."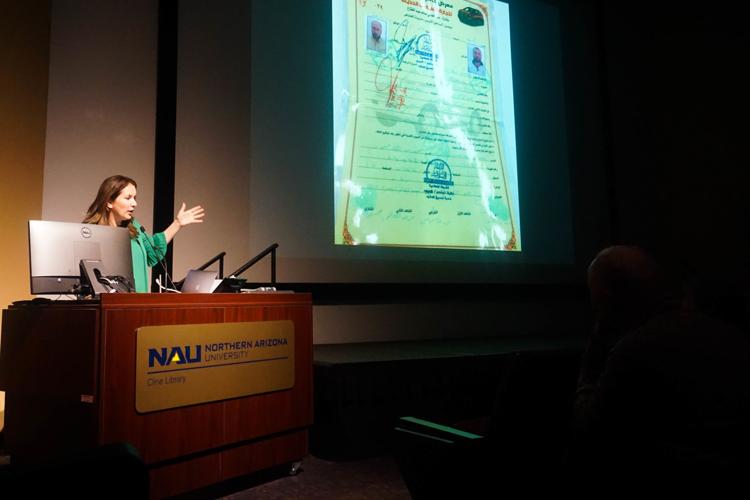 Uncovering the truth
Kayla was taken hostage with her friend, Omar Alkhani, in August 2013 while the couple was leaving a Doctors Without Borders hospital in Aleppo, Syria.
Despite being told U.S. leadership was committed to returning Kayla home, Marsha and Carl recalled unsatisfactory interactions with the government. Both parents believe that the government lied to them, or at the very least, withheld vital information regarding their daughter's captivity, safety and the efforts being made to return her to the U.S.
Marsha recalled the last contact she had with the extremist group before her daughter's death. She received an email Sept. 14, 2014 from the Islamic State declaring her daughter's safe return was still attainable.
A few days later, Marsha remembers U.S. forces launching targeted airstrikes at ISIS bases in Syria. This time frame roughly aligns with reporting by The New York Times in 2014, which recounted the use of cruise missiles and precision-guided bombs targeting Raqqa, the de facto capital of ISIS. Until this point, targeted airstrikes had been conducted exclusively in Iraq, as reported by The New York Times, and it was believed that offensive action in Syria was still weeks away.
"What message does that send? ... We didn't hear from ISIS again until she was killed," Marsha said.
Prior to her death, the Muellers were given strict rules from the U.S. government: no negotiations and that they should not — under any circumstances — allow their daughter's name to get out. Additionally, ISIS set a strict no media policy, Marsha said. Cooperating with the U.S. government, the Muellers avoided publicizing Kayla's name until it was accidentally released by former White House Chief of Staff Denis McDonough during a Jan. 25, 2015 ABC talk show.
New knowledge of a U.S. hostage situation resulted in a flurry of concern from citizens. Public concern was heightened eight days later when former President Barack Obama appeared on NBC's "Today Show" where he was questioned by Savannah Guthrie about the safety of a female U.S. hostage.
"[The U.S.] is deploying all the assets that we can, working with all the coalition allies that we can to identify her location, and we are in very close contact with the family, trying to keep them updated," Obama said.
McDonough's slipup and the president's subsequent public address resulted in a dire situation for the Muellers. Despite their efforts to remain discreet, Kayla's name was now widespread, which posed a threat to the Islamic State. Less than two weeks later, the infamous tweet declaring Kayla's death was posted.
Unknown at the time, Kayla may have possessed knowledge pertaining to the identity of Islamic State Leader al-Baghdadi and Abu Muhammad al-Adnani, who was believed to be the second in command. Umm Sayyaf, who was a close associate of al-Baghdadi, spoke with the Muellers and former FBI agent Ali Soufan, claiming that Kayla was killed because she posed a security threat.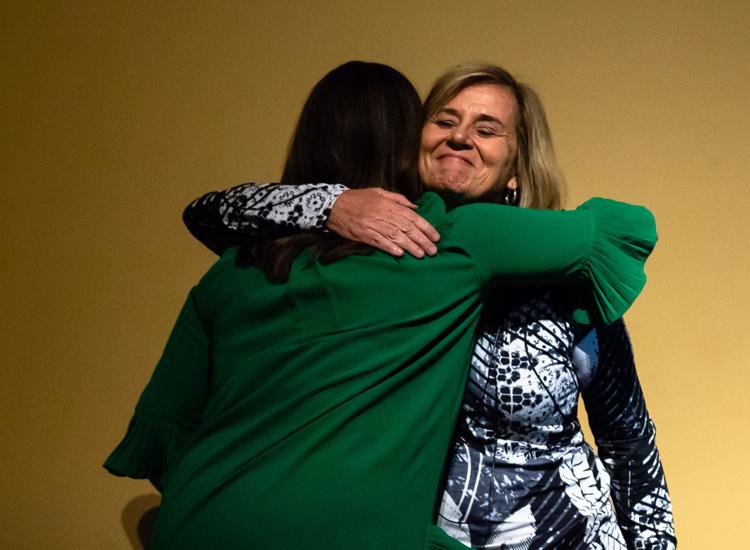 Taking matters into their own hands
Kayla's death was initially reported over four years ago, in February 2015. In the time since her alleged death, many circumstantial questions regarding location, timing and involvement have been left unanswered.
"We didn't want to allow the terrorist organization that brutalized our daughter to have the last word on Kayla's life," the Muellers said in an opinion article published in The Washington Post.
The Muellers' frustration with the lack of transparency from the U.S. government led them to a former FBI agent and past investigator of 9/11, Ali Soufan. The private investigator was able to uncover new information regarding the details of Kayla's death through a meeting with Umm Sayyaf. The Muellers stated in their article that Soufan was able to provide them with more information than the U.S. government has in the last six years.
"When their daughter was kidnapped by ISIS … they were repeatedly misled by our government. And in recent months, although they said Kayla was dead, they have taken matters into their own hands," Callimachi said of the Muellers. "Just a few weeks ago, they themselves traveled to the ends of the Earth to Iraq and sat face-to-face with Umm Sayyaf. It was in Umm Sayyaf's house where Kayla was held, where Kayla was tortured and Kayla was raped."
Due to new information, which points to al-Baghdadi in the case of Kayla's death, the Muellers are adamant her body is brought home. During her captivity, the U.S. government attempted to rescue the hostages but failed. Following her death, there was a failed attempt to recover her body.
By participating in vigilante journalism and through the work of people like Callimachi and Soufan, the Muellers are getting closer to achieving justice for their daughter.
"There are things the private sector can do that the government just can't do," Carl said.
The Muellers continue to advocate for Kayla's memory and maintain hope that there is evidence that will fulfill their desires to uncover what happened to their daughter.
"We urge the administration to review all existing evidence, especially new evidence collected in the al-Baghdadi raid, to help determine exactly what happened to Kayla and the other hostages," the Muellers said in the article.
Power of the pen
Newspapers around the world helped Kayla's parents become more aware and gain further knowledge about their daughter's time in captivity. The U.S. government was almost entirely secretive regarding any intel pertaining to Kayla, and they were also challenging to collaborate with, the Muellers explained.
Investigative reporting, such as that conducted by Callimachi, helped the Muellers gain significant information related to their daughter's kidnapping and captivity. Unfortunately, most of these details were not released or examined until after Kayla's reported death.
"When Kayla was alive, it wasn't important," Marsha said. "Now that she's dead, you're really willing to find out these details."
In many cases, the U.S. government withheld pertinent information until shortly before it was recorded and publicized by journalists. Through this trend, the power of the pen became increasingly evident in unmasking Kayla's history, particularly for her notably uninformed parents. Eventually, government officials were forced to share relevant details with the Muellers or risk them hearing from other outside sources.
"The FBI took us to a place and proceeded to tell us everything they had known that had happened to Kayla since October [2014] that they had withheld from us," Marsha said. "When they did that, my trust completely left. The only reason they told us was because the Yazidis were talking, and a reporter was going to bring that out."
The Rev. Day explained how on certain occasions, the Muellers were updated mere minutes before details about their daughter were published throughout national media. For those involved with Kayla's story, journalism represents a clear medium for reviewing and publicizing information that may otherwise be hidden.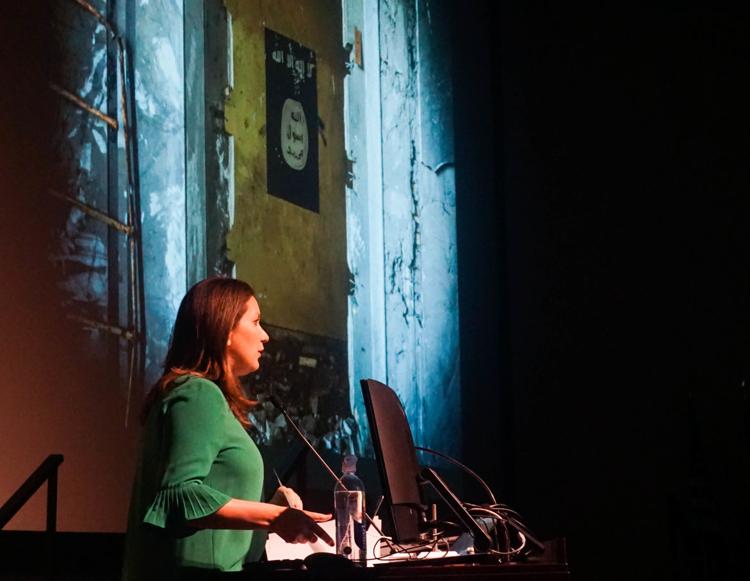 On the front lines
As a foreign correspondent for The New York Times, Callimachi has traveled to the Middle East numerous times with her team. These journeys have provided firsthand insight into ISIS's inner workings and methodologies. Callimachi has also received various recognitions for her extensive work in Mali, part of which is a former ISIS territory in northwest Africa.
While exploring in Iraq, Callimachi unearthed thousands of documents referencing the Islamic State's development. One excursion, which proved to be particularly beneficial, occurred in a recently abandoned street in Mosul. A single empty room in a once crowded building revealed essential information pertaining to the extremist group's regular practices.
During Monday's presentation, Callimachi displayed various photographs of ISIS ministry paperwork and transactions, many of which were discovered within the vacated infrastructure. Although the terrorist group is known for its cruelty, violence and murders, it also employs a strikingly normal economic structure, relying on the versatility of extortion, oil, natural gas and agriculture.
Callimachi explained ISIS is commonly portrayed as a fractured and disorganized regime. However, her reported investigations in regions such as Mali and Iraq demonstrate how the Islamic State was unexpectedly united throughout separate continents. Moreover, a measurable part of this cohesion comes from the aforementioned economic structure.
Callimachi said at the height of the Islamic State, ISIS utilized 14 different communal ministries. Among these agencies are a department of motor vehicles, ministry of health, public services and public works. Although ISIS is a brutal terrorist group, these facets of its society are somewhat normalized and regulated. Callimachi explained how her work has revealed the historical recurrence of such political structures.
"I think we can look to other examples in history," Callimachi said. "The Nazis made the trains run on time."
The Yazidi women
Carl and Marsha's accounts of their daughter's time in captivity came from the Yazidi women who were held with Kayla but escaped.
On Aug. 3, 2014, ISIS stormed the Sinjar Mountains in Iraqi Kurdistan, home to the Yazidi people. The small religious group — a community with a population around 500,000 — was persecuted by ISIS. The men were executed, and the women and girls were taken and raped by members of the Islamic State. Furthermore, younger boys were indoctrinated and transformed into fighters. The genocide resulted in the displacement of approximately 6,000 Yazidis, Callimachi said. Approximately 3,000 Yazidis remain missing.
ISIS wives, such as Umm Sayyaf, contributed to the abuse. Nine Yazidi girls were kept along with Kayla in Sayyaf's home, where the girls were brutalized and raped, according to The New York Times. Callimachi said the abuse of the Yazidi women and girls was systematic and ritualistic. The men would often pray before raping a Yazidi girl, and the acts became a religious sacrament.
"I asked [a Yazidi girl] if — because Kayla was very musical — she ever sang or played or hummed, and she just started to cry and shook her head no," Marsha said. "Then we showed her a picture of Kayla, and she goes, 'She doesn't look like that anymore.' So, it was really heartbreaking, but it was worth seeing her and talking to her."
The Muellers have also met with Umm Sayyaf, a captor and abuser of their daughter. Sayyaf, currently sentenced to death in Iraq, and the Muellers maintain she was "an architect of [their] daughter's suffering." Umm Sayyaf claims to have treated Kayla with respect, but according to accounts of the Yazidis held with her, the ISIS wife was brutal. Kurdish officials, who have taken the accounts of escaped Yazidi women, concluded that their presence angered ISIS wives.
Despite the brutal treatment of their daughter, the Muellers have participated in communication with those responsible.
"At the end of the interview Marsha, Kayla's mom, stood up," Callimachi said. "She crossed the room, and she approached this woman — again, the person that is directly responsible for her daughter's agony — and she took her in her arms and embraced her. I don't know that I would be capable of that level of compassion and humanity in the face of what you've gone through."
Dismantling the caliphate
ISIS's self-proclaimed caliphate has fallen. ISIS controlled areas of Syria and Iraq have been liberated. This decline follows years of violence and torment across the Middle East at the hands of ISIS. As reported by Callimachi in her podcast, ISIS has lost all but 1,000 square miles of land as of June 2018. ISIS's funds are running dry and its resources are scarce, but recruitment is still booming.
Al-Baghdadi's death may have been the nail in ISIS's coffin, but only time will tell. Despite widely fading from public attention, ISIS continues to grow in terms of recruitment numbers. After Mosul, the extremist group has three years of governing experience under its belt. These men view death as a noble feat — the afterlife is valued above mortal existence.
"If you listen to the messages of the leadership of ISIS, what they're saying is that these lives — these tens of thousands of their fighters, who died in the fall of Mosul, and Raqqa and all the places they have lost — they died in the service of a great battle, one which continues on today," Callimachi stated in the "Caliphate" podcast. "And that message is going out all over the world, not just to the committed ideologues, but it's going out to all of those people who feel disconnected from their communities who are looking for a sense of meaning, a sense of purpose and a sense of belonging."
The fall of the caliphate has had implications for the Muellers as well. In October 2019, the U.S. military took custody of two Islamic State prisoners, Alexanda Kotey and El Shafee, who allegedly had a hand in Kayla's captivity, as previously reporter by The Lumberjack. Kotey and Shafee are two of four British members of ISIS who were nicknamed "The Beatles," and were involved with the captivity of U.S. hostages. Following the recent Turkish raid on Syria, Kotey and Shafee were transferred to an undisclosed U.S. holding facility in Iraq. As the U.S. takes offensive action in Syria and more high-profile members of the Islamic state are taken into custody, there is potential for more information to be revealed.
At the end of the day, the Muellers' primary goal is to get Kayla back to the U.S. The Muellers said as ISIS continues to weaken, there is an increased possibility of her return.
"I've always said we need to find Kayla," Marsha said. "We need to find out what happened to Kayla, and we need to bring her home."
Rukmini
The Muellers commented on this year's speaker and how they were first put into contact. In January, Callimachi and the Muellers arranged a meeting to talk about Kayla. Callimachi was instantly interested in Kayla's story, and communication between the two parties has continued since.
"[Callimichi] is an amazing lady. She truly is," Marsha said. "She will be an asset to us."
For the community, Kayla left a legacy that will not easily be forgotten. Her work throughout northern Arizona made an impact that inspired the lives of her community. The Muellers and the Rev. Kathleen Day continue to willingly share her story, keeping Kayla's legacy ever present at her alma mater.
"I am very proud that Kayla was a graduate of NAU. She did amazing humanitarian work," NAU President Rita Cheng said. "Keeping that knowledge in the next student body is important, and doing it through campus ministry is a very delicate way of doing so."