NAU announced a new security policy for major NAU events. The clear bag policy was implemented in an attempt to reduce the risk of weapons or explosives being smuggled into the Skydome. The events impacted by this policy are the spring concert, commencement, and Flagstaff High School and Coconino High School graduations, all scheduled to take place in the Skydome.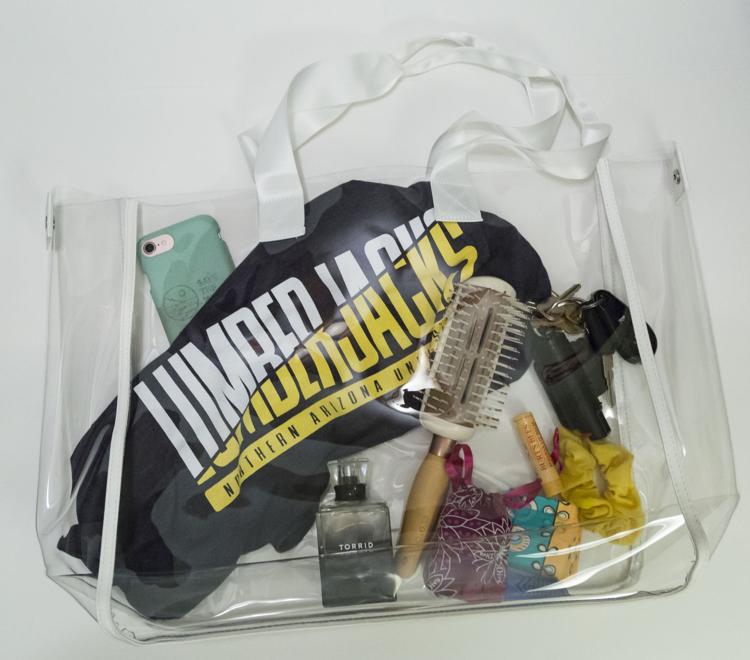 "In light of national trends at public events in recent years, Northern Arizona University will implement a clear bag policy," read an email from President Rita Cheng to students April 12.
The clear bag policy has been in effect at NAU for concerts with a larger attendance. ASU and UA have had clear bag policies in place since 2016, with similar requirements to NAU's policy. The NFL also implemented this policy in 2013.
In the email announcement, there is a link for more information about the clear bag policy where it is outlined which bags are prohibited and which are allowed.
NAUPD spokesperson Kevin Duffy said that the policy could be installed for all future football games in the fall and winter commencement, but did not give a firm answer.
Duffy also did not say whether or not the policy stemmed from a specific incident or threat.
There are four options of bags that are allowed into events when this policy is in effect. Two are NAU-branded bags that are for sale in the bookstore for $11.95. One is a small backpack-style bag, while the other is a purse-style bag.
The other two options are an inexpensive, one-gallon, plastic, resealable bag or a small clutch. The clutch purse is still allowed to maintain privacy with any sensitive items, but the bag is subject to a security search. The small, clutch bag for privacy can be a maximum of 4.5 inches by 6.5 inches. One clear bag is allowed per person.
Exceptions will be made for bags containing medical supplies such as oxygen tanks or medication.
If a person comes to an event with a backpack or purse, they will have to take the bag back to their residence or leave it in their vehicle after putting any necessary items in their pockets.
"Only bring what you need to bring to the event," said Duffy.
Additional security measures will be taken, including metal detectors, possible bag searches and additional security officers at checkpoints.
"There will be separate entrances for the people arriving. So we are going to have one section for the students that they can enter into the Skydome from and also people can enter if they have no bag, they can actually go straight in, and then obviously we are going to have a different section for people who do show up with bags," Duffy said.
The reason for the clear bags is the threat of active shooters, bombs or knives.
"It improves safety because when people are entering the venue, they can quickly enter, and we can see through all the bags that people are bringing in," Duffy said. "Once people are inside the event, if they see a bag that's not a clear bag or approved by the policy, they can point that out to law enforcement."
Meg Mosley, a parent of a graduating senior at Flagstaff High School, was aware of the policy and decided to email an employee at Flagstaff High School to pass on the information. The employee said that they were unaware of the new policy.
NAU and NAUPD have made large pushes on social media and traditional communication lines to inform the public about the policy. The goal, they said, is to make sure no one is surprised when they get to the door.
There are a variety of concerns that Mosley expressed, such as policing the thousands of cars, which will potentially contain valuable items, how all guests will be informed and if graduation will be able to start on time when families are waiting to enter and then find out about the policy at the door.
"I think that's a major concern of mine, is how [will] people feel about it when they get to the door uninformed? I would be angry if that happened to me," said Mosley.
Mosley plans on getting to the event early, expecting there to be a long wait due to the implementation of the policy.
Events that will require a clear bag will be listed on the clear bag policy website for guests.