Flagstaff local Jason Wygle, 21, and his good friend NAU senior art major Nick Montano spent another Saturday night, Aug. 25 enjoying the nightlife of downtown Flagstaff as they often did.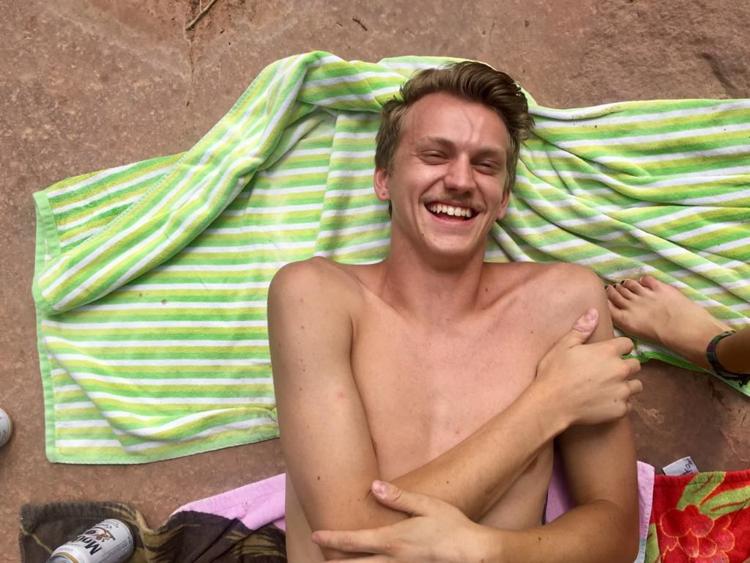 On this night, Wygle attempted to touch the train, which was a regualr feat for him.
Both Wygle and Montano crossed under the safety arms to partake in the dare, but Wygle's regular daredevil stunt would become his last.
"I used to call him my little, big brother 'cause I was older and he was taller. And in some ways he was a lot smarter and he taught me a lot of things, whether it was at work or whether it was just to be open minded," said Montano. "He invited me places I would not have normally gone but he would tell me, 'hey, you're with me we're going to go have fun,' and to this day I'll think that way forever."
Montano was with Wygle at the time of his death. The two had been drinking and were headed from the Southside neighborhood toward downtown to go to one of the many bars students often frequent downtown.
"I think we were headed for Collins [Irish Pub & Grill] and he ducked under the barrier and I ducked under the barrier with him, stood right next to him," Montano said. "They say he was drunk and stuff like that, but I know my man and I know that he was not like the most drunk he had ever been or anything like that. I mean that was just some 'Wiggles' s--- that 'Wiggles' done on a regular basis, and if I didn't see him touch a train on a regular basis I would have stopped him. I'd seen this man touch a train so many times."
KJ Crouch, senior criminology and criminal justice major, was a close friend of Wygle as well, and spoke to The Lumberjack because Crouch wanted to clear up any and all rumors going around about his friend.
"It wasn't a suicide, it wasn't anything like that. It was a daredevil move, him messing around trying to touch the train. It wasn't him trying to beat the train, it wasn't him trying to run across it, it wasn't him trying to hop on it," said Crouch.
Crouch wasn't Wygle's only friend who wanted to squash rumors, as senior business major Rohan Braithwaite explained.
"To people making up rumors, I mean we've all been out here and people say stupid s--- talking on things they don't know about. There is a whole 'nother side to the story. I would just say think before you speak because you don't know who is around. We have been out mourning, grieving and hearing people say stupid s--- and that's not making anything any better," Braithwaite said.
The effect of Wygle's passing has hit his family and friends hard. While the Wygle family declined the request for a statement, many of Wygle's friends were ready to share what type of a man he was.
"He was a privilege to ever know. I don't want to fill his room, I don't want anyone to live there. I want his room to stay how his room stayed like he would still be here. He would still want his room like that," said junior business major Ryan Bailey.
This sentiment was also shared by Wygle's childhood friend, Eric Kooinga, who had known him since sixth grade.
"Wigs to me was Flagstaff. Without him, none of [my friends] would be together. A majority of the people I know in Flagstaff are because of Jason. He was extremely sociable and had no problem walking up to anyone and introducing himself," said Kooinga.
Wygle had a large group of friends in Flagstaff who have been affected by his passing. Each one of them holds their own stories and reasons why Wygle meant so much to them, but one thing was held unanimously.
According to his friends, Jason Wygle was an extremely sociable, generous and selfless friend. The group of friends were also in agreement that one person Wygle loved more than anyone was his mother.
"He just told me the other day he thought he was indestructible, he said, 'I know I'm not going to die until I'm done taking care of my mom," said senior nursing major Alexa Popejoy.
Jason Wygle went to Desert Vista High School in Phoenix, Arizona. After graduating, Wygle attended Coconino Community College (CCC) where in May of 2018 he graduated, receiving an associate of arts degree in business. After getting his degree, he worked at Fratelli Pizza, here in Flagstaff, and earned his way up to manager.
This isn't the first incident of someone being killed by trains in Flagstaff. There have been over eight deaths, both suicide and accidental, in the past five years from people being on the tracks at the same time as oncoming trains.
The Flagstaff Police Department (FPD) have not concluded their investigation into Wygle's death, but they have given the public information regarding the tragic accident. FPD public relations officer Sgt. Cory Runge explained that sadly this sort of accident happens frequently in Flagstaff.
"We get multiple train deaths per year. Generally speaking, they're from three causes. Like this case, they're intoxicated. Then there's people who intentionally kill themselves. Then there's people who are so intoxicated they don't know where they are," said Runge. "Most people we run into who are struck by a train are intoxicated, two out of three of those cases, if not all three, the person is intoxicated."
The Lumberjack reached out to the Federal Railroad Association for additional comment but have not received a response. However, according to a Federal Railroad Association office safety report, there have been a total of 71 cases of trespasser casualties in Arizona as of June 30, 2018.
Many false reports surrounding Wygle's death have surfaced since the event of Aug. 25. A local self-proclaimed news outlet, FLAGscanner, broke the news of the incident that night.
The story made it sound as though Wygle had ran in front of the train on purpose. This caused many rumors to spread about the incident, however since then they have updated their story to reflect factual information.
It had been reported by the Arizona Daily Sun and Associated Press that Wygle was pronounced dead on the scene when police arrived around 11:55 p.m. Aug. 25 near San Francisco Street and East Route 66.
While Jason Wygle's death is still under investigation, a memorial service will be held for Wygle at 10 A.M Sept. 2 in Tempe, Arizona. An additional memorial in Flagstaff is being planned but has yet to be announced.