The Arizona State Legislature aims to take away Flagstaff's, and other cities that hold local elections, power to hold local elections in the years they select.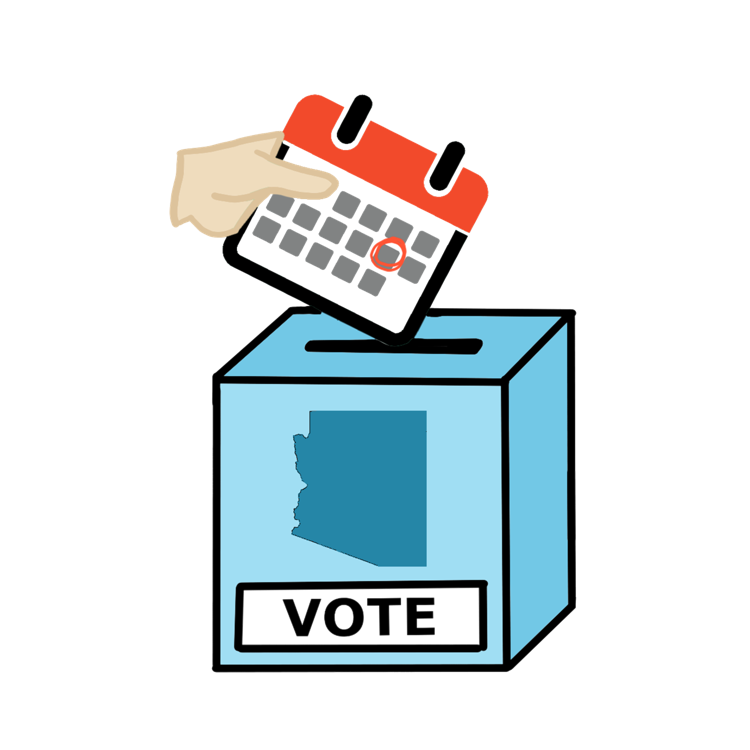 House Bill 2604, passed 34-22 in the House March 7, would implement a system where a charter city, such as Flagstaff or any other "political subdivision," with an elected body, is subject to termination of its right to hold odd-year elections. If voter turnout in an odd-year election, such as 2019, is less than 75 percent of statewide voter turnout, the state rescinds the right of the city to hold those elections.
The stated purpose of the bill is to increase voter turnout, which is constitutionally a state interest.
"On the surface, it appears that turnout is exceedingly low when you're not in a general election, even-number year," said Rep. J.D. Mesnard, R-Chandler, House speaker and prime sponsor of the bill. "I know that was the concern originally, which is what motivated the first version of this. This now is not saying everybody consolidates just automatically under a hypothetical. This is a very specific trigger that says if the turnout is so low, by actual data and actual evidence, then you consolidate because the turnout is much higher. So, I think it makes a lot of sense."
HB 2604 is now on its way to the Senate for a second vote, and if it passes there, the bill will head to the Gov. Doug Ducey's desk.
Mesnard's bill is a second attempt at taking away municipalities' power to hold special elections. In 2012 a similar law was passed, but then it was later struck down in 2014 by the Arizona Court of Appeals.
Judge Michael Miller wrote the decision that gave power back to local governments to hold their own elections. Miller wrote the court's opinion for a unanimous three-judge panel. He wrote that local governments should be free of the "influence of partisan issues" that state and federal elections bring during even-number years if they so choose.
But now, Mesnard is back with HB 2604 with what he thinks is an improved argument of state interest in voter turnout, and the legislature mostly agrees.
Democrat House representative Mitzi Epstein began the debate on the House floor by saying to Mesnard she is "disturbed you're messing with my cities again." Epstein posited voters might not ever get to focus on local elections with the fanfare of state and local issues at the top of the ballots every other year.
But Mesnard appears to be an absolutist regarding increasing turnout, even if it means telling cities what they can and cannot do.
"My opinion is that more turnout is better than lower turnout," said Mesnard. "You [Epstein] may not agree, but I think most people think that more participation is better. The whole premise of this bill is that idea, so I can certainly understand that if you don't see more participation as critical to democracy, you would oppose the bill."
Epstein said she thinks voter turnout is only half the story, and voters being informed on local elections is the other half the bill is missing.
"The people in those political subdivisions should be the ones to decide, and that's not just my opinion, that's what the charters say," said Epstein. "And so I would hate to see the number of lawsuits we might have from that."
In 2015, Flagstaff actually did decide for itself. Ironically in an odd-year election, Flagstaff voted 71 percent to have even-year fall elections by default, and voted 65 percent to not have spring, odd-year elections whatsoever.
Mayor Coral Evans affirmed Mesnard's premise of his bill back in 2015.
"I think fall elections provide the best voter turnout, and the more people involved in the democratic process the better," said Evans, according to the Arizona Daily Sun.
Evans' comment in no way endorses Mesnard's conclusion that the state should have the power to take away odd-year elections from cities.
Data procurement has also been an issue for HB 2604. Mesnard said they're still putting together the information from all of the municipalities on statewide turnout versus local, odd-year election turnout. Without this, it is unclear which cities would qualify for the trigger for their elections to be consolidated, though most are anticipated to not retain their right to an odd-year election.
Democrat House representative Athena Salman said she wished the data collection had come before the introduction of the bill, but Mesnard is confident voter turnout is a goal worth having.
"When Phoenix had its sort of special election runoff last year in November of 2016, their voter turnout skyrocketed," Mesnard said. "So when they actually did align with the normal timeframe, much, much higher turnout than what they normally see. So I think the evidence really does point to a strong likelihood that voter turnout will increase, but even if it's lower, it only gets triggered if it's a 25 percent reduction."
Even if the bill becomes law over the coming weeks, the courts could — similarly to its 2012 incarnation — reject it as many representatives are counting on.
According to Coconino County Elections Commission, Flagstaff had 38,493 registered voters for the 2016 November election. However, it's difficult to know how odd-year turnout reflects on Flagstaff's chances to avoid a trigger now that the city voted to stop those elections.