The November midterms are quickly approaching and most candidates have their sights set on firing up their bases to win.
The organization NextGen America is going against political traditions, and members of the group are now here at NAU concentrating their efforts on strictly registering younger voters between the ages of 18 to 35.
Here in Arizona, they are concentrating on the three state universities as well as the private and community colleges. Volunteers on these campuses are collecting voter registration forms and pledge to vote cards from students.
Abigail Jackson, junior political science and international affairs double major, wanted both new and returning students to know they have a voice.
"They [the students] are part of the largest voting block in the country right now," said Jackson. "NextGen is on campuses all across the state registering them and making them aware of their power so that we can elect officials that share our progressive values and represent us better."
Jackson and the others involved are working to get at least 15,000 students registered to vote in Arizona universities by the time the midterms roll around.
From Aug. 23 till Sept. 3, NextGen Arizona was successful in registering 2,065 voters around the state. With Welcome Week having just kicked off, Jackson and those working with her managed to register another 314 voters here at NAU by the end of the day Aug. 23.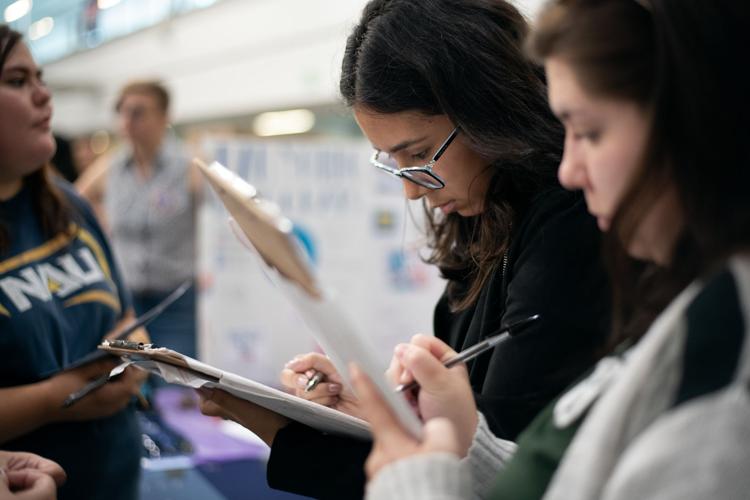 NextGen isn't the first organization to aim at registering young voters. The cable network MTV is once again holding its own voter registration campaign, "+1thevote."
NextGen America President Thomas Steyer has also promised to donate $31 million this election season to fund voter registration campaigns, dwarfing what MTV is spending on its campaign as reported by The Washington Post.
According to Jackson it appears the youth vote is being much more highly sought after this midterm season. She explained that it seemed to her the youth vote was previously being ignored and those she had registered were excited just to have someone talk to them about politics.
"A lot of the kids we talk to have never even been asked if they were interested in registering to vote. It's exciting for them, it's adulting 101," Jackson said.
Jackson further explained that NextGen is partnered with both former United States Rep. Gabrielle Giffords and Everytown for Gun Safety to get people registered to vote, even if they are still in high school.
"All across this country, young people are using their voices to call for change and demand political courage from their representatives, and we are proud to encourage those efforts," said Steyer in an April 12 Everytown press release.
The three are partnered in a campaign called Our Lives, Our Vote. They have adopted several tactics to get young voters registered, including sending voter registration forms to people who have just turned 18.
They are also targeting youth with online voter-registration ads, helping grassroots organizations that are registering people by hand within their communities and preregistering people as young as 17 or even 16 to vote in the 14 states where that is legal, according the Everytown press release.
They explained their partnership was meant to combat NRA lobbying by registering voters in states where midterm candidates have taken NRA campaign contributions, including Arizona.
While Our Lives, Our Vote aims only at NRA-aligned candidates, NextGen focuses on multiple social issues. In fact, Steyer originally co-founded NextGen Climate, which evolved into NextGen America following the 2016 presidential election.
Another NextGen organizer, junior elementary education major Megan Brown, said she thought this upcoming midterm election was especially important and why she wanted her fellow classmates to not only register but pledge to vote as well.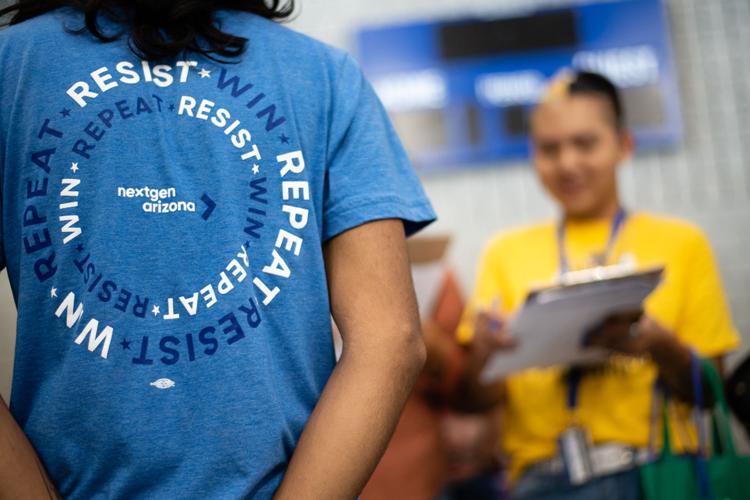 "The time is now to get out and vote. We clearly care about the issues. We care about having affordable health care, lowering the cost of college, things like that," said Brown. "Now is the time to vote to enact change."
The new NAU students she had talked to and registered had all been overjoyed at the prospect of casting their vote Brown stated.
"Everyone has been supportive and excited to register to vote for the first time," Brown said. "They're excited to make their voices heard."
Brown, Jackson and the other NextGen workers plan to continue their voter registration efforts over Welcome Weekend and all the way until November. They don't plan on stopping even if they meet their goal of 15,000 voters registered.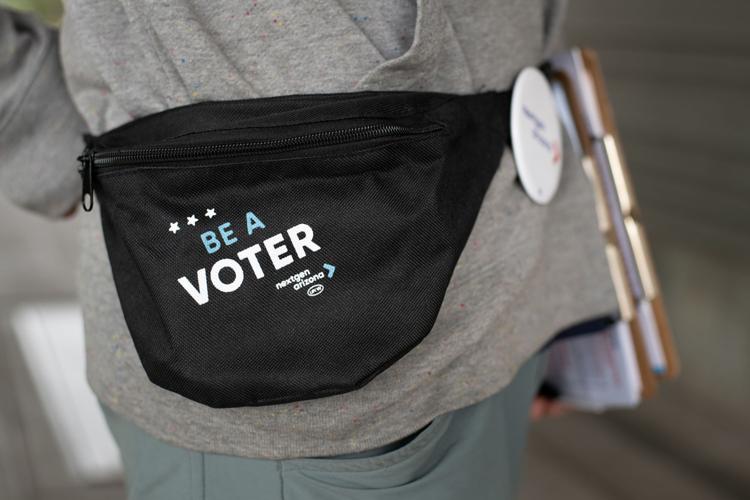 This article was updated on Sept. 6, 2018