In January, Gov. Doug Ducey signed new legislation meant to combat the opioid epidemic. Since then, law enforcement officials have cracked down on opioid trafficking. According to an April 23, 2018, Department of Justice press release, in the first three months of 2018, 300 pounds of heroin, 80 pounds of fentanyl and tens of thousands of fentanyl pills made to look like OxyContin were seized in Arizona.
The law focuses more on treatment and requires the limit of opioid prescriptions to five days, with a maximum of 30 days for patients receiving highly addictive painkillers. There is also a request for $10 million in funding to address the opioid crisis.
A news release about the new law explained what the legislation would provide.
"Funding for treatment improves oversight and enforcement tools and extends life-saving resources to law enforcement, first responders and community partners on the ground," the news release read.
According to the National Institute on Drug Abuse, the late 1990s were a pivotal time that started the use of prescription — and abuse of — opioids. They were recommended to the medical community by pharmaceutical companies, which in turn prescribed opioids at an exceeding rate. At the time, it was not thought to be addictive, but since then, opioid overdoses have drastically increased.
The past few years have seen an eruption of opioid-related deaths across the United States and Arizona.
Flagstaff is no exception.
"Between June 2017 to January 2018, 812 Arizonans died of a suspected opioid overdose and 5,202 Arizonans suffered a suspected overdose on opioids," according to Ducey's Arizona Opioid Epidemic Act.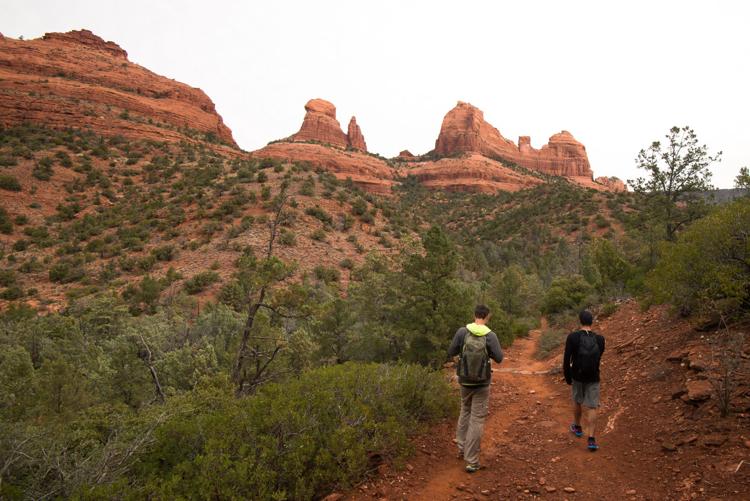 However, not everyone is confident this act will be enough to address the epidemic.
"[The limit of prescriptions] is a good intention and a start, but compared to what it would cost to effectively address this crisis, [$10 million] is just not going to be enough," said Roy DuPrez, founder of Back2Basics Outdoor Adventure Recovery.
In Flagstaff, there are eight drug and alcohol treatment centers, but one center takes a different approach to treatment. Back2Basics opened in 2010 and focuses on long-term treatment, with 6 months of the Back2Basics program. The program requires a stricter schedule for recovery and an optional 6-month residential program to help patients transition to everyday life. Other programs tend to be more short-term, which can make it difficult for people to truly recover.
"Programs that are 30 days ­­­­­­­­­­— in the business we call that 'spin-dry' because it's enough to get people out of the fog, but certainly not enough to make informed decisions," said Back2Basics lead outdoor guide Nick Huth.
Mike Moran, a client in the Back2Basics program, said when he went to a rehab facility for the first time, he learned how to inject heroin and where to get heroin for a cheap price, since many people were there for the same reason and the short-term rehab facilities did not promise long-term rehabilitation.
President Donald Trump declared the opioid epidemic a public-health emergency Oct. 26, 2017, yet nothing has been done nationally in regards to federal laws. The U.S. Surgeon General, Dr. Jerome Adams, urged for first responders, police officers and the average citizen to use Naloxone, or commonly referred to as its brand name, Narcan. Narcan is used to revive people who overdosed.
More states are taking action, Arizona being one of them, to pass laws in response to the epidemic on a state level. As of April 2018, 28 states have enacted legislature.
"I'm impressed by its availability, and it was actually quite a journey for me to understand why and how it's become so prevalent," DuPrez said. "It seems to be more common than not. It's in Flagstaff, it's widespread."
In at least 39 states there has been an increase in opioid-related hospital visits. Coconino County had a 285 percent increase from 2011 to 2016. In the five-year gap, other counties in Arizona, like Maricopa, have more deaths than Coconino County. Maricopa County had more than 800 deaths reported since June 2017, while Coconino County only had 49 deaths from 2010-2016. In Coconino County specifically, most opioid-related deaths were of lower-class white and non-Hispanic individuals, and nationally the Center for Disease Control reported the same.
Huth said while people can become addicted to prescription pills, there is also the unawareness of what exactly is in the pills as they sit in a patient's medicine cabinet. A patient may be taking the drug responsibly, yet their child may see the pill bottle and choose to experiment.
DuPrez used an anecdote to explain the severity of the opioid epidemic in relation to cell phones. He said in the early 1990s, he was able to count the number of people he knew who had a cell phone on one hand, now everyone has a cellphone. The same analogy can be used in relation to knowing people who use heroin.
"Now, [heroin] is in my life, every day, everywhere," DuPrez said.
Young people are more prone to experiment with drugs, making every age susceptible to the epidemic according to the National Institute of Drug Abuse.
Huth is one example of the millions of people whose addiction started from prescribed opioids. When he was out of high school, he got mononucleosis, and doctors prescribed him Hydrocodone syrup and Percocets with access to refills. After a few months, he said he still felt sick, yet the drugs were gone. Thinking he still had mono, he started to buy Oxycontin from a dealer with the realization that he was not sick, but experiencing opioid withdrawal.
Some withdrawal symptoms include fatigue, vomiting, nausea and body aches, making the substance feel like a need rather than a want.
"I think it's important for people to know that this thing spans all borders, boundaries, ethnicities and races," Huth said.
Ducey believes his law is a major step toward providing awareness of the problem affecting thousands of Arizonans and a move to decrease the use of such highly addictive painkillers.
"I am proud to have signed the most comprehensive and thoughtful package any state has passed to address this crisis to date," said Ducey in a Jan. 26, 2018, press release.