The fleet of delivery androids stationed at the Union can be seen all around campus. Now, with a $2 delivery fee and an app, students can beat the lines and deliver food from several north campus locations.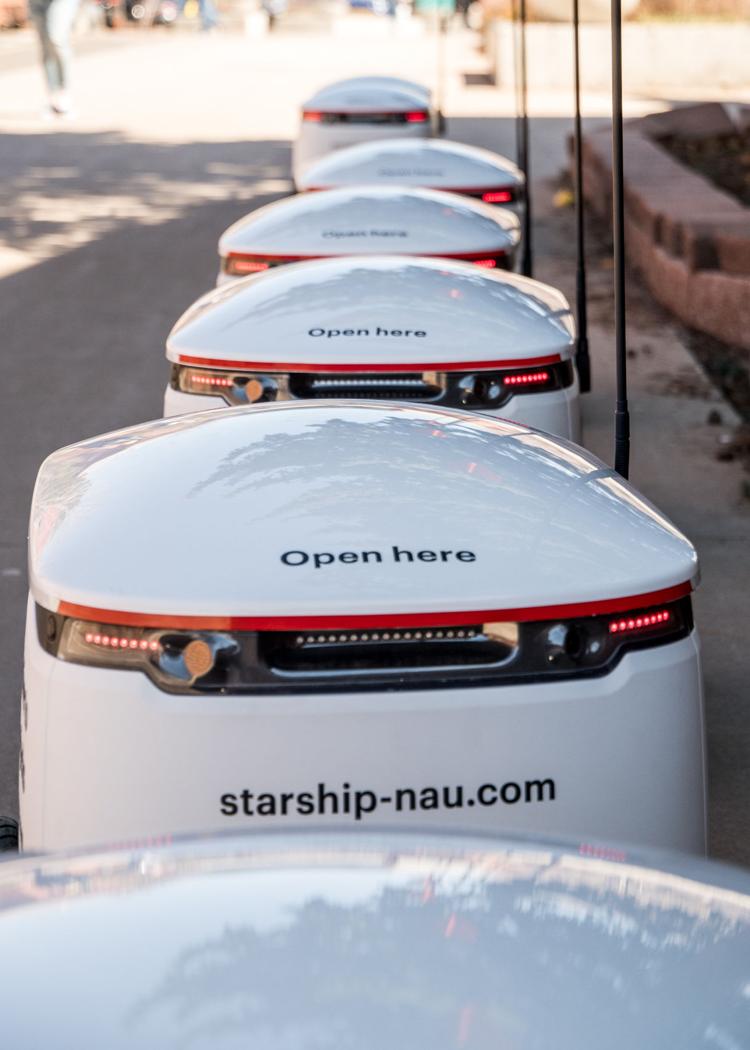 According to the senior vice president for business development at Starship Technologies Ryan Tuohy, the fleet of a little over 30 robots began their university services at George Mason University (GMU) of Virginia this past January.
"When we saw the increasing success of the robots at GMU and how well students and faculty there took to the service, we decided to move quickly and find another campus in the United States that would be open to partner with us," Tuohy said.
Sodexo, NAU's campus food service, suggested Northern Arizona University to Tuohy. Though the easy accessibility of campus caught Tuohy's eye, NAU's robotics presence and innovative voice convinced him that it was the right choice for Starship 's next campus launch.
If students take to this new approach of food delivery service as GMU students did, Starship will have to increase the number of robots on the NAU campus in order to meet demand, according to Tuohy.
Regarding the actual process of ordering food, Touhy elaborated on the specifics.
To order from Starship's robots on campus, students, faculty and staff must download the Starship Deliveries app on their mobile phone. From there, the app will notify users of which restaurants are available to them at that given time.
"Right now, customers can choose between Einstein's, Star Ginger, The Wedge and a few other eateries located north campus," Tuohy said. "The university is going to expand options within the next week or so."
Users then customize their order just as they would be able to do while ordering at a counter. According to Tuohy, the app then allows you to either define a specific point where users pick up their food from Starship's robots. Users may also choose between predefined points of pick up if desired.
"Whether it be a dorm area or a nice grassy lawn in the sun, a Starship robot can deliver your order to you with a delivery fee of just $2," Tuohy said.
When the robot arrives at the spot of pick up, users will get a notification. To open the actual container portion of the android, all customers must do is tap its surface with the phone they ordered from and take their meal out of the bot.
"We try to make the process as easy and as inexpensive as possible. After all, you don't need to tip a robot," Tuohy said.
NAU Resident Dining Manager Ben Hartley is optimistic that the robots will benefit students as well.
According to Hartley, many students are hesitant to join the long lines found in front of various campus restaurants during the day. With the Starship delivery fleet now available to anyone on campus, the dining manager is hopeful that students will gain better access to food options.
"The robots will grant students better admission to their dining options on campus."