Petitioners are working hard to get issues and candidates on the ballot in time for the November 2018 elections.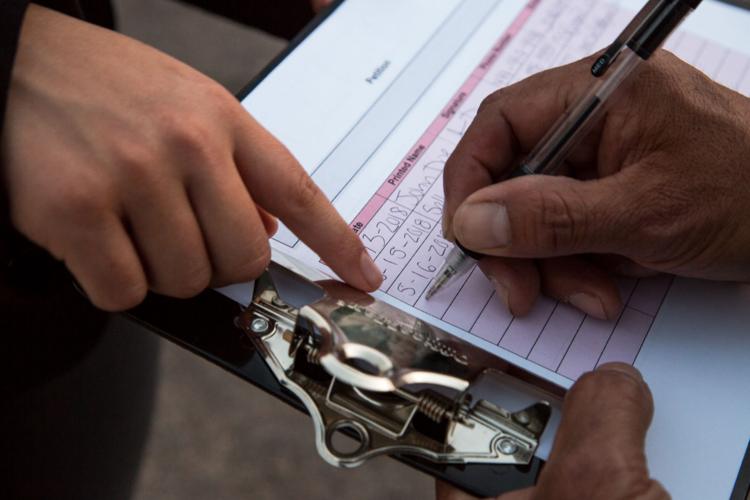 Recently, petitioners have been standing outside of grocery stores, at rallies and on campuses to encourage people passing by to sign their petition after asking, "Are you registered to vote?" This time is known as petition season, where enough registered voters' signatures are able to add a candidate or initiative to a ballot. For Coconino County, candidate filing is from April 30 to May 30, 2018, while special district candidates have from July 9 to Aug. 8, 2018.
Petitioners often ask for signatures from people for two to six hours per day.
People interested in running for an elected position must file for a petition in January, then over the next few months, a candidate tries to get signatures to put their name on the ballot for the primary election in August. Candidate petitions are treated differently than initiatives.
Depending on what a candidate is running for, they need a certain number of signatures. A Flagstaff City Council candidate needs 1,324 signatures, whereas for the state house or state senate, 324 signatures are needed. A state initiative needs to have at least 150,642 signatures and amending the Arizona Constitution requires at least 225,963 signatures.
One initiative an organization is working to get on Arizona ballots is Outlaw Dirty Money. Outlaw Dirty Money is petitioning as a constitutional amendment for any party to sign. Their website highlights what dirty money is, what it does in Arizona and how many signatures are needed. For this ballot measure, at least 300,000 are needed.
There are certain petition rules in place voters may not be aware of. For example, if there are three candidates looking for signatures, a registered voter can only sign one candidate's petition, which requires voters to remember the petitions they have signed.
According to the Arizona Secretary of State's website, the minimum number of signatures candidates need depends on the political party they are running for.
Signatures can be challenged, but most candidate petitions are not since more signatures are turned in than needed.
"The courts usually rule in favor of the people who sign the petition," said Coconino County recorder Patty Hansen, regarding signatures being challenged.
For an initiative, a person must file it with the city or secretary of state before it can start to be presented to the public for signatures. July 5, 2018 is the deadline for a ballot initiative to have enough signatures. It is then sent to the county recorder to check if the signatures are registered voters before moving to the next step of appearing on the upcoming ballot.
"I think the more people we get on the ballot, the better likelihood of a good candidate coming out of it, and thus letting people have more of a choice when it comes to picking a candidate," said Abby Olmstead, senior anthropology major and previous field manager for a 2016 Democrat campaign.
Getting signatures can be challenging because Democratic candidates can only have Democrat and Independent registered voters sign the petition, while Republican candidates can only have Republican and Independent registered voters.
Olmstead said common problems regarding signatures and petitioning is people may not know their voter registration status or know of the issue they are signing for. Voters also may not remember what petitions they have already signed.
"This isn't your vote, this is just to give yourself the option," Olmstead said.
Independents can run for partisan offices, although they need a higher number of signatures because they do not run in the primary. Those candidates immediately get put on the November 2018 ballot.
Starting this year, the process has had a few changes. The petition process now has much more strict compliance policy.
Signature scrutiny has also been an issue.
"If I signed the petition 'Patty Hansen,' it's going to be accepted, but if I just signed it 'Hansen' and didn't put a first name, it would be rejected," Hansen said.
Hansen said many people worry about how strict the compliance has become, but it includes certain requirements like writing the city of the voter registered such as writing in Flagstaff, but not needing to put Arizona.
All 15 counties follow the state statutes regarding the petition process.
Petitions allow voters more options regarding initiatives and candidates. Voters have the ability to choose from a variety of options rather than a limited number of choices.