On April 5, the Arizona Board of Regents (ABOR) voted to approve NAU's proposed tuition increase for incoming students, both in and out of state, and approved the highly debated $150 per year athletics fee. Both changes are on scheduled to take effect fall 2018.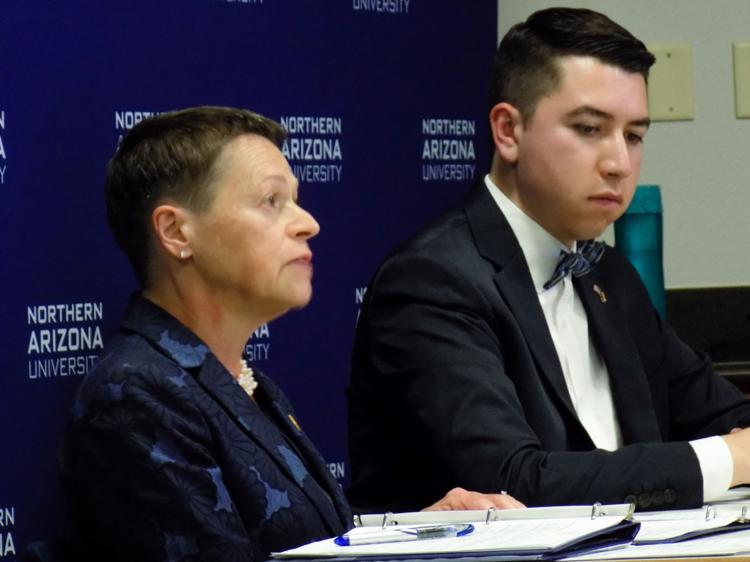 UA and ASU also had their proposals approved during the April 5 video conference with ABOR.
NAU's tuition proposal includes a 3.5 percent increase for in-state and out-of-state students on the Flagstaff Mountain campus and the Yuma campus. NAU's Yavapai campus will have a 5 percent increase for both in-state and out-of state students.
ASU proposed no increase for in-state students, but a 2 percent increase for online students. UA proposed a 2 percent tuition increase for all students except for the College of Medicine.
All proposals for each university passed unanimously.
ABOR President Eileen Klein introduced the agenda set for the meeting, explaining ABOR's goals.
"It's important that we go through a very regular and detailed tuition setting process … We want to be sure we're taking a look at these tuition guarantee programs, to be sure they're delivering what we promised to the students, which is keeping the tuition prices as low as possible," said Klein.
ASNAU President Lauren L'Ecuyer spoke at the meeting along with the other university student body presidents. L'Ecuyer told the board about the diversity and sustainability week, a recent safety week held at NAU to increase overall safety of students and an upcoming 'It's on us' week to educate students about sexual assault awareness.
President Rita Cheng reiterated her March 27 point to keep the tuition pledge program in place for students.
"Our tuition proposal continues differentiation in tuition options for students to access an NAU education in many ways through many delivery models, at many locations throughout Arizona. We are committed to these communities and committed to ongoing efforts to make low cost options available to our students," said Cheng.
Cheng also talked about the elimination of class fees and the proposed athletics fee.
"The establishment of an athletic fee advisory committee representing these students will also lead to an enhanced understanding of the breath of benefits athletics bring to the university campus," Cheng said.
ASNAU voted to approve the fee, despite a survey that was overwhelmingly not in favor of the fee. ASNAU voted for the fee with a list of conditions for the fee.
NAU is on track to receive the highest level of philanthropic funding in the institutions history, Cheng said. The tuition increase will allow NAU to invest in top priorities such as financial aid, support the growing enrollment base, improve faculty, staff, technology, to increase funding for the campus police and to fund research programs.
Ronald Shoopman, vice chair of the Arizona Board of Regents, led the vote by holding three motions per university and voted on each of their proposals. The proposal rates were shown to the public and each member for review before each vote.
During the first motion, student regent Vincent Careaga took a moment to explain his vote regarding the athletics fee.
"I'm very encouraged by the progress NAU has made and their fee-tuition setting process, and with that I vote, I," said Careaga.