Everyone knows how expensive college is. Memes all over the internet joke about the crippling debt a college education can leave a person in. The saving grace of college is scholarships.
Here at NAU, there are a few different scholarships for Arizona residents, the largest one being the Lumberjack scholarship.
The Lumberjack scholarship is awarded to any Arizona resident who gets no grade lower than a B throughout high school. The scholarship is worth approximately $16,000 a year. While this may seem like plenty of money to cover college expenses, it is very misleading.
The Lumberjack scholarship only covers tuition, which leaves housing, meal plans, textbooks and other expenses to be paid. Many freshmen I know came to NAU solely because of the Lumberjack scholarship only to discover they had much more still to pay.
Tuition is only a fraction of what it costs attend university. Some freshman dorms cost more than $5,000 a year to live in, and many students decide to get a meal plan, adding more than $2,000 per semester to the cost.
When it comes to these costs, the bold promises of the Lumberjack scholarship don't hold up.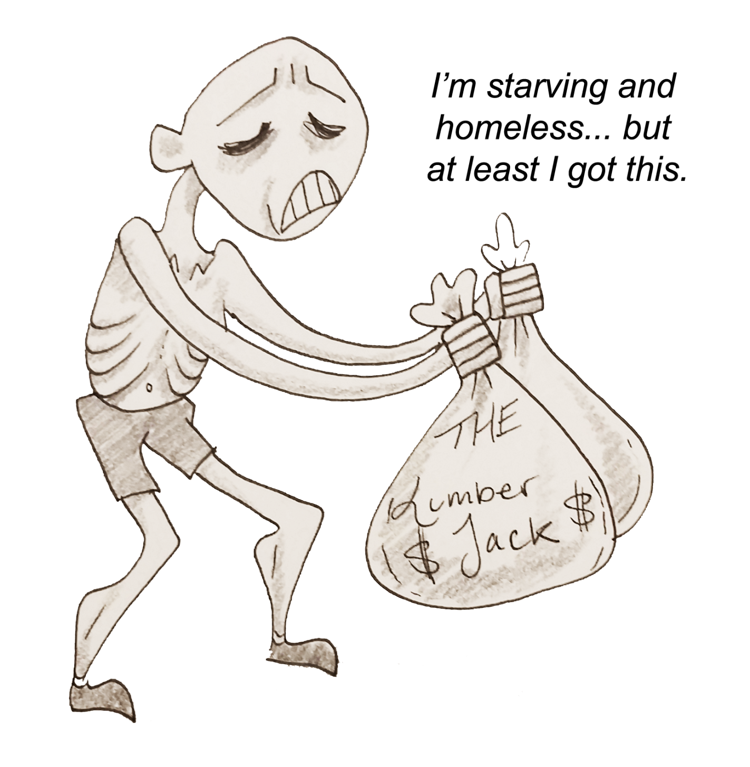 Rather than actually helping the students pay for their education, the Lumberjack provides an illusion of being debt-free, pulling students in before they realize how much they have to pay except tuition. Not having to pay for classes is awesome but being stuck with expensive textbooks, overpriced dorms and meal plans really sucks.
Receiving a scholarship large enough to cover tuition lowers the amount of the financial aid a student can receive, making it even more difficult to pay for things like housing and meals. Even if one is not a freshman but lives on campus, meal plans are still a good option. Even living off-campus, rent and food are not cheap.
For many who struggle to pay for college, getting a job on campus often seems like a good idea. Campus jobs, however, sometimes pay below the city minimum wage.
One of the misconceptions many freshmen suffer from is the idea that any scholarship or financial aid they receive is for the semester, not the year. First generation students and others who lack resources may not realize this. So, when the money is suddenly divided in half, they find there isn't enough to cover additional expenses.
If the past due balance on an NAU student's Louie account is more than $500, they are unable to do simple things such as register for next semester's classes. If the hold lasts for too long or grows too large, students could be evicted from their dorm or lose their meal plan. Students with eviction notices are given less than a week to either pay up or move out.
Financial aid and scholarships don't come close to covering the basics when it comes to college, even big, fancy scholarships like the Lumberjack. There should be more in place to help students rather than just attempting to squeeze as much money out of them as possible.
With so many jobs requiring a college degrees, college has become a requirement. Yet, it leaves people in severe debt. Even with jobs with high pay rates, student debt can haunt college alumni for decades after they graduate, limiting their spending — and their lives — for years.