Since taking over as vice president of intercollegiate athletics in December 2017, Mike Marlow has led the forefront for change in NAU's athletic department. However, there may be a reason for concern going forward for NAU Athletics and the student body.
It started with a controversial athletics fee, and now, an arms race for facility enhancements puts an estimated $38 million construction project on NAU's plate.
Similar heavy investments over multiple years during Marlow's time at his alma mater Washington State University as Deputy Director of Athletics has burdened the program with a heavy, accumulating debt that still needs to be repaid.
Marlow's seven-year tenure of program and facility expansion at WSU could foreshadow what is ahead for NAU.
Athletics Fee and Student Opposition
Less than two months after taking over at NAU Jan. 16, 2017, Marlow proposed some significant changes to his new university. This came in the form of a mandatory $75-per-semester athletics fee proposition. According to NAU Athletics, the fee is not a new concept to universities, especially within the Big Sky Conference, where such a fee is used by programs to remain competitive between other conference departments.
NAU students already pay a $25 Student Activity Fee to get into athletic events for free, which also provides free admission to the Wall Aquatic Center and fitness classes at the Recreation Center within the Health and Learning Center.
At $75 per semester, NAU's athletic fee equals ASU's and leaps over the $50-per-semester rate at the UA.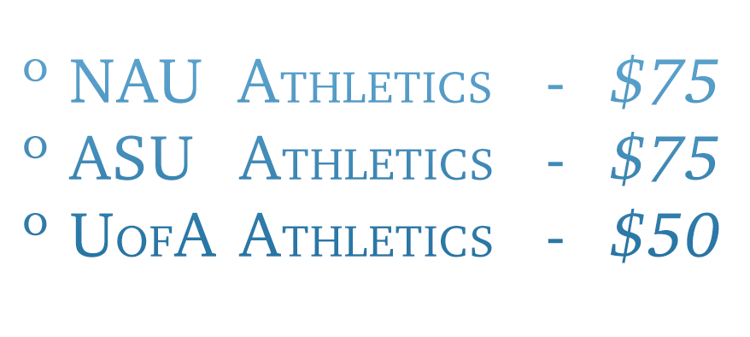 "[It's about] having a service mentality," Marlow said. "As an administration we're serving our coaches and our student athletes and [there's] a focus on putting as many tools in their tool belt to level the playing field in a recruiting and competitive advantage."
As a result of the new fee, which went into effect for the 2018-2019 fiscal year, $3.1 million annually will be added to NAU Athletics' budget and, likely, climb as the student body grows each academic year.
In mid-February 2018, a survey conducted by ASNAU via email was sent out to students for feedback about the implementation of the mandatory fee and the results were overwhelmingly against the proposal. Of the 2,816 respondents, 92% were opposed to the fee with just 1.3% in agreement and 6.8% who were "somewhat unsure."
The Arizona Board of Regents' (ABOR) regulations require evidence of student consultation to any tuition or program fee proposal for an on-campus program.
In January 2018, a report from the Arizona Auditor General revealed that NAU previously failed to follow ABOR procedure of mandatory student surveys with the implementation of some fees.
Despite the apparent resistance from students, the fee was pushed along with support from ASNAU.
The proposition passed through ASNAU March 15, 2018 almost unanimously with a 10-1 vote in favor of the fee proposal and would eventually be accepted by ABOR.
The lone opposing vote came from former Senator Jo Olas who stated during an interview last April that NAU Athletics and administration told them if the fee didn't pass through ASNAU, then it would just be implemented into the tuition plan for next year's undergraduates.
There was little leverage for ASNAU.
"I don't think it's a very creative thing [NAU is] doing," said Olas in April 2018 after the fee passed through ASNAU. "I think [putting money into athletics] is something that happens at a lot of universities… I don't think the vast majority don't want to go to the games."
ASNAU President Dylan Graham was a part of the senate that voted in favor last spring and believed the best thing to do was accept the mandatory fee to arrange greater opportunity for student input and transparency to the fees allocation.
"Back then, when I was a senator, I felt a bit trapped just thinking that there's going to be an increase, even if it doesn't affect me directly," said Graham in an interview. "But long-term [consideration with an emphasis in encouraging more student involvement with the fee] was a lot of the other senators' thinking."
After Marlow first brought up the proposed fee February 2018, at student forums, the survey and the decision was made by ASNAU about six weeks later.
"We weren't able to conduct the best survey," Graham said. "It wasn't reviewed by the survey committee on campus and I'm sure students took the survey multiple times. [Some] might not have even been an NAU student who took the survey ... I did feel kind of pressured in terms of we weren't able to do another survey or hold one more forum."
In the end, ASNAU negotiated nine conditions for the newly approved athletics fee, including its current rate at $75 a semester be capped until at least 2026.
"I'd be naive if I didn't think it would be a bumpy road at times, but we wanted it that way," said Marlow on student opposition for the fee. "Because we want to build a relationship with the students that is genuine and sincere and not all take, take, take without giving something back."
Part of bridging that relationship has been the implementation of a NAU Athletics Student Advisory Committee, which was one of the nine agreements reached by ASNAU.
This year's committee is made up of eight voting students who were screened by both Marlow and Graham to provide input and provide opportunities for how the athletic department should invest the athletics' fee revenue. Members consist of three student athletes, three "at-large" students and two graduate students.
The committee meets twice a semester to discuss unique ways to bring student engagement with athletics, according to Graham, but has gone through some struggles early on.
"This year it's been a little difficult," Graham said. "Just because I think the students are having a little bit of a hard time grasping what the committee should be doing at each meeting."
Graham hopes that next academic year, the committee can take the broad purpose of their responsibilities and focus it on opportunities that can be put into action.
"Any time we utilize the student fee, we are searching for how [it can] benefit the students," Marlow said.
One of those investments includes $2.8 million in Walkup Skydome renovations with $1.8 million directed toward three video displays on both the north and south end zones.
Half of the $2.8 million was paid by institutional support in order to avoid interest charges, while the remaining $1.4 million was covered by the athletics fee. Next year, the athletics department will repay the balance they owe NAU by using funds from the athletic fee, according to NAU Vice President for the Budget Office Bjorn Flugstad.
Institutional support is common practice in the Big Sky Conference, unlike at the Power Five level — the five major athletic conferences, including the Pac-12 which holds WSU — where departments are expected to manage their own finances through their revenue.
The visual enhancements in the Skydome are also to be used for students during commencement and special events, such as the Arizona North Regional Robotics Competition that took place this past March.
Athletics is continuing to look at strategic means of raising revenue through its partnership with IMG Learfield Ticket Solutions to provide exposure in various ways for the university.
NAU partnered with IMG in September 2018, becoming the university's first outbound ticket sales team and recently becoming a million-dollar property for the first time, according to Marlow.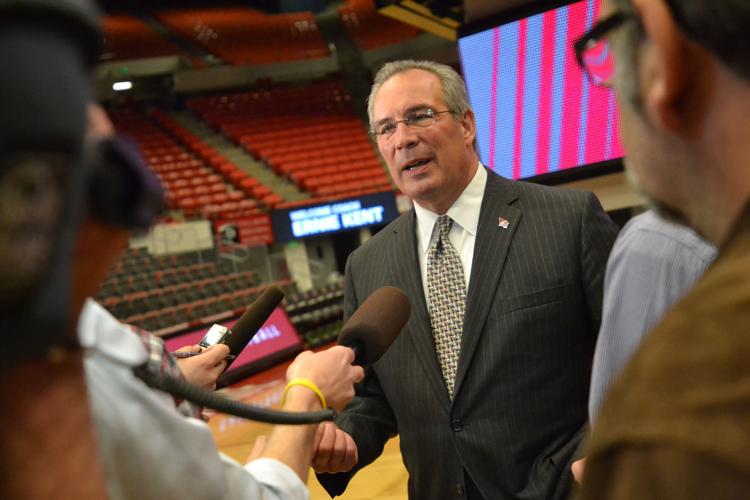 Nevertheless, even with a larger reach in revenue opportunities, Marlow knows that student support is essential to NAU Athletics success.
"It's an interesting balance because what we're trying to do here is not done elsewhere," Marlow said. "We've got a group of students that will sit down at the table with us and see how it will benefit the students as well. We're going to get that type of input from students on everything we do."
Marlow had a previous relationship with IMG at Washington State as the "IMG liaison" under WSU Athletic Director Bill Moos, but it was not all positive. According to an internal audit commissioned by WSU that was completed May 2018, $40,000 in free football tickets were given to IMG beyond what their contract required.
The audit also revealed that WSU employees took advantage of upgrading to premium seating at football games for a discounted rate that could have cost the university $130,000.
The discounts are no longer an option for employees, according to the audit.
The audit also found possible inflation of home football games and came to the conclusion that: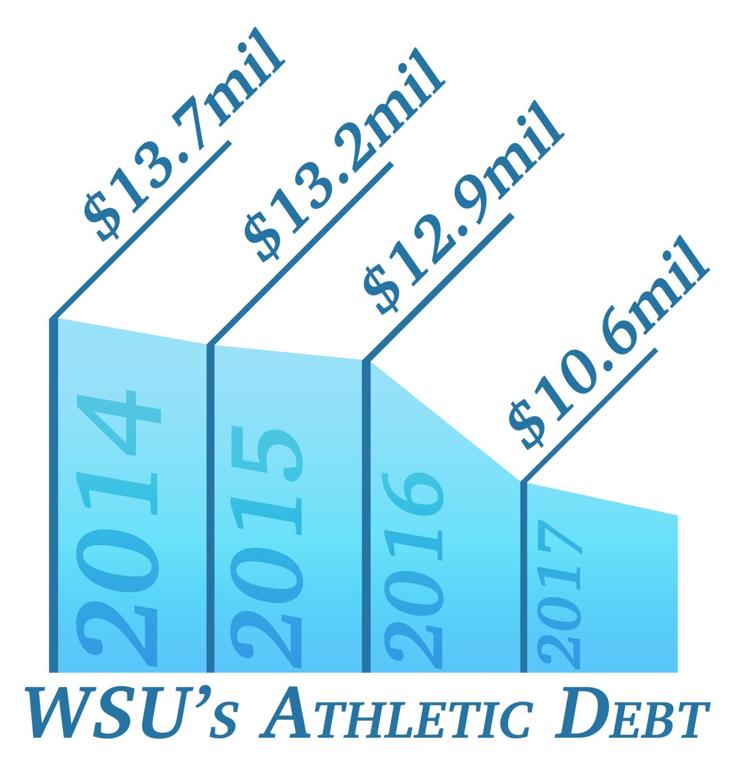 "The environments within [WSU] Athletics … did not support a culture of compliance or fiscal responsibility."
The university's response in the audit stated a "culture change" within administration was already in place. Moos left WSU for Nebraska October 2017 and was later replaced by former Athletic Director for Florida Atlantic University Pat Chun. Marlow left for NAU just two months later.
A university investigation at WSU was started in October 2016 on former WSU Athletics Administrator John Lucier. In April 2018, a year and half later and four months after Marlow left WSU, the investigation found that Lucier violated the Title IX policies over a three-year period by, "making inappropriate comments in the workplace and demeaning employees because of their gender," according to The Daily Evergreen, the student-run newspaper at WSU.
An employee told investigators that she felt Lucier was protected by his relationship with high administration, such as Athletic Director Moos and Deputy Director Marlow.
Lucier, the former director of compliance for WSU, was also a beneficiary of away football games and access to preferred seating areas that were not permitted, according to the audit.
According to a May 2018 report from The Daily Evergreen, Marlow and Lucier were good friends during their time at University of Oregon where they all previously worked with Moos.
Moos told Norfolk Daily News in May 2018 that padding attendance numbers is "common practice" in the NCAA and they count sold tickets, whether or not those people actually showed up to the game.
Marlow stated the discounted tickets for premium seating was only used on empty seats, so WSU Athletics was able to get some revenue for those seating options, rather than nothing.
Phil Weiler, WSU vice president for marketing and communications found that the audit helped WSU Athletics progress with findings can improve the department in the future.
"The audit was actually a good thing for the new athletic director because it really gave him a road map to make sure that we had tightened it down," said Weiler in an interview. "It wasn't that [administration was] being malfeasant, I think it was really a case of us not tracking it as closely as we should have."
A new face to NAU football
Marlow knows firsthand the value a great football coach can bring to an athletics program. From 2003 to 2014, WSU held just one 9-win football season. In their past four seasons, WSU had three teams with at least nine wins under the lead of head coach Mike Leach.
During his seven-year tenure at WSU, under Moos, Marlow played a role in maneuvering Leach to WSU for the 2012 season.
After his first three seasons, coaching two 3-win records, Leach has gone on to coach the best four-year run in WSU football history. Since 2015, he has led the Cougars to two 9-win seasons and an 11-2 record in 2018 where the Cougars finished 10th nationally in the Associated Press' Top-25 poll.
Even more importantly, the football team generated $21.7 million in profit during the 2017 season, despite operating as the second-lowest financial value of any Pac-12 team, according to the Equity in Athletics Data Analysis. With how last season panned out for the Cougars, more profit can be expected, which can be used to alleviate some of the athletic department's financial burden.
Leach gave some praise to Marlow and his influence on WSU Athletics during his tenure.
"[I] thought [Marlow] had a huge impact [on WSU Athletics], always positive," said Leach in an email. "Just made things work very efficiently and was great at creating a team-work atmosphere … I thought he was great at seeing the whole picture of a university and an athletic program."
Marlow is hoping to strike gold again after hiring former Memphis defensive coordinator Chris Ball as the Lumberjacks new football head coach after a 123-114 overall record for NAU in the previous 21 seasons under Jerome Souers.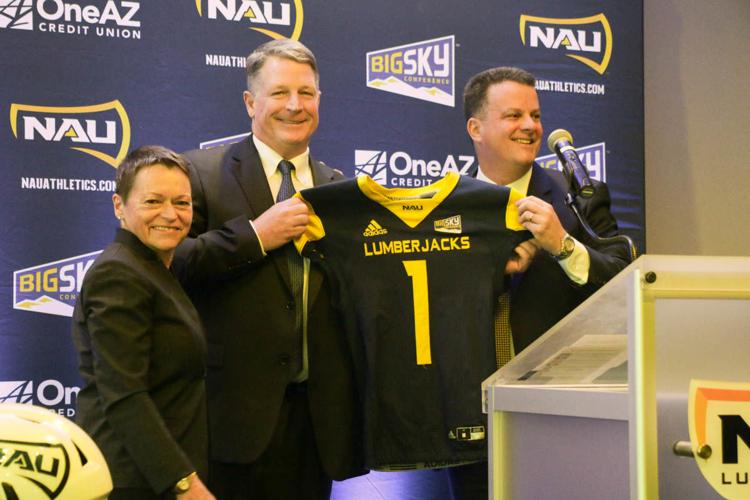 Ball and Marlow crossed paths during their times as WSU, when Ball was an assistant coach from 2008 to 2011 and Marlow the deputy athletic director.
What Marlow saw in both Ball and Leach were two different people who shared the same philosophy.
"They're certainly very different personality types, I promise you that," Marlow said. "The common denominator between both of them is they're teachers. Not just the X's and O's of the game, but teachers of accountability, responsibility, a focus on academics ... they're teachers at heart."
Marlow also acknowledged that Ball carried a "humble confidence" that NAU football could be special. After speaking to 80 candidates for the head coaching position at NAU and meeting in-person with eight across the country, Marlow said he knew he had the man he wanted.
A Race for Facility Enhancements: What to expect and what could go wrong
Falling behind in the athletics' facility front was one of Marlow's biggest concerns upon taking the position at NAU. Facilities at NAU fell behind other Big Sky Conference schools, far behind in the eyes of Marlow.
"Off the top of my head, I'd say we're 15 to 20 years off pace," said Marlow on the university's shortfalls for athletic facility enhancements. "[It's] significant, and it has gotten even more-so since I arrived in January."
Since his arrival, both UC Davis and Weber State have announced facility projects within the conference
UC Davis announced November 2017 that they were in the process of building a $40 million, 38,000 square foot Student-Athlete Performance Center as a training facility, sports medicine center and a multitude of other services.
Weber State plans on having a new football facility opened by the start of the 2019 season that will feature "state-of-the-art" strength and conditioning equipment.
Marlow has plans to bring the student committee to other universities within the conference to see how others use their athletics fee and check on the standard of their competition, according to Graham.
However, NAU President Rita Cheng also wants to make sure NAU is expanding its facilities for the right reasons.
"My focus is making sure that we have facilities that support our students, our student athletes and our faculty and staff and less about keeping up with other programs," said Cheng in an email. "With that said, we recognize that the prospective student athlete we want to recruit to NAU is comparing our facilities and programs with others in the Big Sky conference."
NAU Athletics seems to be taking a similar path to UC Davis as they plan to build an estimated $38 million facility for student athletes with opportunities for kinesiology students at the university, according to Marlow.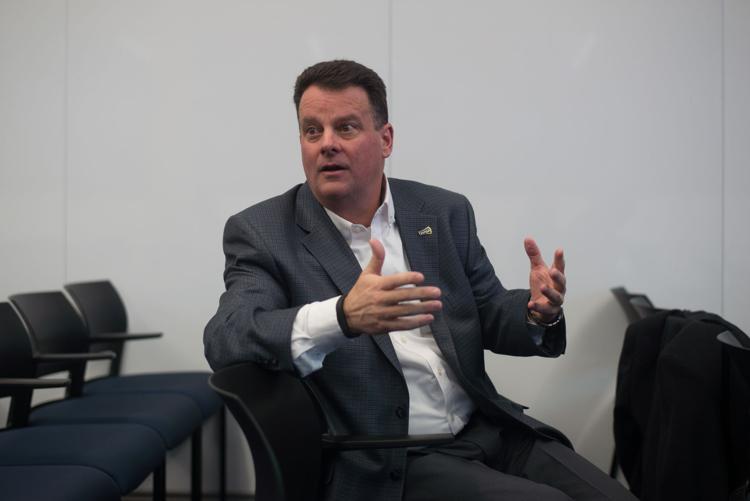 There are also plans of a high-altitude training center within the facility because NAU holds a great advantage due to its geographic location at a 7,000-foot elevation.
"[NAU] is a goldmine," said Ball on the investment in facilities during his introductory press conference Dec. 12, 2018. "Just look around at the commitment that's been made."
NAU Athletics is still exploring a location, but the plan is for it to be built at the edge of the parking lot closest to the Skydome.
The cost estimation is open for change since the contractor and architect for the project have only met once since early March. NAU hired DLR Group as the design professional and CORE Construction, Inc. as the construction manager who will work together to put a realistic timescale for the project, according to Flugstad.
NAU has hired CORE for numerous on-campus projects, most recently a $15 million 255-capacity Kitt Recital Hall for NAU's School of Music.
The facility would also provide a new home for the men's and women's basketball teams with approximately 3,000 seats. It is estimated to open as early as November 2020, according to Marlow.
"For athletes, [this facility] allows us to keep our commitment to them and their family members," Marlow said. "When they come and we tell them that we'll do everything we can at NAU to maximize your athletic and academic potential, this allows us to keep that promise. For students, it allows a certain group of students at NAU to leave with a portfolio, which is an unbelievable opportunity."
The facility currently has $2.8 million in fundraising commitments with opportunities in corporate sponsorship, advertising and concessions open for funding the project. NAU is hoping to have as much success in fundraising as UC Davis, who raised approximately 90% of their $40 million required through a "variety of sources," according to the UC Davis website.
NAU will likely take their facility project to ABOR June 13 at the Flagstaff campus and if it is approved, they will seek to begin construction shortly after.
According to a March 2019 NAU Athletics student fee budget forecast, approximately $2.2 million will be put into the performance center come fiscal year 2021. The estimated budget from the athletics fee is at $3.2 million for that year.
The loose estimation was covered during a Athletics Student Advisory Committee meeting earlier in the semester. Budgeting and costs are expected to change once athletics gets a more comprehensive outline of costs and student enrollment for contributions toward the athletics fee.
Keeping up with other conference programs and facilities has been an emphasis for the athletics department and university, according to Graham.
"I think [competitiveness] was a big driver of the athletics fee," Graham said. "Bringing up NAU's standards, whether that was a facility or new equipment or new programs to campus. I think that would help increase our competitiveness."
However, a battle for the mightiest of facilities can lead to a more problematic outcome.
"Unfortunately, there is an arms race going on in athletics around facilities," WSU's Weiler said. "A lot of universities are investing heavily in their physical infrastructure for athletics and using that to try and recruit and encourage fans to come to the games."
Currently, WSU is facing a projected $85 million athletic budget deficit by 2023 that is linked to over $130 million in facility enhancements, including a $61 million football complex.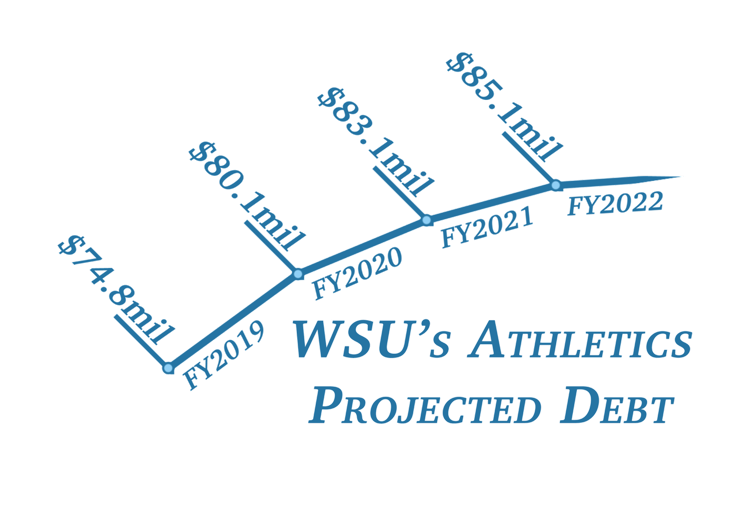 After the football complex was completed in 2014, WSU football went on their historic run of four-straight bowl game appearances.
In 2016-2017, WSU's revenue brought in $64 million, which ranks dead last in the Pac-12 by a margin of $14 million. NAU only brought in $18 million during that time but is in the middle of the pack for their conference, according to USA Today.
The decision for the heavy facility investment directly correlated to Moos and a supportive President's Office that saw great value in a competitive athletics department, according to Marlow.
Although Moos expected to be working at a sizeable deficit after the investments, contract buyouts, debt service and a substantial shortfall in earnings from a Pac-12 Network television deal added heavily to the WSU's debt.
"At the time, the thought was live sports is going to be the most valuable property on television," Weiler said. "Little did we understand how quickly people would be abandoning terrestrial television and looking at streaming services and other forms of securing content that they wanted to watch. So, the contract for live sports didn't pan out the way that the conference had hoped it would."
WSU's plan was to reach solvency by 2019, but the athletic department went four-straight years with more than $10 million in budget deficits according to The Seattle Times, despite large profit from football's generated revenue.
Under new Athletic Director Pat Chun, WSU has now pushed its plans for a balanced budget to 2023, where the accumulated debt from investments by previous administration is projected to reach $85 million.
Could a similar issue arise at NAU, with a race for facility enhancements in athletics leading to future debt? Marlow doesn't believe so.
"At the Power Five level you are managing all of your own finances with limited campus involvement," Marlow said, "Here, we are looked at no differently than the College of Business from a budgeting, expenditure perspective. So, there's so many more frequent checks and balances in the bigger picture that I don't believe it's possible at NAU, we're just not set up that way."
However, an athletic deficit is a circumstance that has risen in the conference for both Big Sky Conference schools Montana and Eastern Washington in recent years, with Eastern Washington operating at a $5.8 million deficit and Montana at over $4 million, according to The Spokesman-Review and the Missoulian.
Even with the more frequent checks and balances on potential debt, NAU currently finds itself facing, realistically, an $11 million shortfall due to both a drop in enrollment and retention. If department funds are not balanced in university accounts by June 2019, the university will end the fiscal year in a deficit.
The shortfall is a result of a 2% decrease in student retention rates through all six colleges on campus and a decline in enrollment. Of NAU's revenue, 40% comes from student tuition and fees, according to the Arizona Daily Sun.
Budget adjustments for the 2018 to 2019 fiscal year for academic and nonacademic departments is approximately $5.5 million at NAU. All adjustments will be complete before the end of the fiscal year, according to Flugstad.
Both Marlow and NAU have made an emphasis on heavy investments toward athletics, only a matter of time will reveal how it will play out.