Feb. 20: Four high school students climbed into the living room of an RV. They looked like your typical teenagers, three girls and a boy, but everyone remained silent as they took their seats. Less than 24 hours previous, the four had, for the first time in their lives, spoken to undocumented migrants in the desert, stood under a Border Patrol helicopter as it circled them less than 50 yards from the ground, been questioned by an agent carrying an assault rifle and discovered and then laid to rest human remains. All of this had occurred in a single hour. They were overwhelmed. They were exhausted.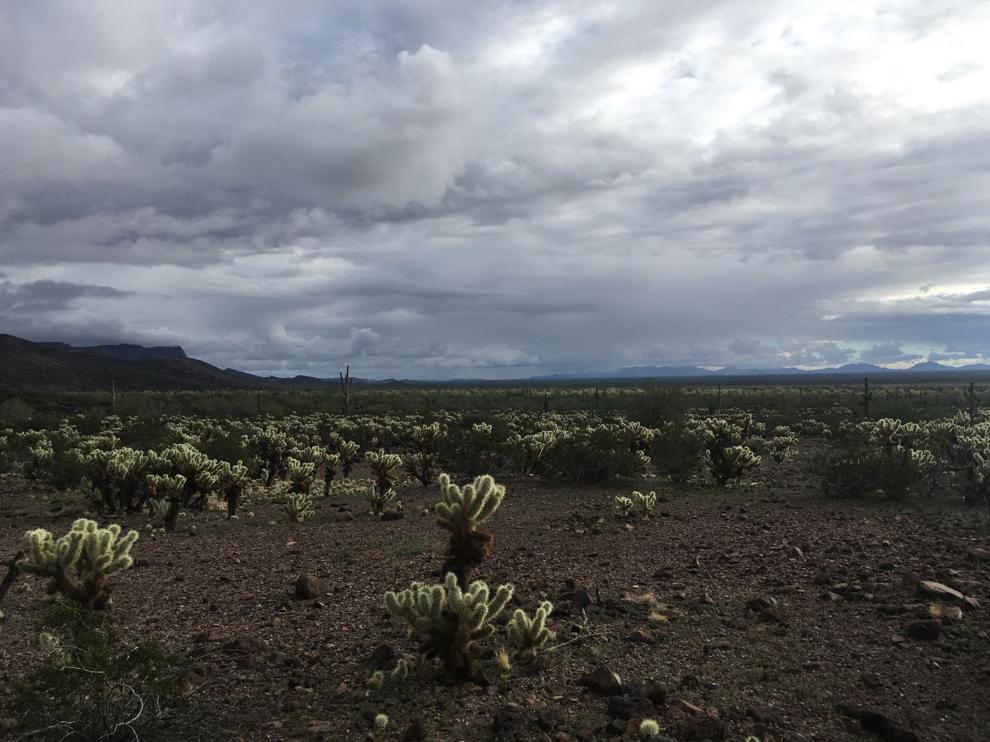 Feb. 19: It must have been close to 11 a.m. by the time the five 4-wheel-drive vehicles finished their 12-mile, 1.5-hour journey to the top of Charlie Bell Pass. As the vehicle's occupants exited, they were greeted by two things: a mild temperature and a view that was anything but. Sprawled before them, in the heart of the Sonoran Desert, lay the Growler Valley.
Flanked by the Growler Mountains to the east and the Granite Mountains to the west, the Growler Valley is encapsulated within the Cabeza Prieta National Wildlife Refuge just west of the small town of Ajo, Ariz. It's beautiful, full of tall saguaro and dotted with forests of cholla cacti, which glow in the sun, especially at dawn and dusk when the light passes through their thousands of spines.
Having rained the entire night before, the ocotillo's small green leaves were out, and the creosote bushes filled the air with the scent of life. The Growler Valley, however, is more than simply a pretty landscape, for within all its beauty is what many describe as a war zone.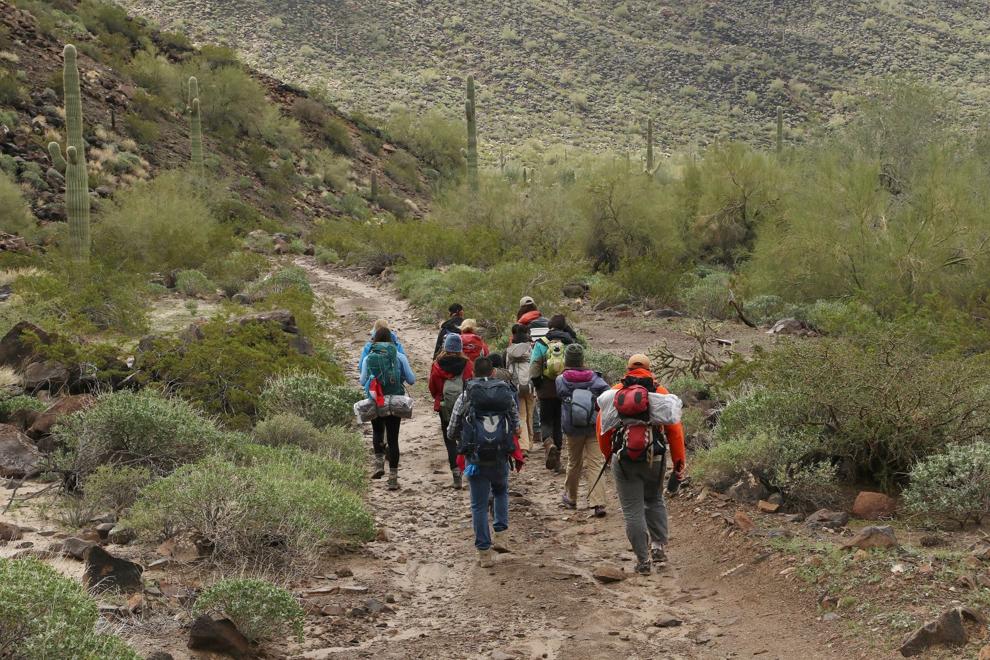 Scott Warren, a member of No Más Muertes (No More Deaths) and an Ajo local, was the de-facto leader of the group consisting of 26 individuals, half of whom were No More Deaths humanitarian aid workers. The remainder were student and faculty volunteers from Flagstaff Arts and Leadership Academy (FALA, a charter high school) who had driven down only two days before.
For some of the No More Deaths members, this trip, along with all their work in the desert, is personal.
"My mom crossed," said Anthony Ross, a graduate student at Arizona State University. "A lot of people at ASU get involved because it's personal or they [simply] agonize about this great injustice that's going on here."
As an organization, No More Deaths has operated within the Arizona borderlands for nearly 12 years and acts as a humanizing presence there. In order to accomplish this, the nonprofit has three goals: to provide life saving supplies to migrants crossing the desert in the form of food, water and blankets; to provide medical aid to migrants in need; and to recover the remains of those who have not survived the journey. This day, it was the latter goal which brought these volunteers to the Growler Valley.
As Warren explained to the FALA students, the valley, which until recently had been closed to the public due to the prominence of cartel activity in the area, is just one of many graveyards hidden within the Sonoran desert.
"We've been finding a lot of remains out in this valley in the past couple of months, eight or nine sets of human remains that we've found in the valley here," Warren said.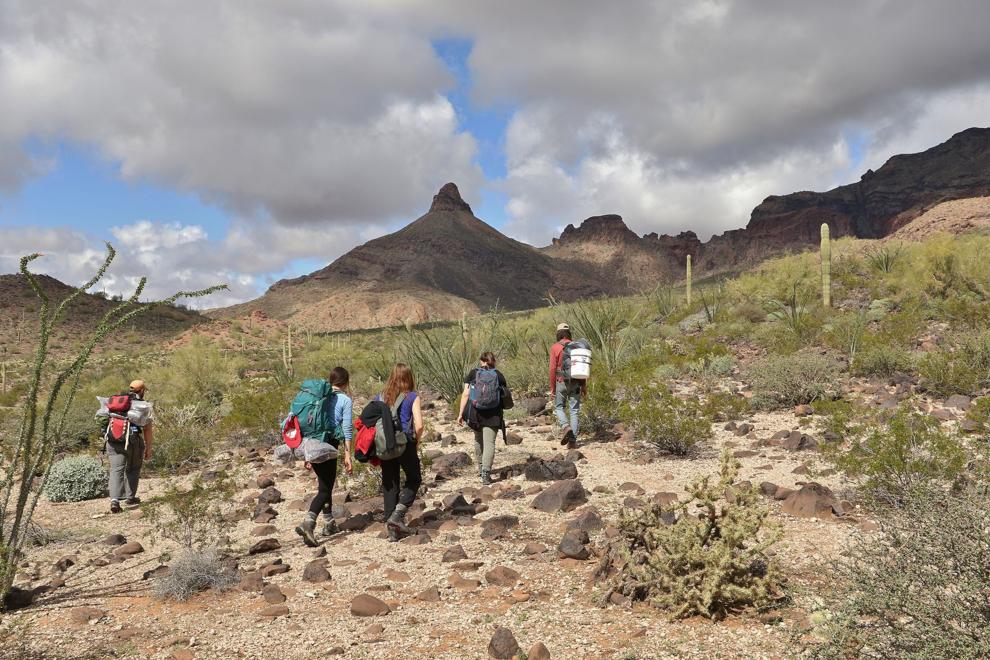 Since 1994, the bodies of more than 7,000 migrants have been recovered throughout the U.S.-Mexico borderlands. And with its vast rugged deserts, the migration corridors in Arizona are some of the deadliest.
"I know a couple of photographers that were out backpacking and hiking in this area in the same time period," Warren said, pointing out into the desert. "They found two more way out in the valley. When you look at the map — the human-remains map — this whole valley is just filled with dots."
One reason the Growler Valley may be particularly dangerous is due to how remote it is, a factor that law enforcement uses to their advantage Warren said.
"The Border Patrol doesn't really come out here on a regular basis, so this is really one of those prevention-through-deterrence areas where they're just kind of letting the landscape do the work for them," Warren said.
After breaking into two groups, the students and aid workers finished packing and set out. The first group was to explore the ridge tops, locating and mapping migrant trails so future groups could make water drops in the area. The second group would hike into the valley, splitting in half again at Charlie Bell Well in order to cover as much ground as possible. Among this second group were Warren and four FALA students, high school junior Chiara Rose Skabelund, high school junior Shadrach Begley, high school junior Isabel Marshall and high school senior Elea Ziegelbaum.
Both groups packed light, most carrying only 1 to 2 gallons of water each and a little food as well as their own provisions. As Warren's group set out from the well, they planned to skirt the slope of the Growler Mountains to the north and make a loop around a small volcanic formation before starting back towards their vehicles. If all went as planned, the trip would take no more than three hours.
Five and a half hours later, Warren's group climbed out of the valley. The group had stumbled into the middle of a hunt as they ran into migrants fleeing into the mountains who were being pursued by Border Patrol.
"When we climbed out of the [valley], someone asked [Elea], 'How was it?' and 'What are you feeling?' and Elea said, 'It's a war zone down there,'" Marshall said. "The chaos and the how quickly everything happened and what manifested."
"You come across two migrants and you think, this is to be expected, we're helping migrants and then you come across a [group] of migrants, and you're passing out food rapidly to them and you're giving them water," Marshall said. "And then [you're] coming upon a person who has been laid to rest underneath a bush and you're coming upon a helicopter circling you again and again."
Warren's group gave all the water and food they had to the migrants. The migrants told the group, "Hay un amigo muerto aqui." There is a dead friend over here.
"They were in an extremely tense situation, but the first thing that they wanted to tell us is that there is somebody who has passed over there," Ziegelbaum said. "They all waited, a few of them took Scott to the place where the body was."
"It was so chaotic. It was so hectic. But in the midst of it, we still had to find time to lay this person to rest," Marshall said. "And it's this thought [that] if this person is never identified, if they can never be laid to rest in the way that they wanted to, did we do enough?"
This is a question Warren has asked himself many times when working in the desert.
"It also feels like one of the most important and almost sacred things that we do. Just being present for somebody," Warren said.
Whether he is giving aid to migrants or finding human remains, that question stays with him: Has he done enough?